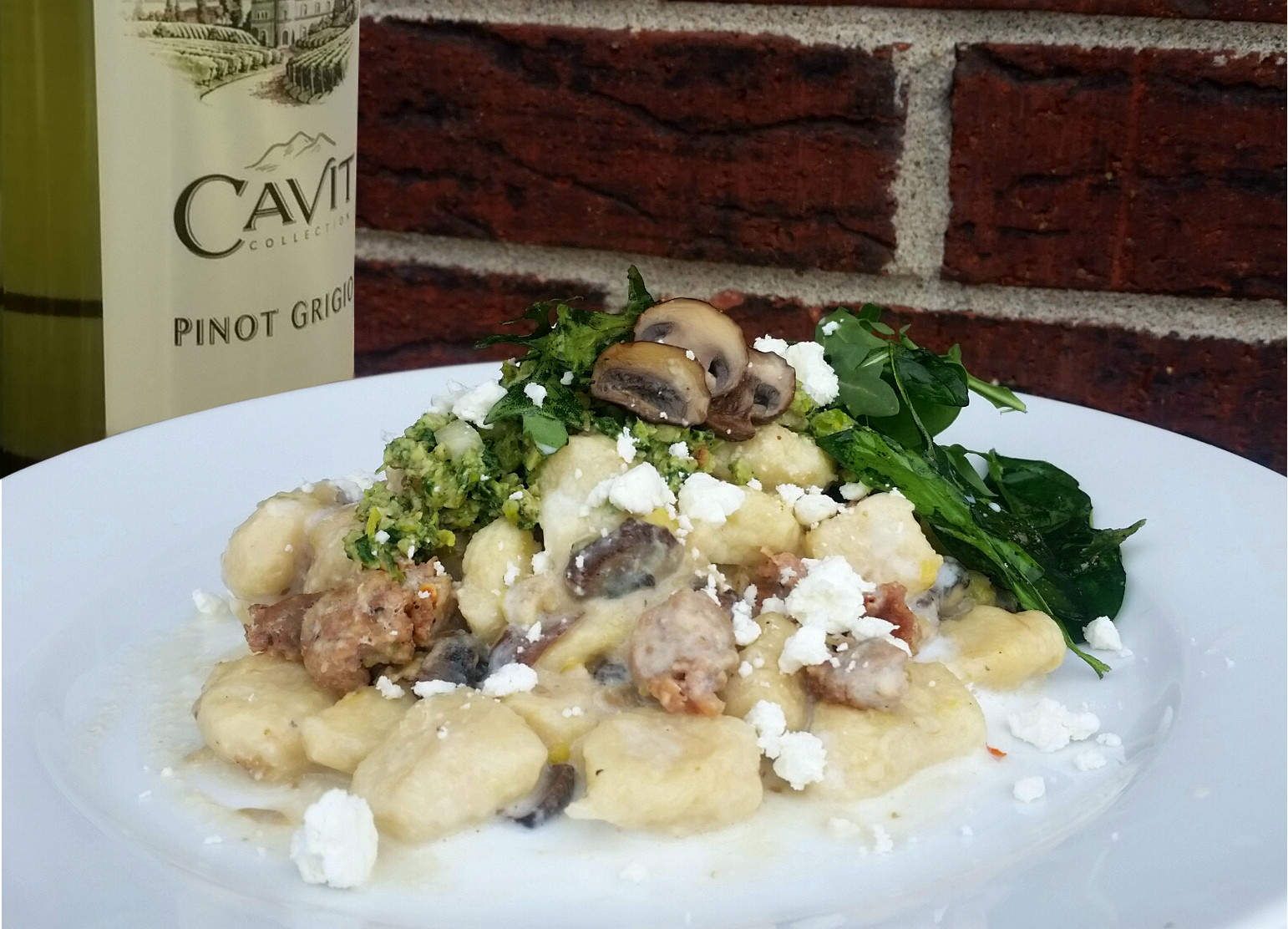 Submitted by Anna Davis
About the cook:
I grew up on a farm in Springfield Missouri and have been cooking since I was seven. Although I have not received formal culinary training, I have had some wonderful opportunities to travel across the US and abroad, shadowing at several renown restaurants. This has developed and grown my appreciation and knowledge of different cuisines, and lead me to experiment more with unique flavors and combinations. I love to cook and serve people and hope to do it for the rest of my life!
About the dish:
The pesto in this recipe is something I've made multiple times for multiple dishes and occasions. It's different enough from traditional pesto, but enough alike for any pesto lover to love. Over this homemade gnocchi, it becomes a new favorite pasta dish. I save it for special occasions which makes it memorable and exciting every time.
National Origin:
Italian fusion
Serves:
6
Estimated Time:
1 to 2 Hours
Ingredients:
3 medium yukon gold potatoes, cooked and peeled
1 egg
1 teaspoon truffle salt (or regular salt)
1 clove grated garlic
2 cups flour
1/2 cup goat feta cheese
Pesto:
3/4 cup chopped walnuts
2 tablespoons chopped leek
1 garlic clove,chopped
1 cup spinach
1/4 cup arugula
2 tablespoons walnut oil
2 tablespoons olive oil
2 tablespoons celery leaves
1/2 teaspoon salt
1/4 teaspoon black pepper
1 tablespoon fresh lemon juice
Sauce:
1/2 lb sausage
6 mini portobellos, sliced
1 leek, sliced
1/2 tablespoon capers, chopped
2 tablespoons butter
2 tablespoons truffle oil
4 tablespoons white wine
½ cup buttermilk
1/2 cup cream
6 oz triple cream brie
Goat feta and arruguala for garnish
Preparation:
**This can be made with olive oil instead of truffle oil if desired**
To make gnocchi, mash the potatoes. Mix in the egg, salt, and grate in the garlic. Add the flour, half at a time, adding more if dough is too sticky. Mix in cheese. Place a large pot halfway full of water on the stove at medium high heat.
On a generously floured surface, divide dough into 4 sections and roll into long ropes. Cut into small pieces and imprint with a fork or finger if desired. Once water is boiling, add gnocchi in into water, not overloading the pot. Cook until they float to the top. Remove, drain, and drizzle with a little oil to keep from sticking. Repeat until all is cooked. Cover and set aside.
Place all the pesto ingredients in a food processor and process until only small pieces are left. Set aside.
Cut sausage into very small cubes. Roll into balls, and cook fovered in a frying pan until cooked through, about 10 minutes. Set aside.
Place portobellos, leeks, butter, oil, and capers in a large frying pan. Saute on high heat until leeks begin to show brown edges. Add the wine and buttermilk. Liquid will separate at first, but continue to cook on high heat, letting the mixture boil. Stir vigorously until separation begins to dissolve. Add the cream and brie. Reduce heat and stir until all is incorporated. Add the gnocchi and sausage balls. Simmer until pasta is heated through and mixture is nice and thick.
To assemble, pile gnocchi on a plate. Top generously with pesto and sprinkle with goat feta and arruguala.