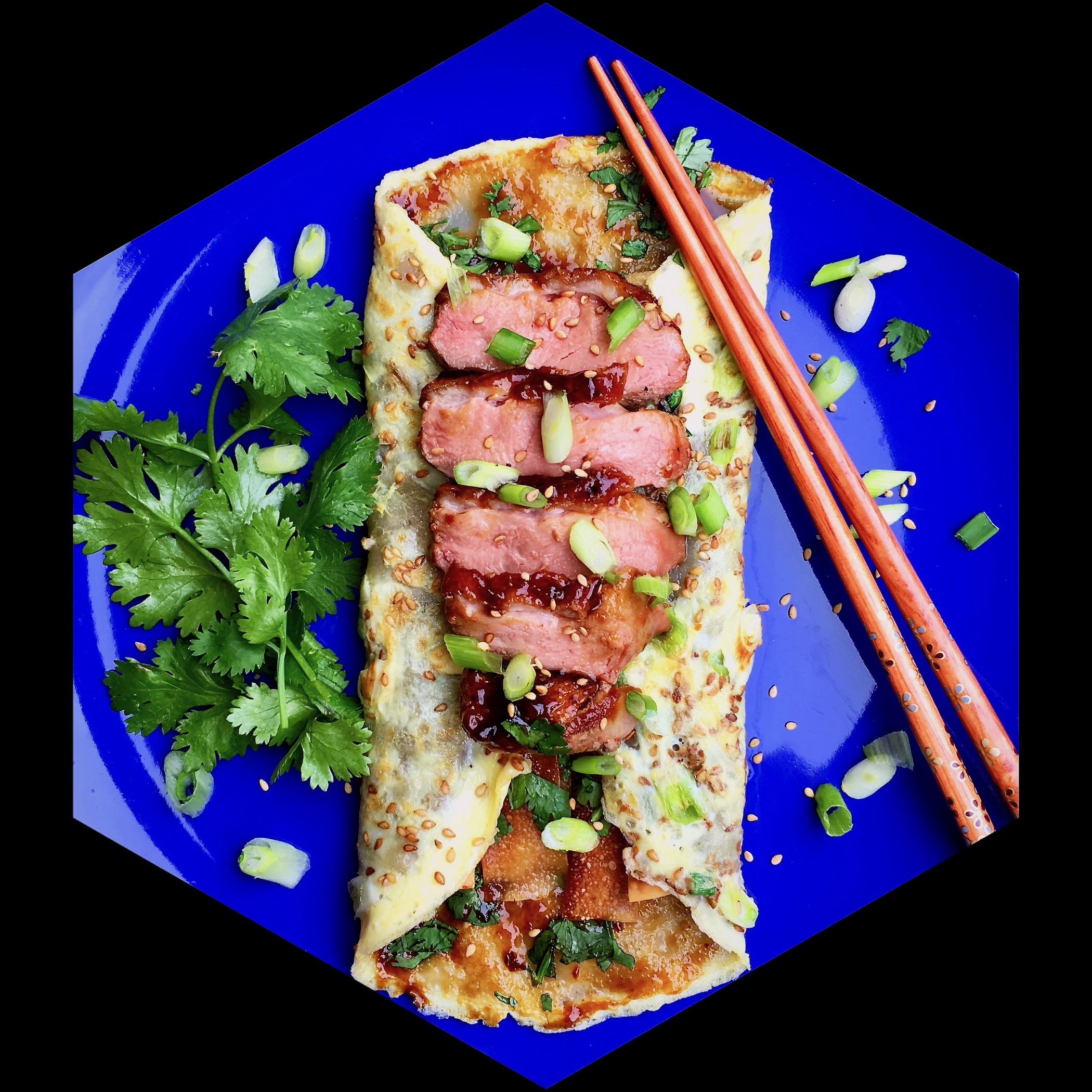 Submitted by Lisa Keys
About the cook:
An Italian home cook inspired in the kitchen by the places I have been and the people I love. Food is love made edible.
About the dish:
A popular street food in China, Jiangbing is a savory egg crepe filled with bold flavors and contrasts in textures. My version features a spicy duck breast, crispy wontons and a shower of fragrant herbs and sesame seeds.
National Origin:
Chinese
Serves:
2
Estimated Time:
30 to 60 Minutes
Ingredients:
2 duck breasts
1 ½ teaspoons kosher salt, divided
½ teaspoon black pepper
3 tablespoons hoisin sauce
1 to 2 teaspoons Asian chili paste (use more or less depending on your taste for heat)
2 eggroll wrappers, sliced into 1-inch pieces
½ cup all purpose flour
2 tablespoons arrowroot
¾ cup water
2 eggs
2 teaspoons canola oil
½ cup thinly sliced scallions plus additional for garnish
1 jalapeno pepper, seeded, minced
2 teaspoons toasted sesame seeds plus additional for garnish
½ cup chopped fresh cilantro plus additional sprigs for garnish
Preparation:
Heat oven to 350F. Line a small rimmed baking sheet with foil. Pat duck dry with paper towels. Score duck breast skin at ¼-inch intervals in a criss-cross pattern. Sprinkle each with ½ teaspoon salt and ¼ pepper. Heat a 10-inch cast iron skillet or non-stick pan over medium heat for 2 minutes. Place duck in warm pan, skin side down, and reduce heat to medium-low. Cook duck 8 to 12 minutes or until fat is rendered and skin is crispy and brown. Turn duck and cook 2 more minutes. Transfer duck to foil lined pan, skin-side-up. (Reserve rendered duck fat in skillet.) In small bowl, mix hoisin sauce and chili paste. Brush top of duck with 1-tablespoon hoisin mixture. Bake for 5 to 6 minutes or to an internal temperature of 155F on an instant read thermometer. Let duck rest 5 minutes before slicing on diagonal into thin slices. Meanwhile, heat duck fat reserved in pan over medium heat. Fry eggroll wrapper pieces, in a single layer, in hot duck fat, turning, until golden brown and crispy. Transfer to paper towels to drain. Drain duck fat from skillet and wipe skillet clean with paper towels. For crepe batter, in a 1-cup measure, whisk flour, arrowroot, ½ teaspoon salt and water until well blended. In small bowl, beat 1 egg with a fork. Heat 1 teaspoon of canola oil in same cast iron skillet over medium heat. Add 1/3 cup of batter to skillet spreading it all over the bottom by tilting and swirling the pan. Cook 2 to 4 minutes or until edges look very dry and the crepe can be easily moved around in the pan without sticking. Pour egg over the top of the crepe, spreading evenly over the crepe. Sprinkle with half the scallions, half the jalapeno and 1 teaspoon of sesame seeds. Cook 1 to 2 minutes or until egg is set. Loosen crepe edges and with large spatula flip in pan. Top crepe with 1 tablespoon of hoisin mixture spreading it to the edges with the back of a spoon. Layer half of the crispy egg roll pieces on top. Sprinkle evenly with cilantro. Lift and turn in two sides of crepe to overlap slightly in the middle. Transfer to serving plate. Slice duck on the diagonal into thin pieces and arrange on top of crepe. Repeat one time with remaining ingredients. Garnish with cilantro, green onions and sesame seeds.