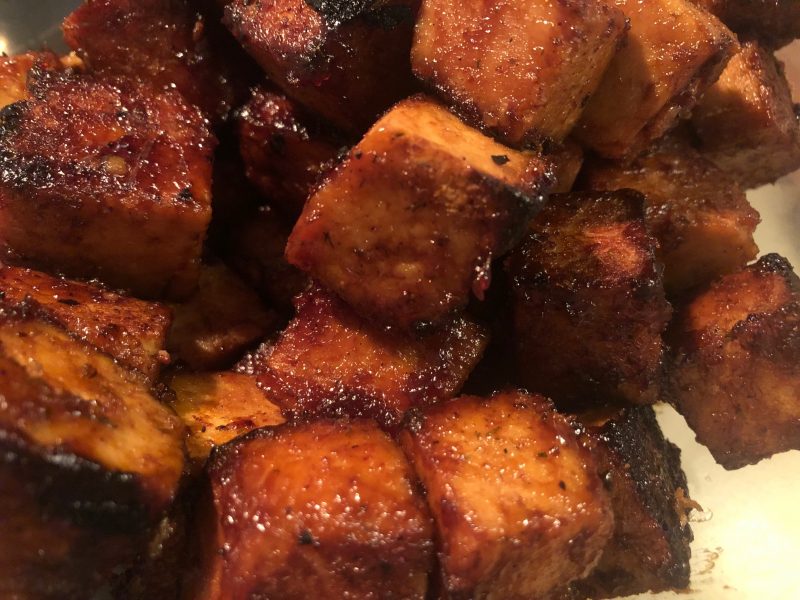 Submitted by Adam Estes
About the cook:
I'm a home cook who enjoys both contest and live demonstration cook off competitions. I've participated in the World Food Championships and several other local Florida competitions. Food is my passion and outlet from a stressful day at work, so I hope you enjoy!
About the dish:
This was a new one for me, trying to create something delicious for a team member's going away party at work. Most of my meals/dishes are very meat forward, but she's vegan so we tried to make her a meal she'd remember. This tofu recipe blends the flavors, techniques, and style of a normal barbecue, but replaces the meat with extra firm tofu.
National Origin:
American
Serves:
6
Estimated Time:
30 to 60 Minutes
Ingredients:
(2) 16oz packages of extra firm tofu
1/2c of apple juice
1/2c (approx) of your favorite BBQ rub
1 bottle of your favorite sauce for Q
Preparation:
Cut the tofu blocks lengthwise to give yourself 4 rectangles about 1 inch think. Place the squares between a few sheets of paper towel and use a heavy pan or pot to weigh it down. This step is about getting as much moisture out of the tofu as possible. We're going to replace the moisture with some added flavor later, so for now just let it sit for about 15 minutes, replacing the paper towels if they get too wet.
Remove the Tofu from between the paper towels and cut into 12 equal chunks. If your date has a little mouth (or you're feeding the offspring) you can cut them a little smaller, and its not a big deal if they're not perfect. Slice the tofu bricks lengthwise twice and then perpendicular (across the other way) 3 times to create the 12 blocks. Place all squares in a gallon zip lock bag.
Preheat your oven or grill to about 300 degrees. Line a cookie sheet with foil and place a cooling rack on top of the cookie sheet.
Add the apple juice to the bag with your tofu squares, seal, and shake it around a bit to coat all surfaces of the tofu. Then add the BBQ/spice rub to the bag, seal, and shake again to coat those little morsels with all of that delicious goodness. It's helpful to have a bit of music on for this part, so you can dance around the kitchen shaking your bag like a crazy person.
Allow the tofu squares to sit in the rub and juice about 15 minutes.
Remove the squares from the bag and place on the cooling rack. Reserve the juice and spice rub, we'll be back for that bag o' flava lata.
Place the cookie sheet with the tofu squares on the grill or in the oven and cook for 15-20 minutes. Again, the main goal here is liquid removal. We're trying to dry those squares out a bit, so they will continue to soak up the flavor we add back later. The tofu squares will start to dry up a bit, browning slightly on the outside. Remove from heat and try to avoid eating them all now (they're already good at this point, but trust me they get better.)
Raise the heat on your grill or oven to 450 degrees F.
Combine the reserved juice from the "bag of flava" with roughly 1 cup of your favorite BBQ sauce and a 1/4c of apple cider vinegar. Mix thoroughly to incorporate all together.
Place the tofu squares on your grill pan, vegetable cage, casserole dish, cookie sheet, or whatever heatproof vessel you own (like I said, easy) and put on grill, or in oven. Using a spoon or basting brush, spread sauce mixture over tofu squares, being sure to cover all sides.
Cook for 20 minutes, then stir squares around, re-sauce, and return to heat.
At this point, its a matter of preference. Like burnt ends? Continue cooking, saucing and returning to heat 2 more times. Can't wait anymore? That's ok too, dig in. Keep in mind that Tofu will absorb whatever flavor you give it. So the more saucing, tossing, and flavor you can give it, the better.