Serrano Wrapped Scallops With A Summer Relish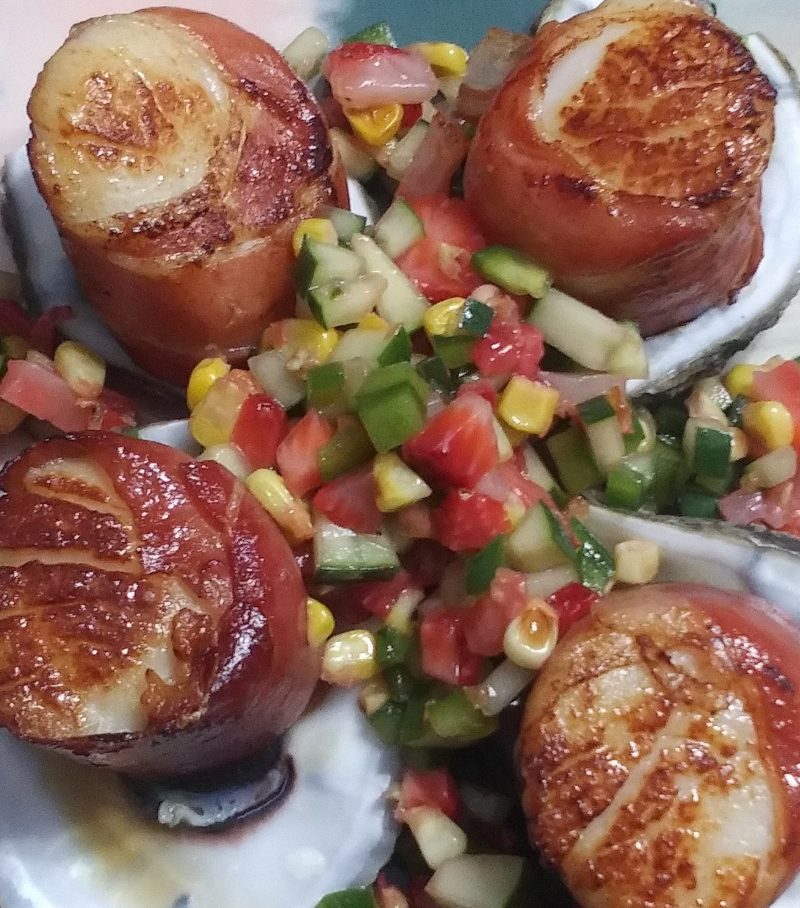 Submitted by Fernando Browb
About the cook:
Culinary school graduate who has spent a decade in restaurants and is trying to do more to put my name out in the world
About the dish:
A simple new recipe i worked on recently to put a twist on traditional bacon wrapped scallops
National Origin:
American
Serves:
2
Estimated Time:
30 to 60 Minutes
Ingredients:
4 U-10 sea scallops
4 thin slices of Serrano Ham
2 jalapenos peppers - seeded and fine diced
2 kiwis - juiced
1 cucumber - finely diced
1 Cup corn off the cob
4 fresh strawberries - finely diced
1 Tbsp rice vinegar
Kosher salt - to taste
1 tsp lime juice
1/4 cup melted butter
Preparation:
1) in a hot saute pan, place corn kernels and cook until corn starts to brown. Place roasted corn kernels in a bowl and set in refrigerator to cool. About 5 minutes
2) after corn is cooled, combine strawberries, jalapenos, cucumber, rice vinegar kiwi juice and lime juice and stir till well mixed. Taste, add a little salt as desired. Set aside or in refriegerator to keep cold until ready to plate.
3) Trim each piece of the Serrano Ham into even rectangle strips and wrap each strip around the side of each scallop, using a toothpick to secure the ham.
4) in a hot saute pan. Place each scallop and add the butter to baste and brown the scallops. Cook about 90 seconds on each side. When scallops are seared on each side, lay flat and allow the serrano to cook just slightly. When done, remove from pan and place on a rack or towel lined plate to remove some of the grease.
5) Place Scallops on serving plate and surround with some of the cold relish to serve.