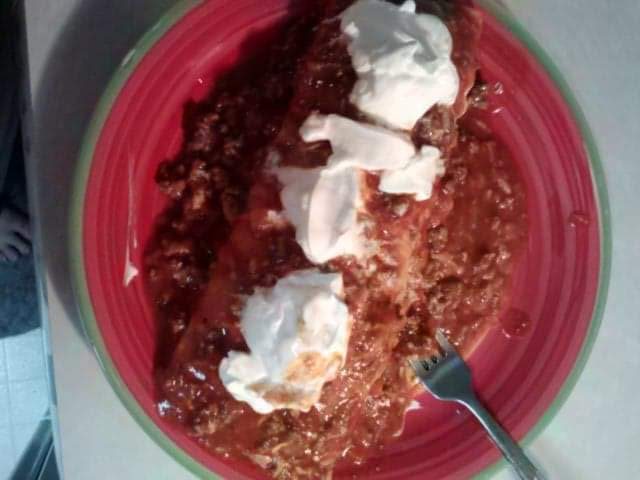 Submitted by Deidre Smith
About the cook:
I come from an Italian family that loved to cook, growing up I remember everything being smothered in sauce, as the mother of two beautiful adult daughters, I enjoy making delicious dishes for my family, food is love.
About the dish:
If you can eat two of these burritos in one sitting, you are the man. My family adores this recipe, I've made it many times through the years.
National Origin:
Mexican
Serves:
4
Estimated Time:
30 to 60 Minutes
Ingredients:
1 Lb ground beef
20 Oz Burrito sized tortillas (8count)
1/2 C sweet onion, chopped
1.25 Oz Package Taco Seasoning Mix 1
3/4 C water
24 Oz jar Prego 3 cheese sauce (or any flavor of your choice)
14 Oz Old El Paso Mild Enchilada Sauce (or any flavor of your choice)
16 Oz Refried Beans
8 Oz Sharp or mild shredded cheddar cheese
8 Oz Nacho & Taco blend shredded cheese
Sour cream
Preparation:
1. Brown 1 Lb ground beef, drain, add 3/4 C water and taco seasoning mix and diced onions. Heat until mixture starts to thicken. Set aside.
2. In a 3 Qt oblong glass baking dish, spoon 3 TBSP Prego sauce and 3 TBSP enchilada red sauce to coat of bottom of dish.
3. In each tortilla place 2 tbsp refried beans, 5 tbsp meat mixture, 1 tbsp each Prego and enchilada sauce, add generous amount of cheddar and nacho & taco cheeses. Wrap burritos.
4. Place burritos side by side in baking dish on top of sauce mixture.
5. Pour remaining Prego and enchilada sauces over burritos, generously top burritos with remaining cheeses and any remaining meat mixture.
6. Bake in 350 degree oven about 10-15 min or until cheese is melted.
7. Top with sour cream.