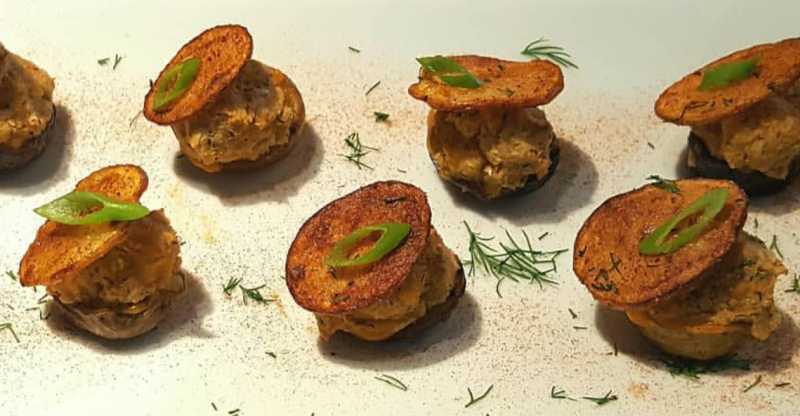 Submitted by Lisa West
About the cook:
41 year old business owner & Mum of 2. I love food, creating new & interesting ways of cooking and presenting food is my true passion. 🙂
About the dish:
I have a friend who can't stand mushrooms.. Needed to come up with an alternative to crab stuffed mushrooms, thus, the stuffed crab potato was born.
National Origin:
Canadian
Serves:
3
Estimated Time:
1 to 2 Hours
Ingredients:
20 baby Potatoes
1 or 2 tbsp olive oil to fry slices
1 tbsp truffle salt
1 teaspoon cayenne pepper
1 chopped green onion
1 tbsp finely chopped dill
For The Stuffing
1 120 gram can crab meat, save some juice from the can if mixture is too dry, add in.
1 or 2 tsp Worcestershire
1 tsp lemon zest
3 tsp lemon juice
1 1/2 tbsp fresh dill
1/4 tsp garlic powder
1 cup grated old cheddar
1/4 tsp chili flake
1/2 cup fine ground pork rinds
salt and pepper to taste
Preparation:
Preheat oven to 400.
Cut 14 to 16 of the potatoes in half, drizzle olive oil, salt & pepper, rub all over potatoes & roast cut side up for 25 minutes or until potatoes are soft in the middle to scoop out flesh.
Take the remaining 4 potatoes & thinly slice. Heat a large skillet to high, add olive oil, turn down to medium, place each slice in & gently fry till crispy, about 4 minutes, then flip over for another 4 minutes. Remove and place on kitchen paper, sprinkle with truffle salt.
To make the stuffing, add all stuffing ingredients in large bowl. mix well. Adjust moisture level with extra lemon juice and crab liquid if it's too crumbly & dry. should be a soft & stick together.
When potatoes are done, cool slightly, scoop out flesh leaving shell in tact to refill with stuffing. Add scooped out potato to the crab mixture and mix well so there are no big potato lumps.
Stuff each potato shell with about a 1 tbsp of stuffing, overflowing is best. Raise oven temp to 425, place in oven & cook for 25 to 30 minutes. Remove from oven, cool a few minutes, plate, garnish with green onion, fresh dill, crispy truffle chip & sprinkle cayenne over each.
Side note, if you have extra filling they make AMAZING potato crab cakes!