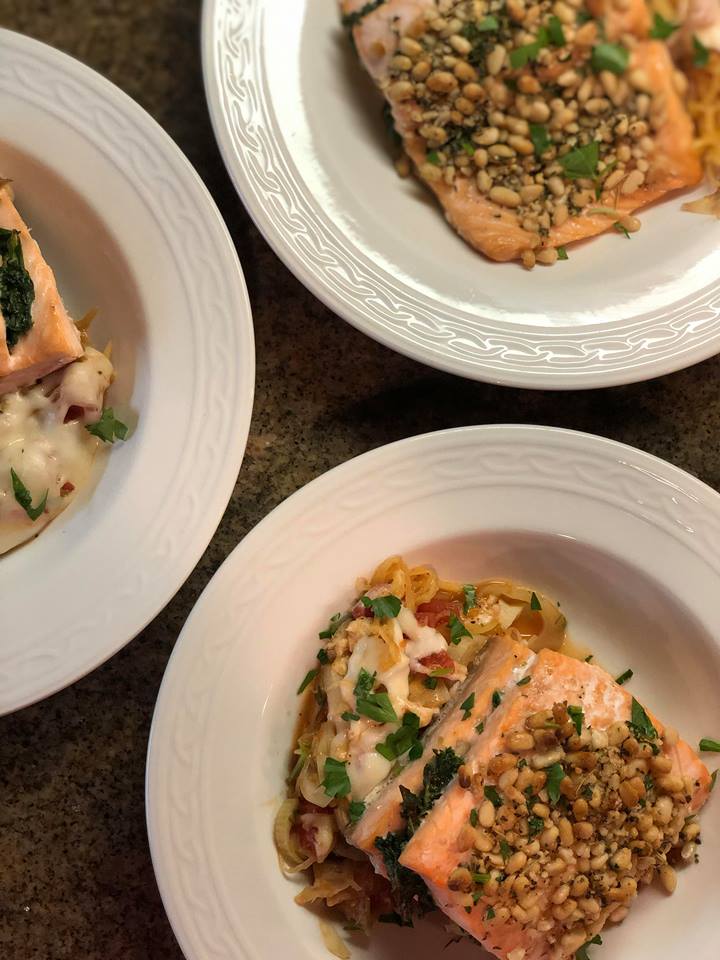 Submitted by Alyssa Reinbolt
About the cook:
Alyssa is a local food blogger from Venice, FL. She lives with her husband, Jason and their beautiful daughter, Elena. In her spare time she loves to cook, shop at thrift stores and coupon for her family.
About the dish:
When searching for the ultimate healthy dinner, I decided to put a twist on a stuffed chicken breast. I wanted to maximize the benefits in the ingredients to promote thyroid health without sacrificing taste.
National Origin:
Italian
Serves:
4
Estimated Time:
Under 30 Minutes
Ingredients:
4 Salmon Filets
3-4 Large leaves of Red Kale
½ cup crushed pine nuts
2 tbsp Italian seasoning
¼ cup diced red onions
2 cloves of minced garlic
A few stems of fresh parsley
Olive Oil
Salt/Pepper
Preparation:
Preheat the oven to 400 degrees Fahrenheit. After removing the stems from the red kale, roughly chop it into bite-sized pieces.
Heat 1 tbsp olive oil in a large sauté pan over medium heat. Add the kale, red onion and garlic to the hot pan.
Cook for 3-4 minutes, stirring occasionally to combine. Season it with salt and pepper. Once the kale wilts, remove from the heat.
Combine the pine nuts and Italian seasoning in a small bowl. Finely chop the parsley and add half to the bowl. Drizzle in 1 tbsp of olive oil, salt and pepper and stir t to combine.
Very carefully, cut a pocket into the side of each salmon filet and stuff with the kale filling. Generously sprinkle on the pine nut topping and place in the oven on a baking sheet for about 12-15 minutes or until salmon is at an internal temperature of 145 degrees.
I prefer to serve this with a side of pasta or spaghetti squash.