CRUSTLESS BREAKFAST SALAD PIZZA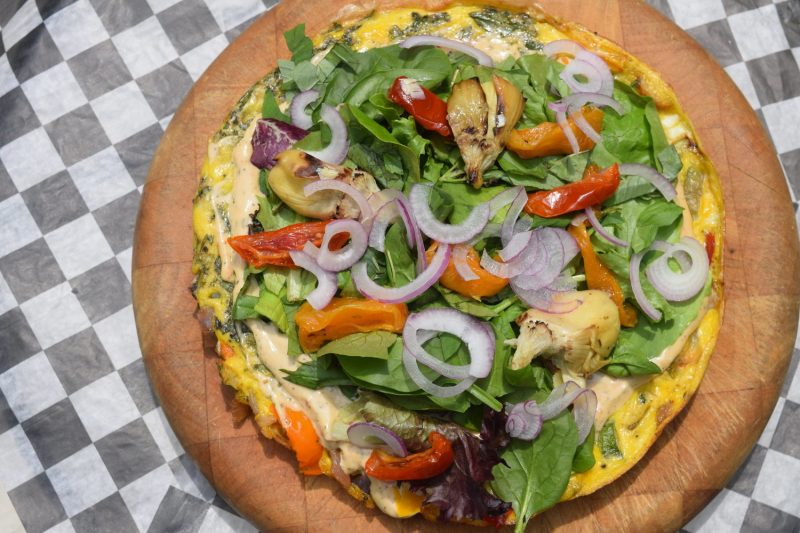 Submitted by thomas doyle doyle
About the cook:
I am a former restaurant owner and caterer. when I left the restaurant business I went to work as house chef for a College fraternity for 10 years. I have since retired and just enter recipe contests trying to win cool stuff!!
About the dish:
Years ago I had a very extensive and bountiful herb garden and this recipe started out as a simple herb quiche for a brunch I was hosting, but the "gluten free's" and the "cutting down on carbers" won out so it became a frittata. Then someone suggested a salad might be nice to add to the menu, and someone else suggested making a breakfast pizza so I just combined all three into this dish. Frittatas however traditionally have cheese in them or on them as do pizzas. I had no cheese! So I used Mayonnaise and a star was born! Enjoy!
National Origin:
American
Serves:
4
Estimated Time:
30 to 60 Minutes
Ingredients:
For the Frittata:
2 T Unsalted Butter
2 T Extra Virgin Olive Oil
12 eggs beaten
½ C each diced:
Red and Yellow Bell Peppers,
Red Onion,
Button Mushrooms
3 each:
Roasted red tomatoes
Roasted yellow tomatoes
Quartered Artichoke Hearts
1 C each:
Loosely packed Fresh Mint Leaves
Loosely packed Fresh Basil Leaves
Loosely packed Fresh Tarragon Leaves
S&P tt
For the "Cheese:"
1 C Hellman's Real Mayonnaise
1 T San Pellegrino Sparkling Water
1 t Fresh Lemon Juice
For the Dressing:
½ Shallot
3 T Extra Virgin Olive Oil
1 T White Balsamic Vinegar
Preparation:
Cooking Instructions:
Preheat oven to 350 degrees. Divide the herbs into 4 equal portions as you will use a portion for each of the four simple steps. Add oil and butter to a 12 inch nonstick saute pan over medium heat until butter stops foaming then add the peppers, onions and mushrooms and saute for 5 minutes and season with salt and pepper. Chop ¼ of the herbs and beat into the eggs and add to pan and allow to cook another 5 minutes bringing in the sides as you do. Place in oven for 15 minutes or until the center is completely cooked. Remove from oven and allow to cool to room temperature. I like to stick it in the fridge for 10-15 minutes on a clean kitchen towel to speed up the process. The rapid cooling helps the frittata pull away from the sides and bottom easier. Slide out onto a platter or cutting board and prepare the "cheese," dressing and Salad in this order as it come to temperature.
Chop ¼ of the herbs and place in blender and with the motor on low speed add the lemon juice and the San Pellegrino while increasing the speed gradually. You may need to add a little water as you go. You want to achieve a pesto consistency but not too wet. Combine with the mayonnaise and set aside. Pour the remaining San Pellegrino over ice and add a slice of lemon and drink! This is for you, the cook, NOT your guests Chop ¼ of the herbs and place in blender and with the motor on low speed add the shallot, the vinegar and when a past forms slowly drizzle in the olive oil.
Assemble dish for service by topping the frittata with the herbed Mayonnaise, the remaining whole Fresh Herbs, the tomatoes, artichoke hearts and the red onion. Drizzle on the Dressing and serve!