Tahini Marinated Watermelon Poke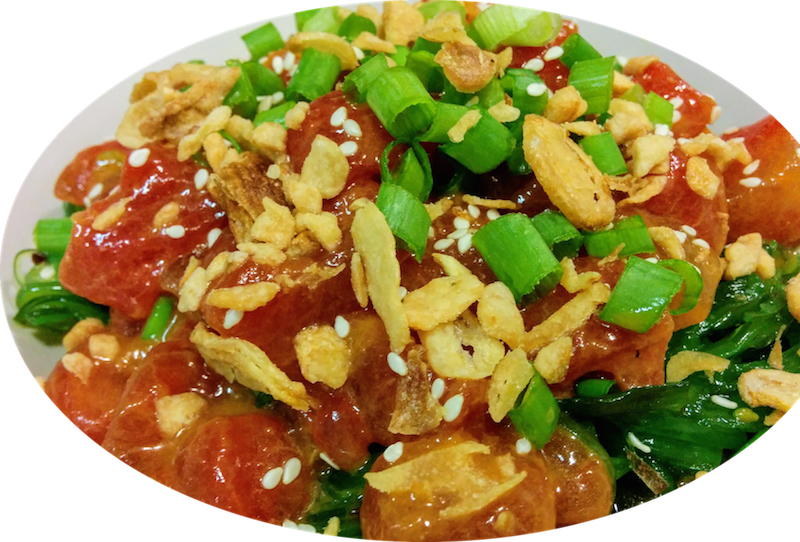 Submitted by Jodi Taffel
About the cook:
A competition cook since 2010, Jodi has won many contests including The California Strawberry Festival, The Gilroy Garlic Festival, The California Bacon Championships and Cutthroat Kitchen. Even in her work as a professional actor, Jodi can't seem to keep out of the kitchen. On The Disney Channel's show Shake It Up, she was known as The Meatball Lady and currently appears as the Home Ec. teacher on K.C. Undercover on the same network.
About the dish:
A vegetarian version of ahi tuna poke that looks AND tastes like the real thing.
National Origin:
Japanese
Serves:
6
Estimated Time:
Over 2 Hours
Ingredients:
6 cups ripe seedless watermelon, cut into evenly sized cubes
½ cup rice vinegar
¼ cup toasted sesame oil
3 tablespoons tamari
2 tablespoons fresh lime juice
2 tablespoons tahini
1 tablespoon honey
1 teaspoon Kosher salt
3 cups prepared seaweed salad
1 tablespoon toasted white sesame seeds
2 green onions, thinly sliced
1/4 cup crispy fried red onion
1/4 cup crispy fried garlic (Asian specialty market)
Preparation:
Add rice vinegar, sesame oil, tamari, lime juice, tahini, honey and salt to a blender or food processor and blend until smooth and well incorporated.
Place watermelon in a non-reactive bowl or zip top bag and cover with marinade. Allow to marinate in refrigerator 4 hours, gently tossing once every hour.
Place a large, non-stick skillet over medium heat. Remove watermelon from marinade and cook in a single layer until dry (about 10 minutes). Place in a clean bowl and chill in refrigerator for 2 hours.
Place remaining marinade in a small saucepan set over medium heat an bring to a boil. Reduce heat to a simmer and continue to cook until marinade is thick enough to coat the back of a spoon. Place in a clean bowl and chill in refrigerator for 2 hours.
To serve, place seaweed in a large serving bowl. Gently toss watermelon and sauce together until watermelon is well coated. Place watermelon over seaweed salad. Top with sesame seeds, green onions, crispy fried red onions and crispy fried garlic. (Can also be served in individual bowls, rather than family style).