Bacon Wrapped Pork Medallions w/Bone Marrow Butter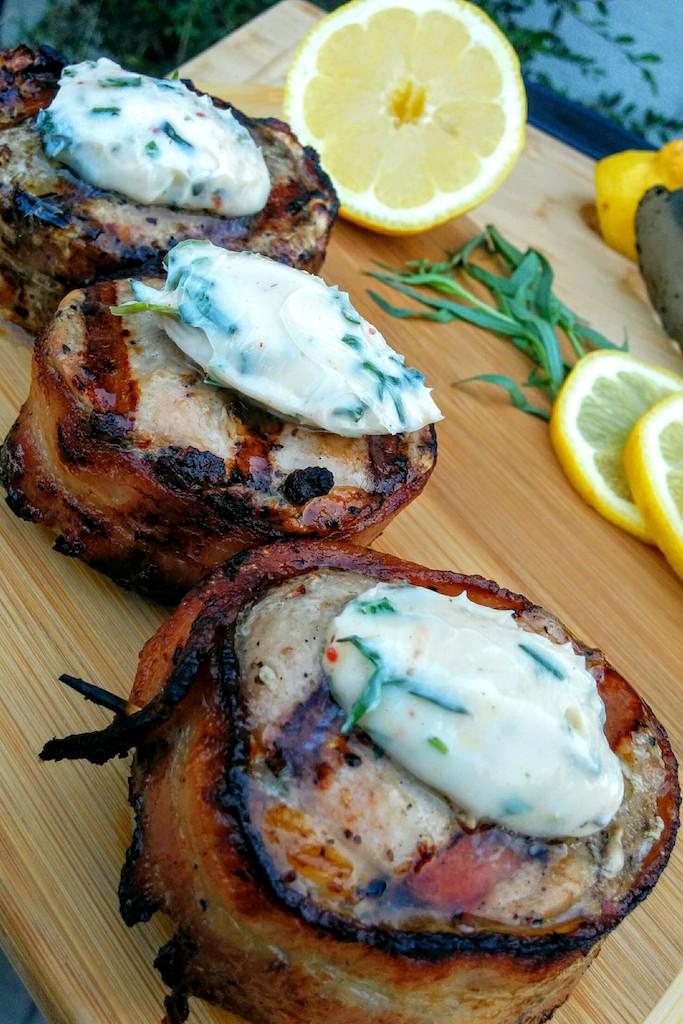 Submitted by Jodi Taffel
About the cook:
A competition cook since 2010, Jodi has won many contests including The California Strawberry Festival, The Gilroy Garlic Festival, The California Bacon Championships and Cutthroat Kitchen. Even in her work as a professional actor, Jodi can't seem to keep out of the kitchen. On The Disney Channel's show Shake It Up, she was known as The Meatball Lady and currently appears as the Home Ec. teacher on K.C. Undercover on the same network.
About the dish:
Fresh pork tenderloin wrapped in bacon and grilled topped with bone marrow butter and lemon.
National Origin:
American
Serves:
8
Estimated Time:
30 to 60 Minutes
Ingredients:
4 inches of Veal Marrow Bones, split lengthwise (available from any butcher, who will also split the bones for you)
2 teaspoons salt
1 teaspoon pepper
7-8 slices Thick Cut Bacon (the number of slices needed will vary based on the size of the tenderloin)
1/2 cup European Butter, room temperature
2 tablespoons Fresh Tarragon, minced
1/2 teaspoon Bacon Salt (optional)
1 Fresh Pork Tenderloin (1 1/2-2 lbs.)
1 lemon
Preparation:
1. Pre-heat grill to 450 degrees.
2. Sprinkle marrow with salt and pepper and then place together (like 2 halves of an empty hot dog bun).
3. Wrap marrow bones tightly in aluminum foil and place on the grill for 20 minutes, or until marrow is warmed and bubbly.
4. Lay bacon on the grill for 15 minutes, flipping half way through. You just want to par cook the bacon, since it won't be in direct contact with the grill once it's wrapped around the pork. (This can also be done in the oven on a parchment lined sheet pan.)
5. Scoop marrow out of bones and into a bowl. Mash with a fork.
6. Mix butter, tarragon and bacon salt together with marrow until well incorporated.
7. Remove pork tenderloin from packaging, and slice off about 1/2 inch of the round ends of the pork roast so you have flat ends to work with.
8. Slice pork tenderloin into medallions roughly the same width as the slices of bacon. (depending on the size of your pork roast you should get 7 or 8 medallions).
9. Wrap each medallion with 1 slice of bacon and secure with a toothpick.
10. Grill 7 minutes per side.
11. Using a meat thermometer, check that pork is 145 degrees. If not, allow to stay on the grill a minute or 2 longer.
12. Slice lemon in half and squeeze juice over pork. Then transfer pork to a platter and tent with foil while it rests for 5 minutes.
13. Top each pork steak with about a tablespoon of marrow butter and serve.