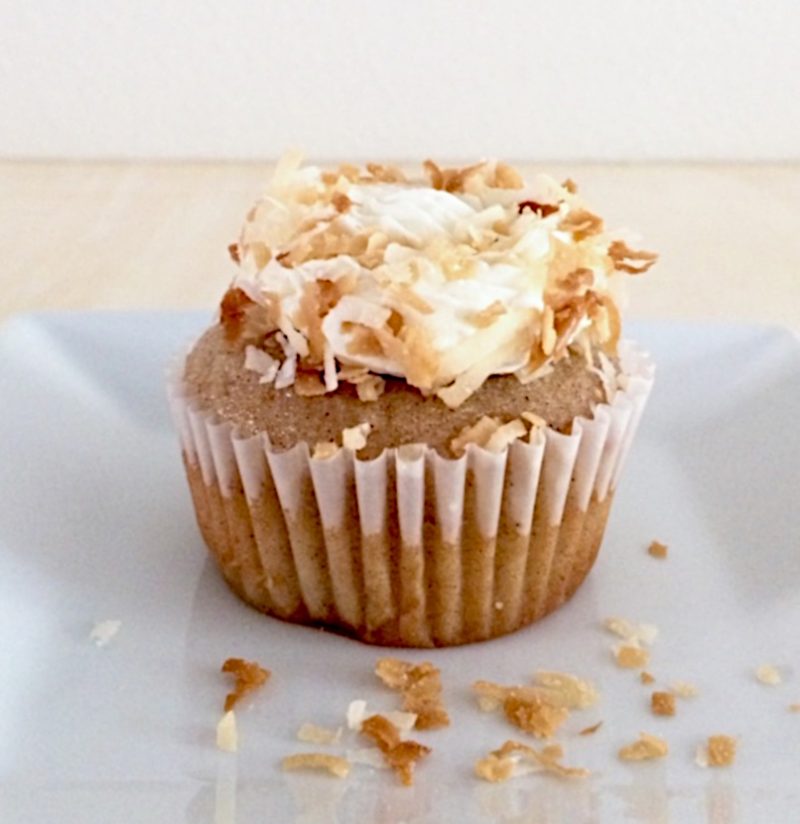 Submitted by Brette Hawks
About the cook:
Hi, I'm Brette- mom, wife, and out-of-home baker! My love for baking goes back to my mom's scraggly old worn out cookbook when I was a kid. The dessert recipe section was my little haven. Now I run my own little cake operation from my home (what you'd call a cottage kitchen!). Cake making for me is the perfect combination of art and science- I get such a thrill from playing around with new flavor combinations and new design ideas! When I'm not baking, you'll find me playing with my little boy, out for a run, or probably doing endless dishes!
About the dish:
I wanted something different than your typical old vanilla or chocolate cake. This tahini coconut cupcake will give your mouth a totally new experience with cake! Don't be fooled by the tropical sounding name: With it's warm and nutty notes from the tahini, to the sweet crunch from the coconut you get all the early fall feels!
National Origin:
American-Mediterranean
Serves:
4
Estimated Time:
1 to 2 Hours
Ingredients:
Tahini Cupcakes
1 cup & 2 tbsp flour
¾ tsp salt
¾ tsp baking powder
¼ tsp baking soda
½ tsp cinnamon
1 egg
6 tbsp maple syrup
½ cup sugar
1 ½ tsp vanilla
½ cup milk
¼ cup oil
¼ cup water
½ cup tahini
Coconut Buttercream
3 sticks butter softened
5 cups powdered sugar
½ tsp vanilla
1 tsp coconut extract
½ tsp lime juice
3 tbsp coconut cream (if it has separated into liquid and solids, mix it up before using)
1-2 tbsp milk
Toasted Coconut (For Topping)
2 cups sweetened coconut flakes
Preparation:
Cupcakes:
Whisk together flour, salt, baking powder, baking soda and cinnamon so they are evenly distributed. In a separate bowl, whisk together egg, maple syrup, sugar, vanilla, buttermilk, oil, water, and tahini until well combined. Add the dry ingredients to the wet ingredients and mix until incorporated together and there are no pockets of dry ingredients left. Pour about ¼ cup of batter into each cupcake liner. Bake at 350° for 18-20 minutes, until toothpick comes out clean.
Buttercream:
Beat the butter until creamy and smooth. Add in the vanilla, coconut extract, coconut cream, and lime juice and beat for a few seconds to incorporate. Add one third of the powdered sugar in intervals. Mix in between each addition of powdered sugar until all the sugar is added and the buttercream is well blended and smooth. If it's too thick to work with, add a tablespoon or two of milk and mix until incorporated and desired consistency is achieved. Using a knife spread a nice even layer of buttercream on each tahini cupcake. (I like to pipe my cupcakes using cake decorating bags and tips, but not everyone has these on hand, so a knife will also do the trick just fine!)
Toasted Coconut:
You can toast the coconut a few days in advance and store in an airtight container until ready to use. Preheat the oven to 325. On a parchment paper lined pan, spread the coconut in a thin even layer. Bake for 5 minutes. Remove from oven and stir the coconut around to ensure even toasting. Bake it for another 3-5 minutes, until flecked with golden brown spots. Allow to cool before using. Sprinkle coconut on frosted cupcakes (I use about 1 1/2 tsp of toasted coconut per cupcake)