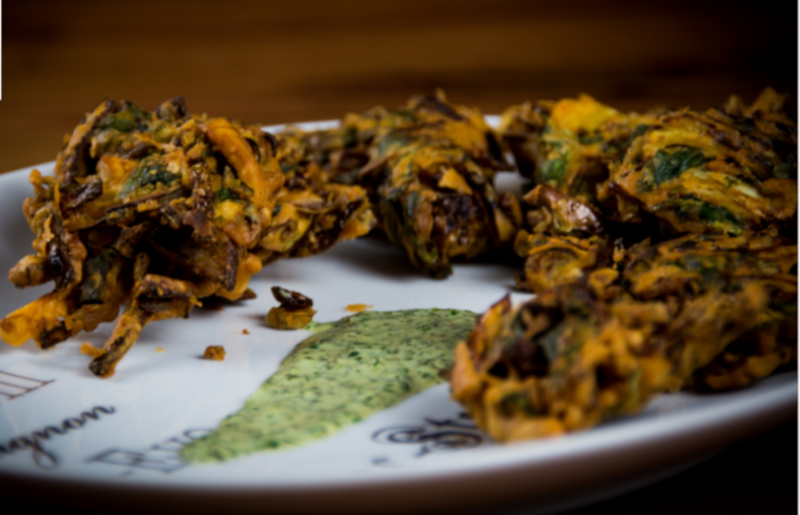 Submitted by Sajida Afzal
About the cook:
I am Dr. Sajida Afzal. I love to cook as it relaxes me. I like to cook Pakistani food and international food as well. My main inspiration for cooking is my mother. I Have always seen her cooking and learned from her. While being in Germany I miss Pakistani food that is why I always try to find an easy way to cook the food. I always put my own essence in the recipe by using different spices and different amount of spices. I have recently started my youtube channel named dhaabacuisine to promote my cooking.
About the dish:
Crispy Veg Pakora is made with gram flour/chickpea flour and is one of the most famous snacks from Pakistan. We make it with different veggies or even with chicken.
National Origin:
Pakistan
Serves:
4
Estimated Time:
30 to 60 Minutes
Ingredients:
1 Potato (medium size)
1 Onion (medium size)
1 Green Chili (julienne cut)
100g Baby Spinach
50g Cabbage (thinly sliced)
150g Chickpea Flour
½ tsp Red Chilli Flakes
¼ tsp Turmeric
½ tsp Dried Coriander Seeds (powder or raw)
1 tsp Cumin Seeds
2 tbsp Fresh Coriander (finely sliced, optional)
Salt to taste
Water (as required for semi-thick batter)
250ml Oil (for deep or shallow fry)
Preparation:
1. Peel potatoes and cut them into thin layers. Slice onions and cabbage thinly. Rinse baby spinach to remove all dirt and roughly dice it.
2. Add chickpea flour to a bowl, add all vegetables, chili flakes, turmeric, coriander seeds, cumin seeds and salt.
3. Mix them with a spatula/spoon/hand and start adding water slowly until consistency reaches a semi-thick batter.
4. Now add fresh coriander, skip this step if you don't like coriander.
5. Heat oil in a non-stick pan, wok, or fryer at medium flame. We will not cook pakora on high flame.
6. Now take the batter in a tbsp or by hand and start dropping small portions in the oil one by one. Don't put many portions at a time and avoid crowding the pan.
7. Fry them while flipping from side to side until they get golden brown.
8. Place the finished product on a paper towel/kitchen towel to drain excess oil.
9. Serve with yogurt and mint dip.