Stuffed Pork Tenderloin w/cranberry blood orange compote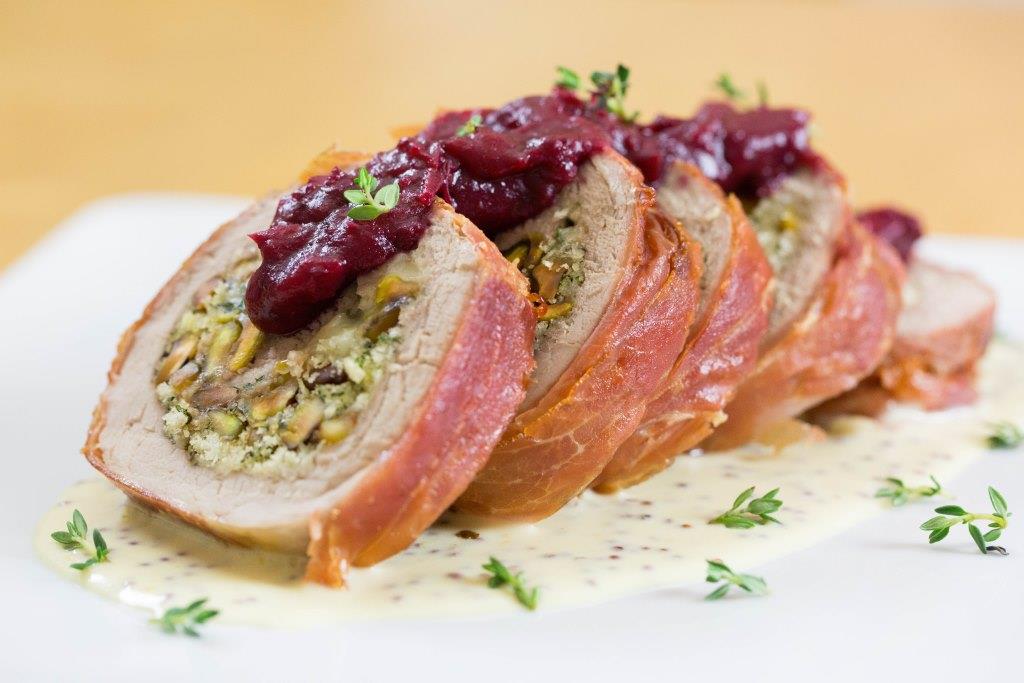 Submitted by David Inloes
About the cook:
I am a retired Broadway dancer who became interested in food during my travels to different countries. I am also completely self taught amateur home cook. I hope you enjoy my recipe!
About the dish:
This dish started as a favorite holiday appetizer that I created. I wanted to see how a few changes to that original recipe would be as an entree. My family now loves it as an appetizer and an entree! Hope you like my entree version!
National Origin:
International
Serves:
6
Estimated Time:
30 to 60 Minutes
Ingredients:
2 Pork Tenderloin Filets –about 3½-4 pounds
¾ cup Panko Bread Crumbs
8 ounces Pistachios, toasted and chopped
1 tablespoon Flat Leaf Parsley, minced
1 tablespoon Thyme, minced
10 ounces Blue Cheese, crumbled
½ pound Prosciutto, sliced very thin
1 tablespoon Olive Oil
10 ounces Frozen Cranberries
1/3 cup Blood Orange Juice
Zest of 1 Blood Orange
2 tablespoons Blood Orange Liqueur (Solerno)
1 cup Heavy Cream
2 tablespoons Dijon Mustard
2 tablespoons Whole Grain Dijon Mustard
Preparation:
1. Preheat oven to 350 degrees.
2. Butterfly the pork tenderloin filets and pound with a kitchen mallet until a uniform 3/8" thick. Salt and pepper the pounded side, to taste.
3. In a medium bowl, mix together the breadcrumbs, pistachios, parsley, thyme, and bleu cheese to combine. Divide the mixture between the butterflied filets leaving a 1" border on all sides. Roll tightly, lengthwise and set aside.
4. Lay half of the prosciutto out lengthwise on a clean work surface making sure to overlap the edges. Place one of the rolled filets at one end of the prosciutto and roll tightly. Tie filet with kitchen string to secure. Repeat with other filet.
5. Heat olive oil in a heavy, oven proof skillet. Sear the filets on one side for 4 minutes. Finish pork in the oven, turning filets over half way thru, until the pork reaches an internal temperature of 165 degrees; approximately 25 minutes. Cover and let rest 10 minutes
6. In a medium saucepan set over medium-high heat, bring the cranberries, juice, zest and liqueur to a boil. Reduce heat and simmer until the berries begin to break down and thicken, stirring occasionally; approximately 22 minutes. Keep warm until ready to use.
7. In a small saucepan set over medium heat, bring the cream to a simmer to thicken, approximately 5 minutes. Stir in mustard until combined and continue to simmer for 5 more minutes, stirring often.
8. Slice stuffed pork tenderloin and serve with compote and mustard sauce.