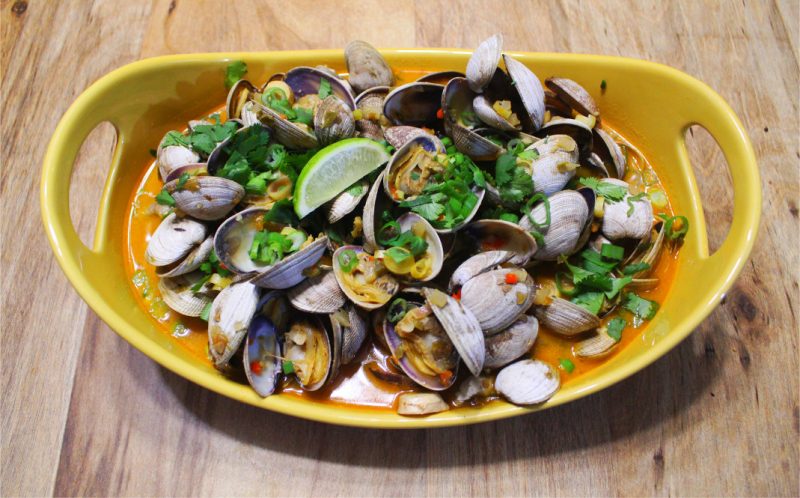 Submitted by Nicole Starr
About the cook:
I am a homecook and a hospitality professional who has worked in the food & beverage industry for over 25 years. I recently started food blogging and photography.
About the dish:
For this recipe I harvested manila clams right off the beaches of the Puget Sound in Washington State. Lucky for me I only have to drive a short distance to get these babies. However, any steamer clams will suffice. I've eaten more of these than I can even recall, but most of them have been cooked in the typical white wine and butter broth. I had something similar to this off a menu at some fancy restaurant in Seattle many years ago that is no longer open and I've never seen anything quite like it anywhere else, so I decided to make my own.
National Origin:
Pacific Northwest
Serves:
4
Estimated Time:
Under 30 Minutes
Ingredients:
4 - 6 pounds steamer clams
2 tablespoons red curry paste
2 chopped lemongrass stalks
1 2 inch piece of fresh ginger, cut into slices
3 chopped green onions
2 tablespoons cilantro
2 cans of lite coconut milk
2 tablespoons lime juice
1 finely diced shallot
1 large garlic clove
1/4 cup finely diced red pepper
1 finely diced jalapeno
1 tablespoon coconut oil
Baguette for dipping broth
Fresh cracked pepper
Preparation:
In a large soup pot heat the oil on medium heat and sauté the lemongrass and ginger for about 3 minutes then add the peppers, shallots and garlic and continue sautéing until tender…about another 5 – 8 minutes. Add the curry paste and the lime juice and stir. Add the coconut milk, stir, then add the clams and cover until all of the clams are open…about 8 – 10 minutes. Once the clams have opened, using a skimmer spoon, transfer the clams to a large serving dish and pour the broth over the clams. Serve with a crispy baguette for dipping and garnish with the green onions, cilantro and a lime wedge.