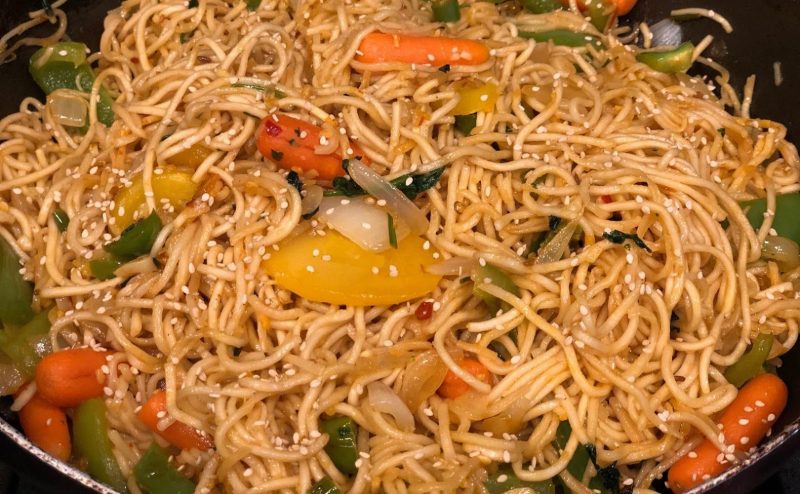 Submitted by Poornima Noubad
About the cook:
I'm a vegetarian cooking instructor at Sticky Fingers cooking school. Baking and cooking is my passion. I love to be part of the food industry and chose to this form after exploring different types of vegetarian and vegan cooking.
About the dish:
A very popular Indo-Chinese spicy, flavorful street food liked by everyone.
National Origin:
Indo Chinese
Serves:
4
Estimated Time:
Under 30 Minutes
Ingredients:
1 pack(2LB) of vegetarian Hakka noodles from any Asian market
2 cups cabbage Julienne
1 cup carrot diced
1 green and 1 red bell peppers sliced
1 bunch of chopped spring onion
1 TBSP fresh Garlic minced
1 TBSP chili sauce
1 TBSP brown sugar
1 TBSP rice vinegar
2 TBSP dark soy sauce
2 tsp salt
1 tsp black pepper
1 Serrano chili chopped finely
1 tsp red chili flakes (optional)
3 TBSP of grape seed oil
2 tsp of toasted sesame oil
1 tsp sesame seeds to garnish
Preparation:
1. Bring 8 to 10 cups of water to boil in a large pan and when its starts boiling add one teaspoon of salt and add noodles, cook it for 3 to 4 mins and turn off the gas and drain the noodles in a colander immediately.  Wash the noodles with cold water to stop cooking, add sesame oil to this and let it sit until we prepare vegetables stir-fry.
2. Heat a wok in high flame and add oil to it when its hot add garlic, chilies followed by all the veggies.
3. Now add rest of the ingredients followed by noodles and keep stir frying continuously until you feel like all the sauce has coated the veggies well.
4. Adjust spice level and salt according to your taste.
5. Before serving ass sesame seeds.
TIP: you can add stir fried/braised tofu to this as well and it tastes great