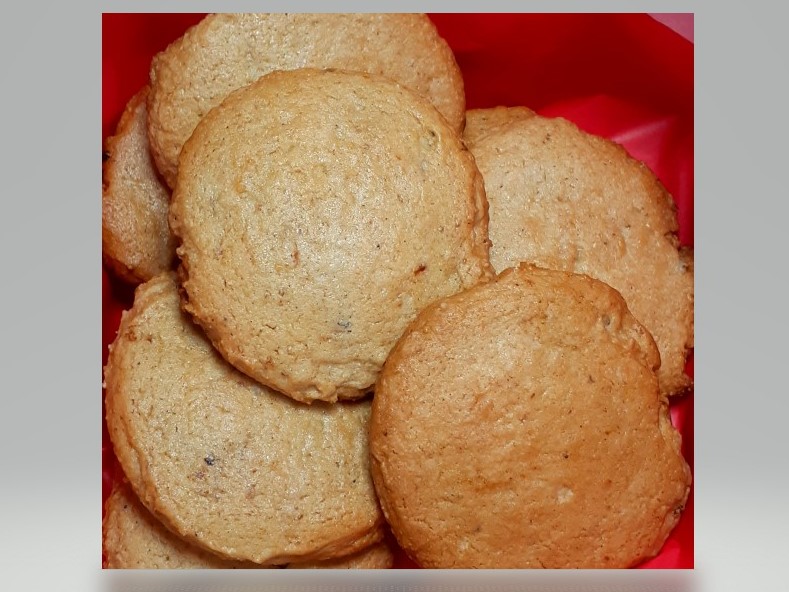 Submitted by Sierra Horsey
About the cook:
I love finding inspiration from unique flavor profiles popular in other countries to balance the sweetness of traditional, American desserts. It's helped me develop a greater understanding of flavors and share this love with others. I share most of my bakes as a way to bring people together and create meaningful connections with those around me.
About the dish:
A light yet delicious, dairy-free cookie perfect for holiday gatherings or to leave for Santa under the tree.
National Origin:
American
Serves:
24
Estimated Time:
Over 2 Hours
Ingredients:
Canned coconut milk, separated (can substitute with coconut cream)- 175g or 3/4 cup
Vegetable shortening - 60g or 1/3 cup
Granulated sugar - 200g or 2 cups
Eggs - 2 large, room temperature
Fig and honey preserves (store bought) - 120g or 1/2 cup
Honey - 50g or 2 heaping tbsp
All purpose flour - 480g or 4 cups
Chai spice blend - 8g or 3 tsp
Kosher salt - 10g or 1 tsp
Chai spice ingredients (can substitute with chai tea):
Ground ginger - 8g or 4 tsp
Ground cinnamon - 6g or 3 tsp
Ground cardamom - 2g or 1 tsp
Ground cloves - 1g or 1/2 tsp
Ground allspice - 1g or 1/2 tsp
Ground nutmeg - 1g or 1/2 tsp
Ground star anise - 1/2g or 1/4 tsp
Preparation:
Place the can of coconut milk in the refrigerator for 24 hours to separate the cream from the milk. If you are using canned coconut cream, you can skip this step.
Separate the thick cream from the milk and place the cream in a medium size bowl. Leave on the counter for 30 minutes to bring it to room temperature. The extra liquid will not be used in this recipe but can be jarred and stored in the fridge for other recipes.
In a small bowl, create your chai spice blend and measure out 3 teaspoons. If replacing the spices with chai tea, use a fine tea or grind it using a food processor or coffee grinder.
In another bowl, stir together the flour, salt, and chai spice blend.
Add the shortening to the coconut cream and whip together using a hand mixer until stiff peaks form, and the shortening is well incorporated. About 3 minutes.
On a medium speed, mix in the sugar. About 3 minutes. Scrape the bowl as necessary.
Add the eggs one at a time, beating until well incorporated.
Mix in the preserves and honey on a low speed until mostly incorporated; some streaks of preserves are fine.
On a low speed, add 1/3 of the dry ingredients to the wet ingredients and mix until combined. Continue to add the dry ingredients in increments until all is added. Dough will be slightly sticky.
Refrigerate dough for at least one hour or overnight.
Preheat your oven to 350 degrees and line a half sheet pan with parchment paper
Using a medium cookie scoop, scoop cookies onto the tray, leaving enough space to flatten each cookie. Cookies will not spread much in the oven.
Using a moistened bottom of a glass, flatten each cookie to about 1/2 inch thick. The dough is sticky so to keep it from sticking, moisten your glass between each press.
Bake for 22 to 25 minutes until golden brown and springy in the middle. When lightly pressed the center and it should not hold an indent.
Cool for 4 minutes on the tray before cooling completely on a cookie rack.