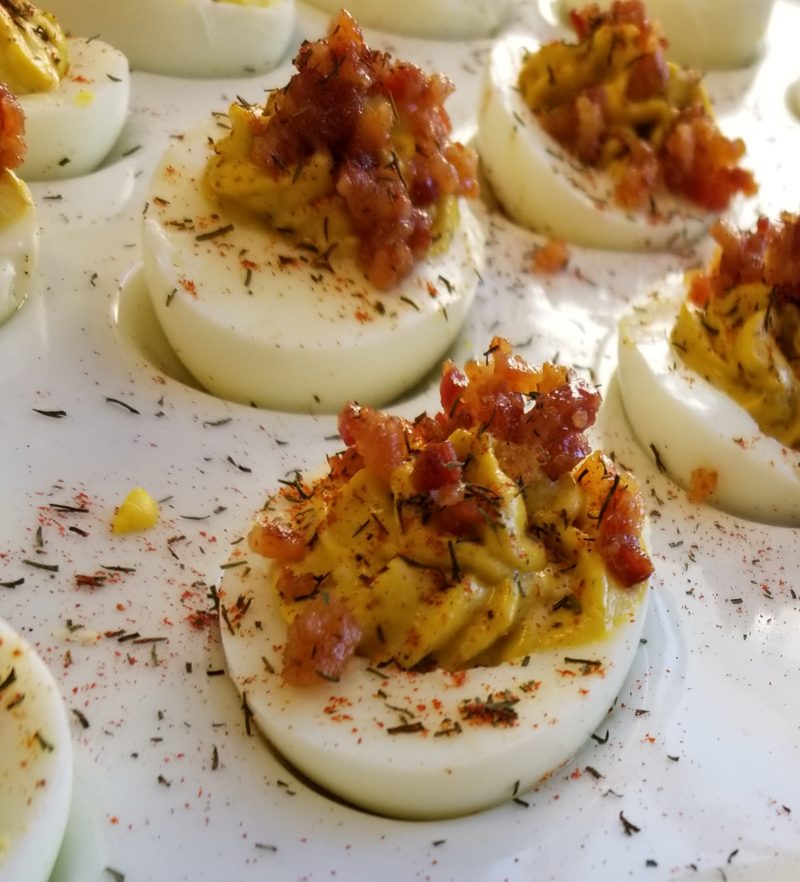 Submitted by William Thompson
About the cook:
I'm a Sous Chef in training at Jackson Square Grill in Columbus, MS and a recent graduate of the Mississippi University for Women. The only thing I've ever been good at is making people happy with my food.
About the dish:
My special twist on deviled eggs.
National Origin:
Southern
Serves:
6
Estimated Time:
30 to 60 Minutes
Ingredients:
12 Large Eggs boiled, peeled, and cut length wise
¼ cup Mayo
1 tbsp butter soften and room temperature
2 tsp dijion mustard
1 tbsp pickle relish
1 tsp sugar
Tt salt
Tt pepper
¼ tbsp paprika
4 slices of bacon cooked and finely crumbled
¼ tbsp dill
Preparation:
Separate the yolks and place in a mixing bowl. Put the whites on a serving tray.
Mix the mayo, mustard, butter, sugar, and relish into the yolks and mix until smooth. Salt and pepper the yolk mixture to taste, then fill a pastry bag to decoratively fill the whites with the mix, or use a spoon to simply fill them.
Once you fill the egg whites, sprinkle the bacon crumbles on top.
Lastly, mix the dill and paprika and sprinkle.