S'mores Chocolate Pudding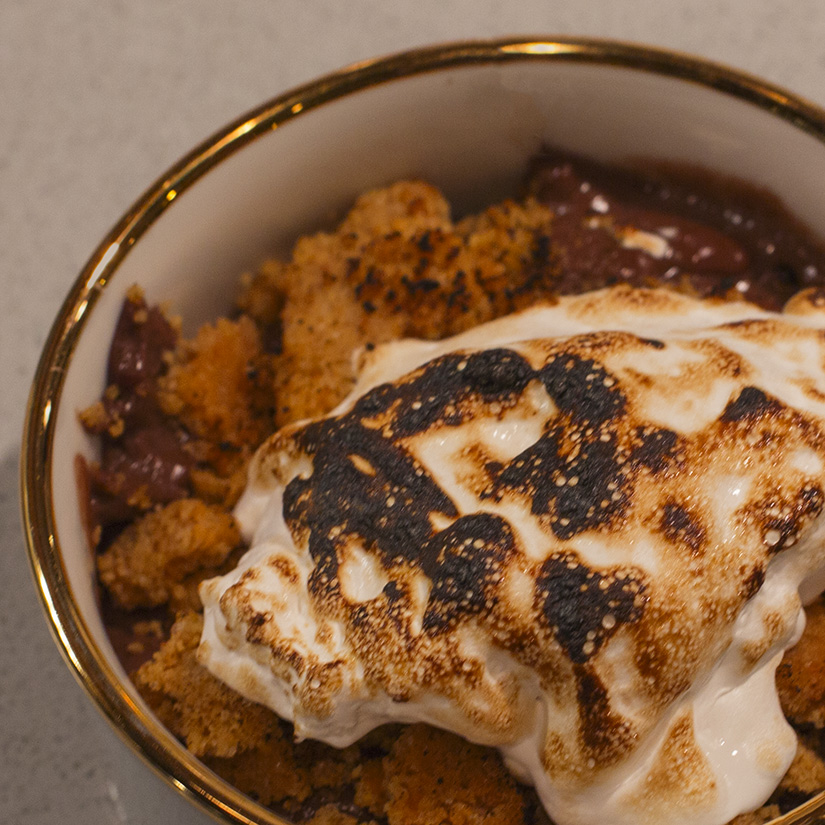 Submitted by Carla Loeven
About the cook:
I'm a teacher, photographer, and mom. I grew up on Long Island, New York in a "restaurant family." I worked in the family restaurant business for many years and my love for cooking (and eating) developed at a very early age. I've continued to cook for my family and pass down the recipes that are a integral part of our family's history.
About the dish:
This recipe combines 2 of my favorite desserts. S'mores and chocolate pudding. It's a perfect summer dessert.
National Origin:
American
Serves:
6
Estimated Time:
Over 2 Hours
Ingredients:
For pudding:
1/4 cup cornstarch
1/2 cup granulated sugar
1/8 teaspoon salt
3 cups whole milk
6 ounces semi-sweet chocolate, coarsely chopped
1 teaspoon vanilla bean paste (or pure vanilla extract)
2 Tablespoons espresso (or prepared instant)
For graham cracker crumble:
6 graham crackers
1/3 teaspoon salt
1/8 cup granulated sugar
2 ½ Tablespoons unsalted butter, melted
1 Cup Marshmallow Fluff
Preparation:
Combine the cornstarch, sugar and salt in a medium saucepan. Slowly whisk in the milk, in a thin steam at first so that lumps don't form, then more quickly once the cornstarch mixture is smoothly incorporated. Place over low heat and stir occasionally, scraping the bottom and sides. Use a whisk to prevent clumps. After about 12 minutes the cornstarch taste should be cooked out and the mixture should begin to thick enough to coat the back of a spoon. Continue stirring and add the chocolate and espresso. Stir for another 3 or 4 minutes, until chocolate is fully incorporated and the mixture is quite thick. Remove it from heat and stir in the vanilla bean paste. Run mixture through a fine-mesh strainer to remove any lumps. Distribute among 6 individual cups and chill until it is cool and set, about 3 hours.
While the pudding chills, make a graham cracker crumble.
Preheat oven to 350 degrees. In a food processor, combine graham crackers, salt, and sugar. Process until the mixture is finely ground. Stream in the melted butter and pulse a few times to incorporate. Press the mixture out on to a piece of parchment on a sheet pan. Bake about 10 minutes until the edges are golden and it is very fragrant. Let cool completely and then break into chunks.
Assemble the pudding. To the top of each pudding add a few tablespoons of the graham cracker crumble. On top of that add about 2 tablespoons of marshmallow fluff. Using a cooking torch, brown the tops of the marshmallow fluff. (I like my fluff how I like my campfire marshmallows, extra well done) Serve immediately.