Shrimp & Avocado Tostones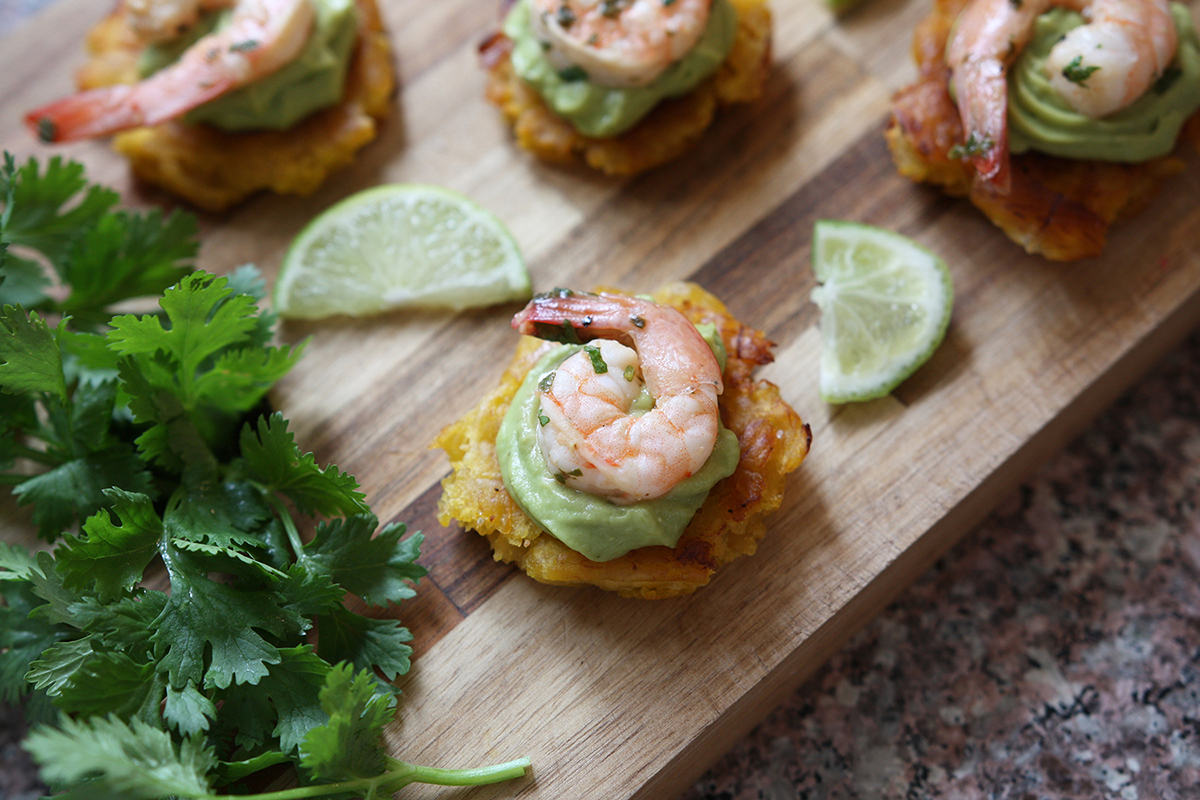 Submitted by Sara Kabatsky
About the cook:
​I grew up on the west coast of the US, among a family of wonderful cooks, including my mom, who was truly inspiring with her holiday baking marathons and regular family dinners. She sparked my interest in the kitchen.​​ I moved to New York City where I dabbled in many different industries, but one thing was always certain: that I always loved cooking, baking and entertaining. This skill has gradually become more refined and adventurous and has now been projected into Gluten-Free Made Easy. In 2015, I was diagnosed with Celiac Disease, which changed everything I knew about cooking and baking. It was quite devastating in the beginning, but after a lot of experimentation and motivation from my husband and family members, I have gone on to win awards for my gluten-free recipes, and I know more good things are on the way! I do think that being gluten-free has fostered a more potent awareness of health in my family.​ ​
About the dish:
A delicious take on the traditional tostone, which is usually served as a side dish. These make a great appetizer for get-togethers, they are so rich that they could almost be a complete meal!
National Origin:
Carribean
Serves:
6
Estimated Time:
1 to 2 Hours
Ingredients:
3 green plantains
avocado oil for frying
sea salt
20-25 raw shrimp, shelled and deveined
3 limes
1/2 teaspoon cayenne pepper (or more to taste)
1/4 teaspoon onion powder
1/4 teaspoon garlic powder
3 tablespoons fresh chopped cilantro
1 medium ripe avocado
3-4 tablespoons green sriracha sauce
Preparation:
Place the shrimp into a medium bowl and marinate with the juice of 2 limes, cayenne pepper, onion powder, garlic powder, salt, 2 tablespoons avocado oil and fresh cilantro. Set aside while you prepare the tostones.
Heat oil in a medium saucepan, enough to cover the bottom plus a little more.
Peel and slice the plantains into two-inch chunks. Fry on both sides for 3-4 minutes, remove from oil onto a paper towel. Sprinkle with salt.
Gently flatten the plantains between two small plates, or use a plantain press.
Return to pan and fry again for 1-2 minutes on both sides. Remove and drain on paper towels.
Remove most of the leftover oil from the same pan and saute the shrimp on medium-high in its own marinade. It should take 4-5 minutes. Remove from heat.
Peel and destone the avocado, place in a food processor or use an immersion blender to combine the avocado with the juice of 1/2 a lime, and the green sriracha sauce. Blend until very smooth and creamy.
Place the tostones on a serving dish, spoon or pipe a little of the avocado mixture on each tostone. Top with one shrimp, squeeze a little more lime juice and sprinkle with more cayenne pepper (if desired).