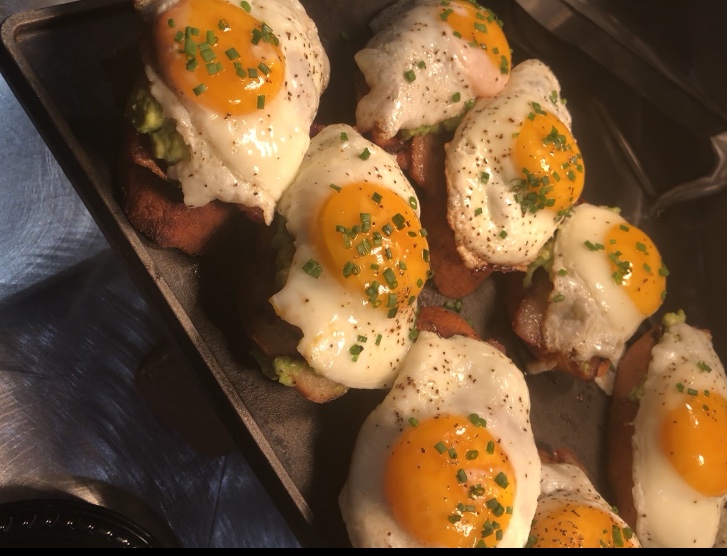 Submitted by Bridget Mooney
About the cook:
I've always loved cooking. I grew up cooking for my family with my sister as my mom worked late. It's fun to cook with ingredients you have on hand and try them in new ways!
About the dish:
A quick and delicious breakfast to start the day off right!
National Origin:
American
Serves:
12
Estimated Time:
Under 30 Minutes
Ingredients:
1 French Baguette
1/4 cup avocado oil
2 ripe avocados
3 Roma Tomatoes, sliced
12 slices bacon
12 eggs
1/8 cup chopped chives
Salt, to taste
Pepper, to taste
Preparation:
1. Slice baguette into thick slices, getting 12 from the loaf.
2. Rub each slice with oil and season with salt and pepper.
3. Cook bread on grill until toasted on each side, about 1 minute.
4. Remove avocado from skin and discard the pit.
5. Mash avocado and season with salt and pepper.
6. Cook bacon on parchment paper in 350 degree oven until crisp, about 7 minutes.
7. Fry eggs in non stick fry pan until desired yolk doneness, for over easy as pictured, about 4 minutes.
8. Assemble by placing mashed avocado on bread and topping with bacon, tomatoes, egg and chives.