Smoking Sharp Dried Cranberry Cheddar Appetizer Truffles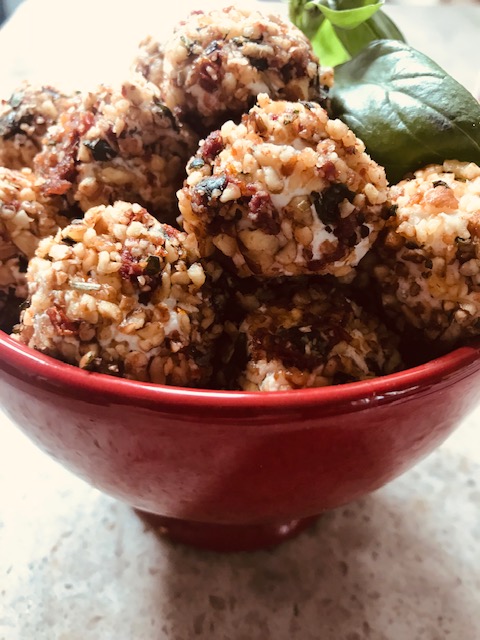 Submitted by Donna-Marie Ryan
About the cook:
I am a retired Biology teacher who enjoys cooking and creating recipes.
About the dish:
A wonderful single serve cheese ball recipe packaged as a "candy truffle" format. A crunchy sweetened outside,with a creamy savory center means they'll come back for more!
National Origin:
American
Serves:
12
Estimated Time:
Under 30 Minutes
Ingredients:
Smoking Sharp Dried Cranberry Cheddar Appetizer Truffles
Topping/ to roll in
1 cup pecans, finely chopped
1/3 cup dried Sunsweet cranberries
1/4 cup cooked bacon, finely chopped
Truffle center
10 ounces Smoked Sharp Cheddar, grated
1/4 cup fresh basil, chopped
6 ounces cream cheese, softened
½ cup pecans, finely chopped
½ cup cooked bacon, finely chopped
Preparation:
Make the topping first by placing all of the ingredients into a food processor and pulse until you have a nice finely chopped crunchy looking topping.
Pour into a shallow bowl.
Place the truffle cheddar , basil,cream cheese , pecans and bacon in the food processor ( no need to clean) and pulse to combine.
Using a 1 inch cookie scoop – scoop out cheese balls and place on a waxed paper covered plate.
Place several cheese balls in the topping mixture and using a small fork, roll to cover.
Remove and place into a wax paper lined dish. When all are covered cover the dish with plastic wrap and keep chilled until ready to serve.
To serve place in a serving bowl. Makes about 36.