Seaside Garden: Seared Scallops with Quinoa and Peas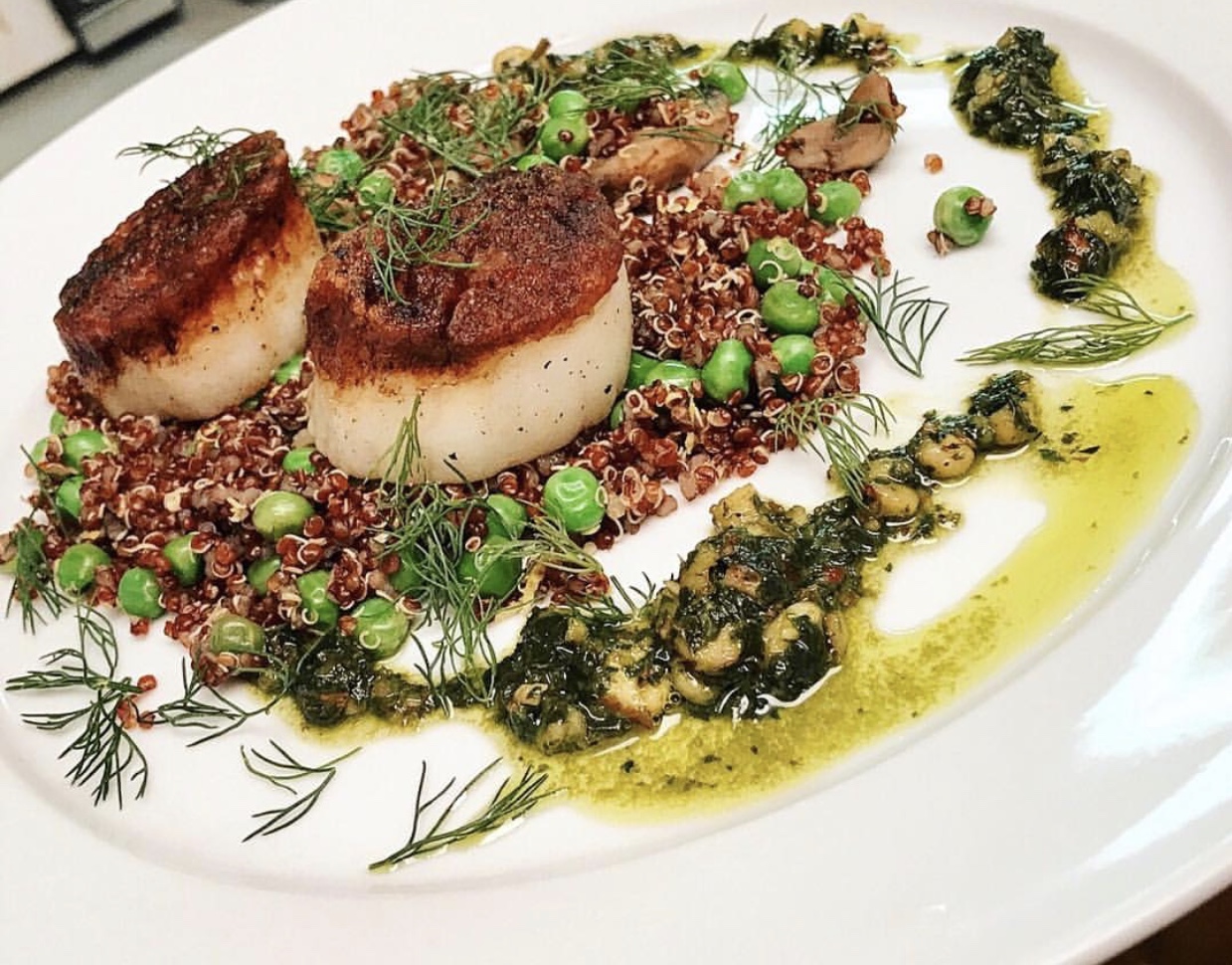 Submitted by Wiley Graham
About the cook:
A law school graduate working in the financial industry who loves to cook!! I began cooking in college for my roommate and his girlfriend and that quickly turned into her friends and her friends friends. Eventually I realized that the best way to "win her" is over dinner and the rest is history...
About the dish:
A blend of textures, and dynamic flavor.
National Origin:
South American
Serves:
2
Estimated Time:
30 to 60 Minutes
Ingredients:
4 large Scallops
2 tablespoons vegetable oil
6 tablespoons olive oil
6 tablespoons white truffle oil
1 cup red quinoa
2 cups beef or chicken broth
16 oz of green peas
1/4 cup of fresh flat parsley
6 oz of white corn
1 tablespoon of flour
Dill for garnish
Preparation:
Remove muscle from one side of scallops, pat scallops dry, lightly dust with flour on one side and set back in refrigerator. Rinse quinoa in cold water then combine water broth and quinoa in a medium saucepan. Bring to a boil. Reduce heat to low, add green peas cover and simmer until tender and most of the liquid has been absorbed, 15 to 20 minutes. Fluff with a fork. Meanwhile, combine 3 tablespoons of olive oil, 6 tablespoons truffle oil, chopped parsley and corn in a mixing bowl, set aside. Bring scallops to room temperature then sprinkle with salt and pepper. Heat 2 tablespoons of vegetable oil and 3 tablespoons of olive oil in a stainless steel pan on medium high heat, when oil begins to slightly smoke add scallops flour side down into pan, press down with finger for contact and seat until scallops reveal a dark brown crust 3-4 minutes or so, cut heat off and cover with a lid for another 5 minuets. After 4-5 minutes, set on towel then plate…quinoa/peas first, set scallops on top of quinoa mixture, drizzle truffle oil mixture around the plate and over the quinoa, garnish with fresh dill. Enjoy!