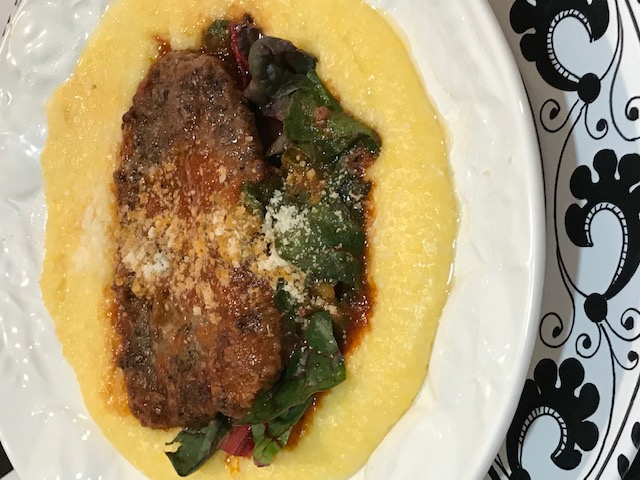 Submitted by Deanna Dresti
About the cook:
I am a retired business person that also raised twin boys. I love to cook and learned from my Italian mother. I am 100 percent Italian American and some of my favorite dishes are recipes from my mom. I've included one with this entry.
About the dish:
Skillet steak with fresh swiss chard, Italian herbed tomato sauce and parmesan soft polenta
National Origin:
Italian
Serves:
4
Estimated Time:
30 to 60 Minutes
Ingredients:
1 cup Italian dry polenta
1 tsp salt
4 cups water
4 individual beef cubed steaks
1 cup of flour
1 teaspoon salt
1 teaspoon black pepper
¼ cup olive oil
1 bunch plain or rainbow swiss chard- cleaned, stems removed and cut crosswise to 1 inch wide pieces
1 tablespoon fresh minced garlic
1 teaspoon Italian herbs
1 small can tomato sauce
Preparation:
Polenta: Boil salted water to a hard boil and slowly wisk in the dry polenta. Keep stirring until it gets thick. Lower the heat and stir for about 20 minutes. Add 2 tablespoons butter and ¼ cup parmesan cheese.
Heat olive oil in a heaving skillet that has a lid. Dredge the cubed steaks in a flour, salt, pepper mixture and put into the HOT skillet. Brown on each side about 2 minutes per side. Lower the heat to medium and add the garlic, Italian herbs, tomato sauce and stir to get all the crumbs off the bottom of the skillet. Add the swiss chard and cover. Simmer on medium for about 15 minutes stirring a couple of times during the cooking process.
Serve the cube steak on the bed of swiss chard and pour the juices from the skillet over the top of the platter- dust with some grated parmesan cheese. Serve Rovelli with soft polenta