Cajun Rubbed Ribs with Apple Barbeque Sauce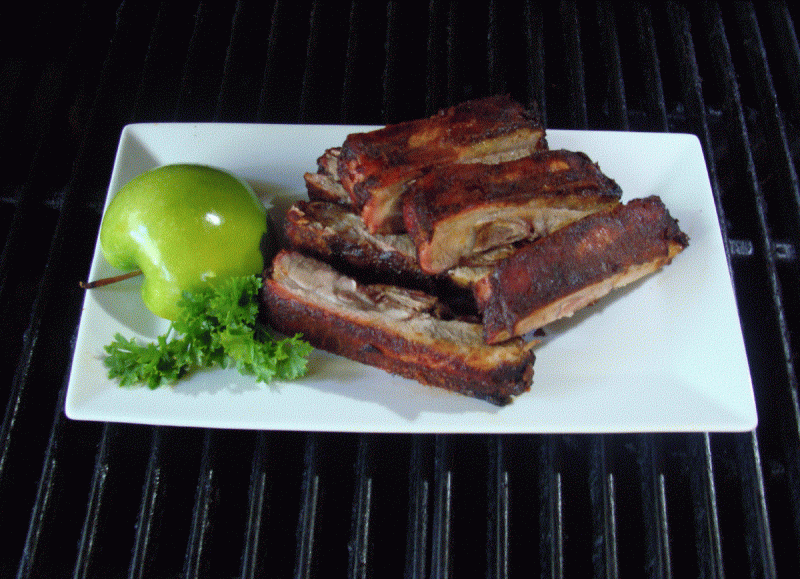 Submitted by Greg Fontenot
About the cook:
I am a scientist (PhD in Physiology) researching prostate cancer. I have been entering recipe contests for about 20 years.
About the dish:
Ribs with a spicy rub and basted with a sweet and spicy sauce.
National Origin:
USA
Serves:
4
Estimated Time:
Over 2 Hours
Ingredients:
2 racks of St. Louis pork ribs (about 2 1/2 pounds each), membrane removed
For Cajun rub:
1/2 cup paprika
1/4 cup salt
2 tablespoons cayenne pepper
1 teaspoon Tabasco sauce
1/2 cup vegetable oil
For the Apple Barbeque Sauce:
1 Granny Smith apple, peeled, cored and chopped
1/4 cup brown sugar
1/2 cup chopped onion
1/4 cup chopped parsley
1 cup apple cider vinegar
2 tablespoons ground chili powder
2 tablespoons tomato paste
1 8-ounce can tomato sauce
1/4 cup molasses
2 tablespoons yellow mustard
2 teaspoons Worcestershire sauce
Preparation:
Preheat grill to medium-high heat. When ready to grill, pile coals to one side of grill.
Mix together paprika, cayenne pepper and salt. Mix in hot sauce and oil. Mix to form paste. Rub ribs well with mix, coating both sides.
For the sauce mix apples with brown sugar, onion, parsley, Sriracha sauce, vinegar and chili powder in a heavy sauce pan. Bring to a boil, reduce heat and cook 15 minutes. Remove from heat. Using a hand blender or food processor puree until smooth. Return to heat and add tomato paste and sauce mixing until smooth. Stir in molasses, mustard and Worcestershire sauce. Cook an additional 10 minutes.
Place rubbed ribs onto heated grill directly over coals. Sear 5 minutes per side. Move ribs to side of grill and let cook for 2 hours, covered, brushing with sauce several times.