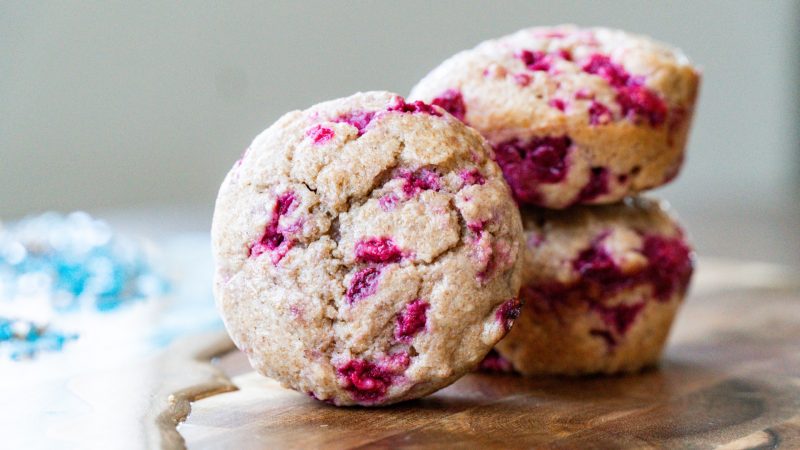 Submitted by Sami Holmes
About the cook:
Growing up, I learned a lot from my mom (the queen of eyeballing) in the kitchen, along with the importance of wholesome family dinners. Now, I spend most of the year traveling with my professional baseball playing husband, experimenting in the kitchen, and helping others create a healthier, balanced lifestyle. As a nutrition specialist, health, balance, and sweets are all important to me. Which is why I strive to make "tastes too good to be healthy" recipes. Through my recipes, I hope to show people that eating well and nourishing our bodies doesn't have to be bland, boring, or impossible.
About the dish:
As my husband and I were finishing up a hike in Arizona during spring training, one of my sorority sisters texted me and asked if I had any blueberry or raspberry muffin recipes. She said she loves raspberries in the morning before work and she was at the store looking at raspberry muffins when she thought "wait, my best friend makes healthy recipes, why don't I ask her?!" and immediately I started brainstorming this recipe, eager to get the ingredients and try it out. So the result is a moist, fluffy raspberry muffin with zero added sugar and heart-healthy fats.
National Origin:
American
Serves:
6
Estimated Time:
Under 30 Minutes
Ingredients:
1 ½ C whole wheat flour
3 eggs
1.5 tsp. baking powder
½ tsp. salt
4.5 tsp. vanilla
180g frozen raspberries
20g Stevia
3 TBSP unsweetened dairy-free milk
4.5 TBSP oil, walnut or coconut, melted
3 TBSP syrup, Lakanto monk fruit sweetened maple syrup
3 TBSP unsweetened applesauce
¼ tsp. cinnamon
Optional toppings / mix-ins: brown sugar, mini chocolate chips, unsweetened coconut flakes, white chocolate chips
* flour: any kind of flour can be used; I like spelt, oat, or whole wheat the best
* syrup: any kind of maple syrup can be used; I prefer Lakanto syrup that's naturally sweetened with monk fruit because it cuts down on the sugar content leaving the sugar in the muffins coming in the form of natural sugar from the raspberries and applesauce
Preparation:
Preheat the oven to 350F
Combine the dry ingredients in a bowl (flour, baking powder, salt, Stevia, and cinnamon)
In a separate bowl, whisk the wet ingredients together
Add the dry ingredients to the wet and mix until incorporated, but don't overmix
Gently fold the raspberries in
Spray or line a muffin pan and fill each tin ~3/4 of the way full
Top with any of the optional ingredients (brown sugar, mini chocolate chips, unsweetened coconut flakes, white chocolate chips)
Bake for 20 minutes or until a toothpick comes out clean