Pumpkin Chili with Black Beans and Sausage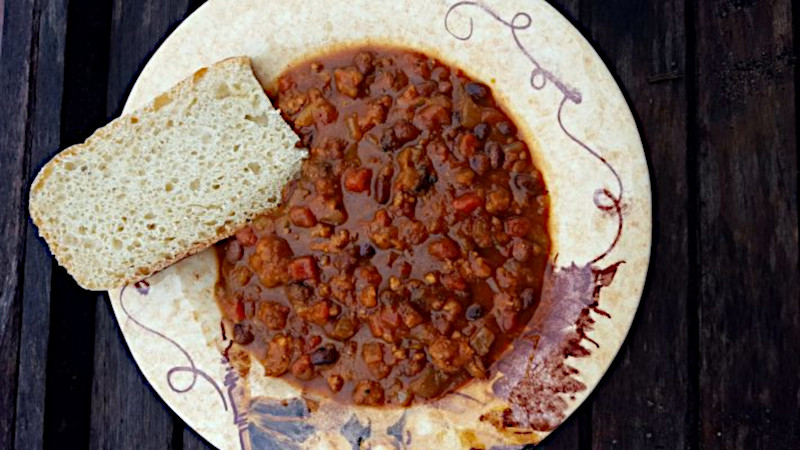 Submitted by Debra Keil
About the cook:
Love to eat, love to cook, love to write. I've been blogging since 2010.
About the dish:
I love to sneak in veggies when no one is looking. The easiest way to hide squash or pumpkin is to incorporate them in soups. But, have you ever tried it in chili? It adds a creaminess that will make you wonder what the secret ingredient really is.
National Origin:
American
Serves:
8
Estimated Time:
30 to 60 Minutes
Ingredients:
1 lb. pork sausage, browned and drained
1 T. extra virgin olive oil
1 medium onion, diced
2 cloves garlic, minced
2 cans (14.5 oz.) petite diced tomatoes
2 cans (14.5 oz.) black beans
3 c. roasted pumpkin puree*
1 t. Mexican oregano
1 T. cumin
2 T. chili powder
1 small can green chilis (mild or hot, your choice)
1/2 t. fresh ground pepper
2 c. chicken or vegetable broth
1 T. apple cider vinegar
Preparation:
In a large soup pot, add olive oil and cook onion until soft. Add garlic and sauté for 1-2 minutes more. (Do not burn.)
Add tomatoes, black beans and squash. Stir in spices. Add chicken broth and stir to combine. Stir in cooked sausage. Simmer uncovered for 35-40 minutes on low heat.
Before serving, stir in the vinegar. Season with salt and pepper if needed.
*Roasting winter squash is so easy. Simply cut the squash in half, remove seeds, rub inside with olive oil, season with salt and pepper, and place cut side down on a foil lined rimmed baking sheet. Preheat oven to 350 degrees. Depending on the size of the squash, roast for 30 minutes to two hours or until tender.