MEATBALL CURRY WITH POTATOES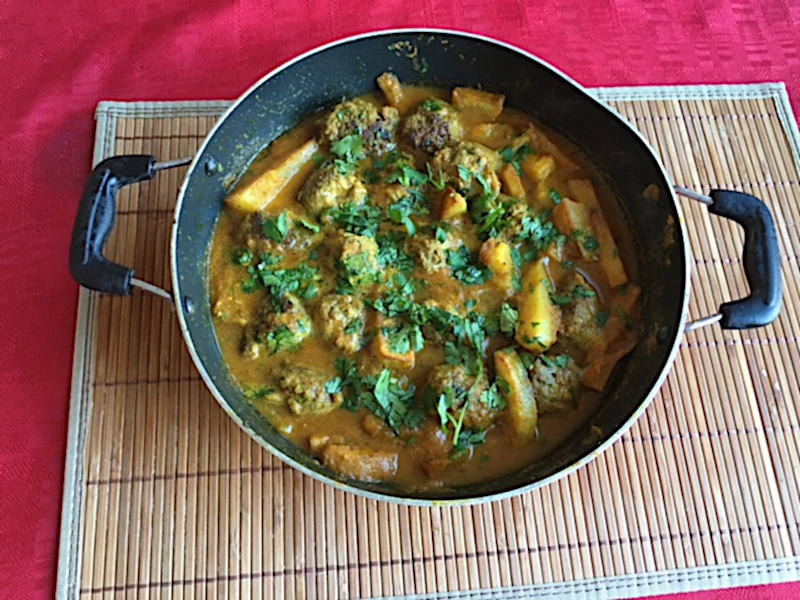 Submitted by Nazreen Siska
About the cook:
I'm Nazreen! I'm 32 years old and I live with my husband and our 2 dogs in Vancouver, Canada. I have cooked since I was 10 years old and have a real passion to do this professionally one day. I have a food blog that I create and currently manage - it's called sliceofsiska where I share all my home made recipes.
About the dish:
Best way to use lean ground beef - a hearty curry which is suitable for any time of the year. This recipe is also great for weekly meal prep.
National Origin:
Indian/Middle eastern
Serves:
2
Estimated Time:
30 to 60 Minutes
Ingredients:
MEATBALLS:
500 grams of lean minced beef
1 medium onion chopped
2 tablespoon olive oil
2 tablespoon ginger and garlic paste
2 spoon curry powder
1 spoon cumin seeds
1 tablespoon fenugreek seeds
2 spoon pepper
1 medium-sized egg
half a cup of chopped fresh mint and coriander leaves
Season it with salt
POTATOES:
2 medium-sized potatoes slices horizontally. Season it with salt. Add olive oil in a pan and pan fry it for 5 minutes until the potatoes are slightly browned.
Ingredients
1 tomato
1 medium onion
3 cloves of garlic
3 grams fresh ginger
1 spoon turmeric powder
2 of each (cloves, cardamom, and cinnamon sticks)
1 tablespoon olive oil
Preparation:
Get a mixing bowl and a pair of vinyl gloves and start mixing! It's as simple as it gets. Just ensure the onions are chopped fine so it's easier to make the balls. I usually let the mixture sit for about half an hour before I start making the balls.
Pour a bit of olive oil and start frying pan frying the balls. You don't need a lot of oil as the meat has some fats in it anyway. Too much oil can make the meatballs really soggy. Once there is a nice brown sear on it, you know it's done. It's 7 minutes on each side. The second half of the cooking process will be completed in the curry.
Add oil to the same pan you cooked the meatballs. The pan still has some meatball goodness and you don't want to waste it. In a food processor make a paste out of onion, tomatoes, ginger, and garlic. Add a little water if required. Now add this paste and turmeric powder to the pan and mix until everything is incorporated.
Now add the meatballs, let it cook for about 10 minutes. Remember! This is the second step of the meatball cooking process. This will ensure the middle portion is cooked properly. Now add the potatoes.
Cook until the sauce reduces. Garnish with freshly chopped coriander. Serve with rice or naan.