Gluten Free Roasted Vegetable Pesto Lasagna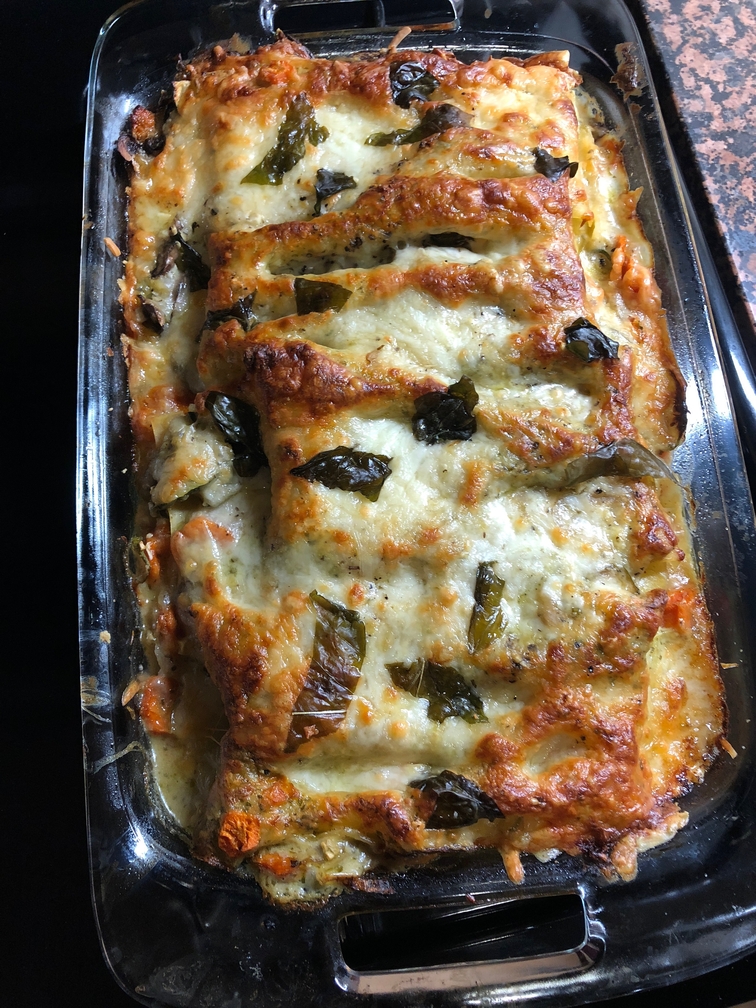 Submitted by Alissa Hayden
About the cook:
Growing up, cooking and baking were synonymous with weekends. This affinity for creating tasty treats for friends and family carried over into adulthood. Now, I host dinner parties for my friends and try a new recipe or create a new recipe for each dinner. I find cooking to be therapeutic, like Chicken Soup for my Soul. I hope you enjoy this recipe as much as I did!
About the dish:
This is for my gluten free friends who are allergic to tomatoes. I had a craving for lasagna, but I'm allergic to wheat and tomato. Luckily, I came across some gluten free, no-boil lasagna noodles at the store and dreamed up this recipe. I hope you enjoy it!
National Origin:
Italian
Serves:
10
Estimated Time:
Over 2 Hours
Ingredients:
- Gluten Free No Boil Lasagna noodles
White Sauce
- 3 cups whole (Vitamin D) milk, warmed not hot
- 4 tbsp. Butter
- 4 tbsp. Gluten Free all-purpose flour
- 1 bag of shredded white cheese that melts well (I like the Swiss + Gruyere blend from Trader Joe's but Mozzarella would also work well)
- Salt/Pepper to taste
- Less than a tsp of cayenne*
*I also like to add a touch of onion and garlic powder for added flavor.
Cheese Mixture
- 1 ½ cups Whole Milk Ricotta
- 1 cup parmesan or other strongly flavored hard cheese (I like the Freshly Shaved Parmesan, Romano And Asiago Cheese mix from Trader Joe's)
- 1 tbsp. of Dried Oregano
Pesto Sauce
- 2 cups fresh basil leaves
- 3 large cloves of garlic, diced
- zest and juice of 1 lemon
- 3/4 cup parmesan cheese
- 1/4 to 1/3 cup extra virgin olive oil (the best quality you can get)
- 1/4 teaspoon fresh ground black pepper
- 3/4 teaspoon sea salt
Vegetables
- 1 Tbsp of Olive Oil (Get creative and use a flavored olive oil)
- Salt/Pepper to taste
- 1 Tsp Red pepper flakes
- 1 Tsp Cayenne powder
- 1 ½ Tsp Garlic powder
- 1 ½ Tsp Onion powder
- 4-5 Garlic cloves, minced
- 1 medium to large onion
- 5-6 large carrots (baby carrots also work)
- 1 10 oz. bag of mushrooms (I like the presliced cremini mushrooms from Trader Joe's)
- 3-4 medium to large zucchini
Preparation:
Step 1
Preheat oven to 425° degrees. Prepare sheet pan (spray with cooking spray and line with parchment paper).
Step 2
To prepare vegetables use a mandolin to cut zucchini and carrots crosswise in to ¼"- ⅓" thick medallions and onion crosswise into ¼" thick pieces.
Layer vegetables onto prepared sheet pan (I put onions on the bottom and carrots on top). Mix spices together in a small bowl. Drizzle olive oil over vegetables. Sprinkle spices over vegetables and toss with a spatula. Bake 20-25 minutes or until al dente (soft but not over cooked). *
Remove from oven; combine vegetable mixture and minced garlic in a large bowl. Add more salt and pepper to taste, if necessary.
*Pro tip: Prepare white sauce (step 5) while vegetables are in the oven.
Step 3
Decrease oven temperature to 375° degrees.
Step 4
To prepare cheese mixture, combine Ricotta and parmesan, romano and asiago cheese mix with dried oregano in a medium bowl. Place in refrigerator to rest.
Step 5
To prepare white sauce: Place butter in a medium saucepan over medium to low heat (you do not want the butter to burn). Whisk in flour and stir constantly until the flour smells slightly nutty, and does not smell like raw flour (2-3 minutes). Gradually add milk; stirring with a whisk (as you add milk, the flour butter mixture will thicken. It's important to add the milk slowly and stir quickly and constantly as not to curdle the flour mixture). Place over medium heat. Cook until thick; stirring constantly. Add approximately 1 cup of shredded cheese and continue to stir constantly. Sauce should stick to whisk and have a nice elasticity. (If you add too much cheese, you can always thin the sauce by adding more milk). Add salt, pepper, and cayenne. Stir for 1-2 minutes more. Remove from heat and set aside.*
*Pro tip: Sauce is easier to spread when it is slightly warm. Put sauce over low heat and stir again prior to layering lasagna.
Step 6
If you have not already made your pesto, do it now.
Add the fresh basil, diced garlic, lemon zest, and parmesan cheese to the bowl of a large food processor . Process at medium speed until it starts to resemble a paste, about 60-90 seconds.
Add half of the fresh lemon juice and 1/4 cup olive oil. Process until the mixture is combined evenly. Taste and add more lemon juice based on your personal preference. Add more olive oil if you would like the pesto to be thinner. Process again until just combined.
Add the salt and pepper. Process, taste, and add more if desired.
Step 7
Evenly divide white sauce into two bowls.
Fold 1- 1 ½ cup of pesto* (step 6) to one of the bowls of white sauce (referred to as pesto white sauce below).
*Save the remaining pesto for future use. I like to spray a mini cupcake tin/ice cube tray with cooking spray, add pesto and top with olive oil. Freeze overnight then transfer pucks to Tupperware for easy-to-use and perfectly portioned pesto.
Step 8
Prepare 13"x9" baking dish by coating with cooking spray.
Spread 1/4 cup white sauce in bottom of a 13 x 9-inch baking dish coated with cooking spray. Arrange 4 noodles over sauce; top with pesto white sauce. On top of the pesto white sauce, place roasted vegetables then 1 ¼ cups cheese mixture (spread as evenly as possible). Arrange another layer of 4 noodles, top with white sauce and a layer of vegetables, then more cheese mixture. Continue alternating between white sauce and pesto white sauce while repeating layers, ending with noodles. Spread remaining white sauce and pesto white sauce over noodles.
Fill sides of the glass baking dish with any leftover roasted vegetables.
Evenly top lasagna layers with remaining shredded cheese. Optional: sprinkle parmesan, romano and asiago cheese on top for extra flavor.
If the vegetables sweat and leave "juice" in the bottom of the bowl, this can be poured over the top of the lasagna for extra moisture and flavor.
Cover and bake at 375° degrees for 15 minutes. Uncover; garnish with fresh basil sprigs, if desired. Bake an additional 20-30 minutes.
Turn off oven and turn broiler on 'high'. Set timer for 2 minutes and keep an eye on the lasagna so it doesn't burn.
Remove from oven, set timer for 10-15 to let lasagna rest.
Enjoy!