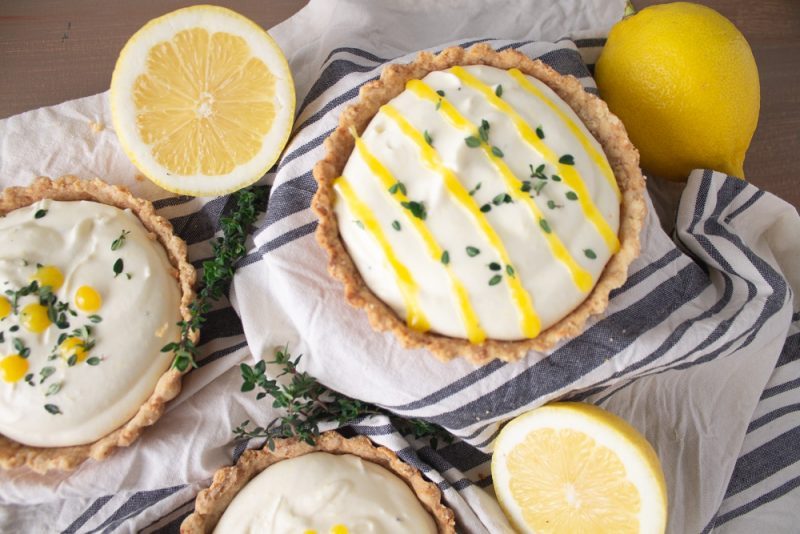 Submitted by Amber Engle
About the cook:
Amber is a molecular biologist by training, but currently duel wields the worlds of wildlife research and chef work. On her blog, Twists & Zests, she focuses on seasonal food and drinks with a dash of science – just enough to be helpful and not make your eyes cross with technical details. Amber believes understanding the whys of cooking can help anyone gain more proficiency in the kitchen.
About the dish:
Creamy and lemon sharp, these tarts have a hint of thyme and almond, perfect for an early spring dessert.
National Origin:
American
Serves:
6
Estimated Time:
Over 2 Hours
Ingredients:
Lemon Curd
1 tbs/4g lemon zest, about 3 lemons
½ c/115g butter
½ c/120 ml lemon juice
¾ c/150g sugar
¼ tsp salt
6 egg yolks
Filling:
20g thyme sprigs, coarsely chopped (about 10 – 4" sprigs)
1 ¼ c heavy cream
1 tbs/15ml honey
2 tbs/25g granulated sugar
½ c lemon curd
Tart Shell:
6 tbs/90g unsalted butter, melted
½ c/60g ground almonds/almond flour
1 c/120g all-purpose flour
2 tbs/25g sugar
1/8 tsp salt
Lemon curd and thyme leaves to decorate
Preparation:
Steep fresh thyme sprigs in cream (in fridge) for at least 4 hours, preferably overnight. Stems are ok to include as you will be straining them out.
Make curd:
Combine lemon juice, zests, and butter in sauce pan over medium low heat until butter is melted. Add remaining ingredients, whisking briskly to incorporate.
Continue heating, stirring regularly, for 10-15 minutes. Do not allow to boil (you don't want to scramble the eggs).
When mixture is towards the end of this time, stir constantly until thick enough to coat the back of a spoon (makes a very definitive *plop* when falling back into pot).
Strain into a glass container, cover, and chill in fridge.
Prepare tart shells:
Preheat oven to 350F. Place 6 – 4″ tart pans or 1 – 9″ pan on a larger baking sheet for ease of movement.
Combine all tart shell ingredients in a medium bowl (or the pot you melted the butter in), stirring with a fork until fully incorporated. This will be more like a crumbly paste than a dough.
Using your fingers, press mixture into tart pans until about ¼" thick all around (error on the side of thicker). Prick the bottoms with a fork several times.
Bake for 15-20 minutes (depending on size of the tarts) until just starting to turn golden. Remove and allow to cool completely in the pans.
Make the cream:
Strain the thyme from the cream using a fine mesh sieve or cheese cloth. Press to express all the flavor from the thyme.
Whip cream to soft peaks by whatever your preferred methodology – as previously mentioned, I like to do so manually.
Add honey and granulated sugar, continue beating until cream is stiff (but not butter).
Fold in lemon curd using gentle, repetitive, round motions until completely combined. Chill until shells are cool and ready.
Unmold shells, pressing up from the removable base and very gently handle by the sides while removing said base.
Place shells on a tray or flat plate that can fit in the fridge. Fill to just level (maybe a little over for smaller tarts) with the top edge of the crust.
Drizzle/pipe/dollop a small amount of lemon curd (1-2 tsp) on the tops in a decorative manner – dots, swirls, lines, etc.
Place the fridge for 1-2 hours (depending on size) before attempting to cut or photograph. Garnish with a sprinkle of thyme leaves just before serving.