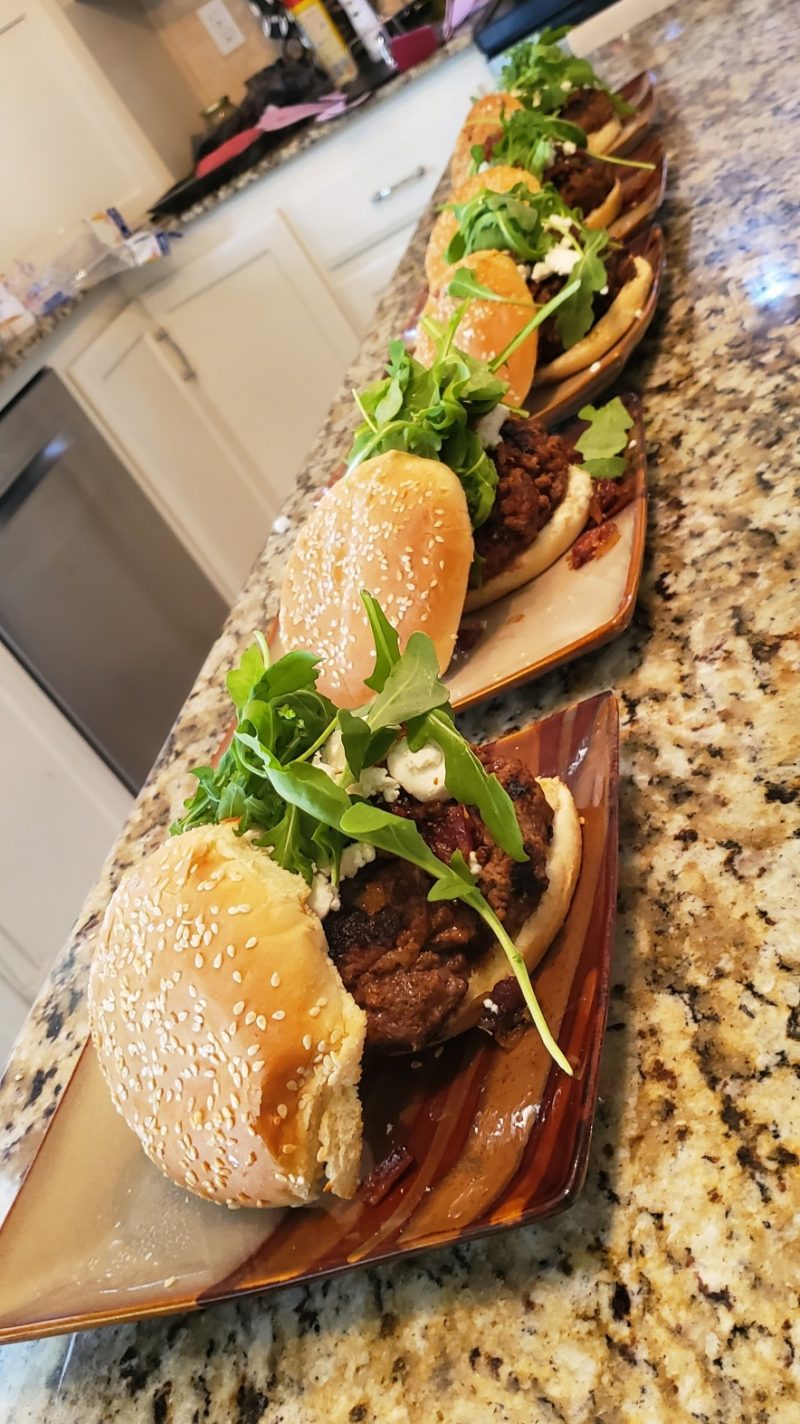 Submitted by Brandon Hunt
About the cook:
I am a southern young man that LOVES to cook! I especially love grilling and smoking foods out on my back patio. I love cooking for family and friends, and giving them really good food with great flavors. I am all about taking simple ingredients and doing extraordinary things with them in my dishes. I have placed in a few competitions recently and I am looking to start my own business revolved around cooking.
About the dish:
This burger serves as a double entendre because its made in Louisiana (the boot state) and the spice provides a kick in the teeth! This is my original recipe and has ingredients that can be cooked ahead of time or right on the spot!
National Origin:
Southern
Serves:
6
Estimated Time:
1 to 2 Hours
Ingredients:
BURGER INGREDIENTS
2 Tbsp of ground black pepper
2 Tbsp of salt
1 Tbsp of garlic powder
1 Tbsp of smoked paprika
2 Tbsp of cayenne powder
1 tsp of celery seed
2 tsp of onion powder
1 Tbsp of hot sauce
1 Tbsp of liquid smoke
3 lb ground chuck
2 cups of arugula
8 oz of goat cheese
6 Brioche buns
PICKLED ONIONS
1 red onion
2 cups of apple cider vinegar
2 Tbsp of honey
1 Tbsp of red pepper flakes
1 tsp salt
1 tsp pepper
OINK JAM
1 1/2 lbs bacon (cooked & chopped)
3 Tbsp butter
3 Tbsp of bacon fat (from cooked bacon)
4 small yellow onions, diced
1 tsp salt
1 1/2 Tbsp thyme
1 tsp ground black pepper
1 tsp cayenne pepper
1/3 cup brown sugar
1/3 cup sherry cooking wine
2 tsp balsamic vinegar
2 tsp olive oil
Preparation:
FOR BURGERS:
Mix first 7 ingredients together and set aside for seasoning of burgers. Take ground chuck and form six ½ lb patties. Place the fingerprint side of your thumb in the middle of the formed patty and press 1/2 of the way down; this will create a dip in the burger so it will not shrink up while cooking. Mix hot sauce and liquid smoke and rub on each side of the burgers. Sprinkle seasoning mixture evenly all over burgers and pat/press into burger (do not rub in). Heat grill to medium high heat and cook burgers 4 mins on each side (or until internal temp reaches 150 degrees). Set aside and let rest uncovered for 5 mins.
FOR PICKLED ONIONS:
Slice onion into very thin rings. Mix honey, red pepper flakes, apple cider vinegar, salt, and pepper together. Pour mixture over thinly sliced onions in a sealed container. Place in refrigerator or cooler for 30 mins or up to 3 days.
FOR BUNS:
Lightly butter inside of buns with a dash of salt and grill buns on each side for approximately 30 seconds or until buns are lightly toasted.
FOR OINK JAM:
Place bacon in a large, heavy-bottomed pot and cook over medium heat until bacon is crispy and the rendered fat is visible at the bottom of the pan (can also be cooked in the oven or grill). Pour bacon and rendered fat into a strainer placed over a bowl to drain fat. When fat is drained and bacon is cool enough to handle, remove bacon to a cutting board and finely chop.
Return pot to medium heat; drizzle 2 tablespoons reserved bacon fat and 2 tablespoons of butter in pan. Saute onions and 1 teaspoon salt until soft and translucent, 7 to 10 minutes.
Stir brown sugar, sherry vinegar, 1 Tbsp thyme, black pepper, and cayenne into onion mixture; add bacon. Feel free to add more sherry wine into bacon mixture and stir as the jam cooks down to create a brown bacon color and has a jam consistency, 10 to 15 minutes.
Remove from heat and stir balsamic vinegar, olive oil, and remaining 1/2 teaspoon thyme into jam; stir until heated through.
Can be stored for up to 1 week
FOR PLATING:
Place bottom bun down on plate, place pickled onions on bun, and place burger patty on top of onions. Top burger with bacon jam, arugula, and goat cheese in that order. Place top bun leaning on side of burger for presentation.
ENJOY!!!!!!
***Order of Operation: pickle onions, cook bacon & oink jam, grill burgers, grill buns, and plate***