Caramelized Onion Potato Tart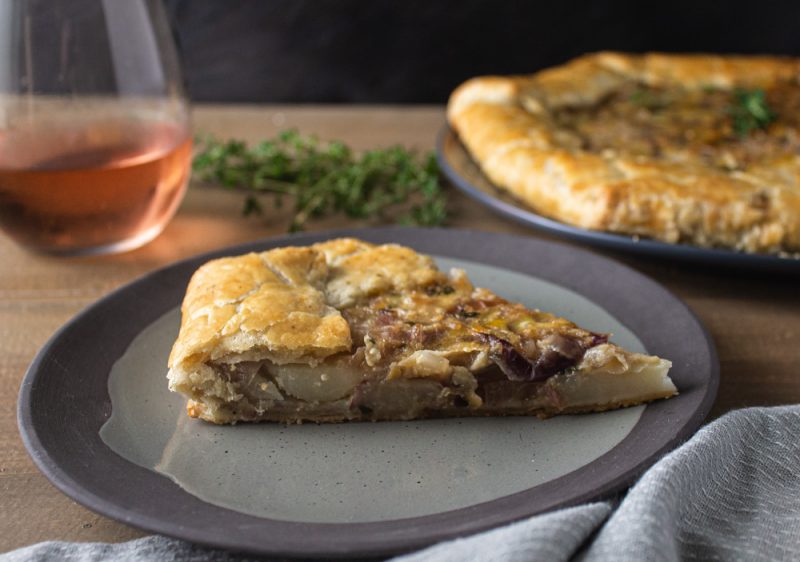 Submitted by Amber Engle
About the cook:
Amber is a molecular biologist by training, but currently duel wields the worlds of wildlife research and chef work. On her blog, Twists & Zests, she focuses on seasonal food and drinks with a dash of science – just enough to be helpful and not make your eyes cross with technical details. Amber believes understanding the whys of cooking can help anyone gain more proficiency in the kitchen.
About the dish:
Fragrant caramelized onions blended with mascarpone and thyme are paired with tender potatoes and encased in a flaky pastry in this free form tart that is perfect for a fall table when paired with a light salad.
National Origin:
French
Serves:
6
Estimated Time:
Over 2 Hours
Ingredients:
Pastry:
½ c/115g butter, cold and cubed
1 ½ c/180g all-purpose flour
¼ tsp salt
½ tsp pepper
¼ c/60ml cream
¼ c/60ml water
Filling:
2 tbs/30g butter
2 large onions/1 kg, slice in ¼" thick semi-circles
300g small creamer potatoes, cut in ¼"- ½" thick rounds
4 tbs/60ml mascarpone/crème fraiche
1 tbs/4g fresh thyme leaves
½ tsp salt
Wash:
1 egg
1 tbs/15ml water
Preparation:
For the pastry:
Combine flour, butter, salt, and pepper in a food processor. Pulse into coarse crumbles.
Add cream and water. Pulse until a dough forms and pulls away from the walls of the food processor.
Form into a flat disc, cover with plastic wrap, and chill in the fridge for at least 30 minutes, preferably up to 2 hours.
Steam potatoes until just starting to tenderize – a sharp knife can be inserted. Set aside to cool.
Melt 2 tbsp butter in a pan on medium-high. Sauté onions on med-high until caramelized, stirring frequently, about 10-15 minutes depending on size of pan.
Add mascarpone, thyme, and salt to onions, tossing to combine. Set aside.
Preheat oven to 375F.
Roll out dough on a lightly flour surface. Roll to ¼" thick and about 18" around.
Assemble on a lined (parchment or silicon mat) baking sheet. Place dough on sheet. Place potato rounds in a 12" circle on the center of the dough disc. Reserve 3-4 rounds for the top of the galette if desired.
Spoon the onion mixture on top of the potatoes, spreading evenly.
Fold the bare edges of the dough over the filling one at a time and overlapping, giving the galette six edges.
Place the remaining potato slices in any desired pattern on top of the onion mix.
Lightly whisk water and egg together. Use a pastry brush to glaze the exterior of the dough and drizzle the remaining egg on the filling.
Bake for 40-50 minutes until the crust is golden and the filling is bubbling slightly.
Allow to cool for 10-15 minutes before serving. Also does well at room temperature.