Lemon Chicken with Artichokes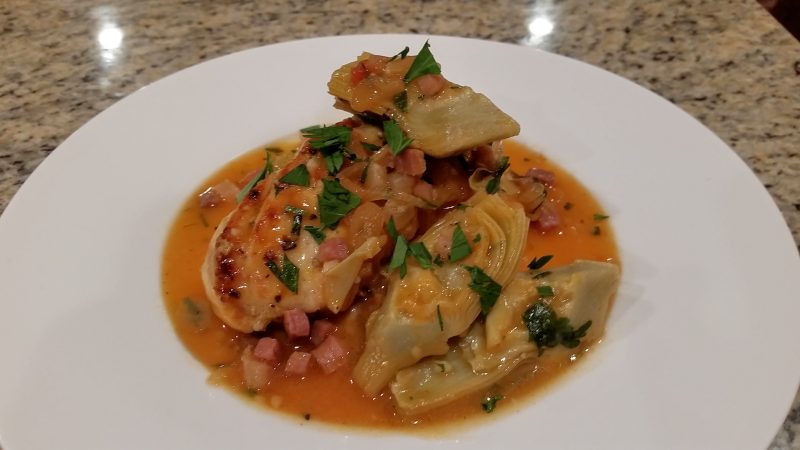 Submitted by Stacy Dow
About the cook:
My family has owned restaurants since I was 12, so food has always been my passion. I have been working in the health and beauty industry for 13 years, focusing on holistic skin and body health. I love to eat "Comfort Foods" so I have taken them to a healthier place that is so tasty!
About the dish:
My Grandmother would make this dish when we would visit her in California. The bright notes of lemon and artichoke with the briny capers and subtle chicken stock was so delicious over polenta or orzo. A dash of fresh chopped flat parsley just brings it all together!
National Origin:
Italian
Serves:
4
Estimated Time:
Under 30 Minutes
Ingredients:
4 boneless skinless chicken breasts or thighs
1 Tablespoon unsalted butter
salt and pepper, 1 Tablespoon each, blended
2 oz pancetta
1 can artichoke hearts, drained
1/3 cup fresh lemon juice, along with a pinch of zest
2 Tablespoons capers, drained and rinsed
1 1/2 cups chicken stock or broth
1/4 cup fresh chopped Italian Flat Leaf Parsley
slurry of equal parts water and cornstarch
Preparation:
salt and pepper chicken
melt butter, brown chicken on both sides, approximately 2 1/2 minutes on each side
in stock pot, add 6 cups of water and heat to boil. Salt the water. Add Orzo and cook according to instructions
remove chicken from pan, place on plate (chicken is not fully cooked)
add pancetta, brown. Add chicken, artichokes, lemon juice, and chicken stock or broth. bring to simmer for 8 minutes, covered.
uncover, add capers, and a dash of slurry to thicken. Turn off heat. Add chopped parsley on top.
Serve on strained pasta, with lemon zest. Add grated parmesan cheese if preferred!