Healthy Dried Fruit truffles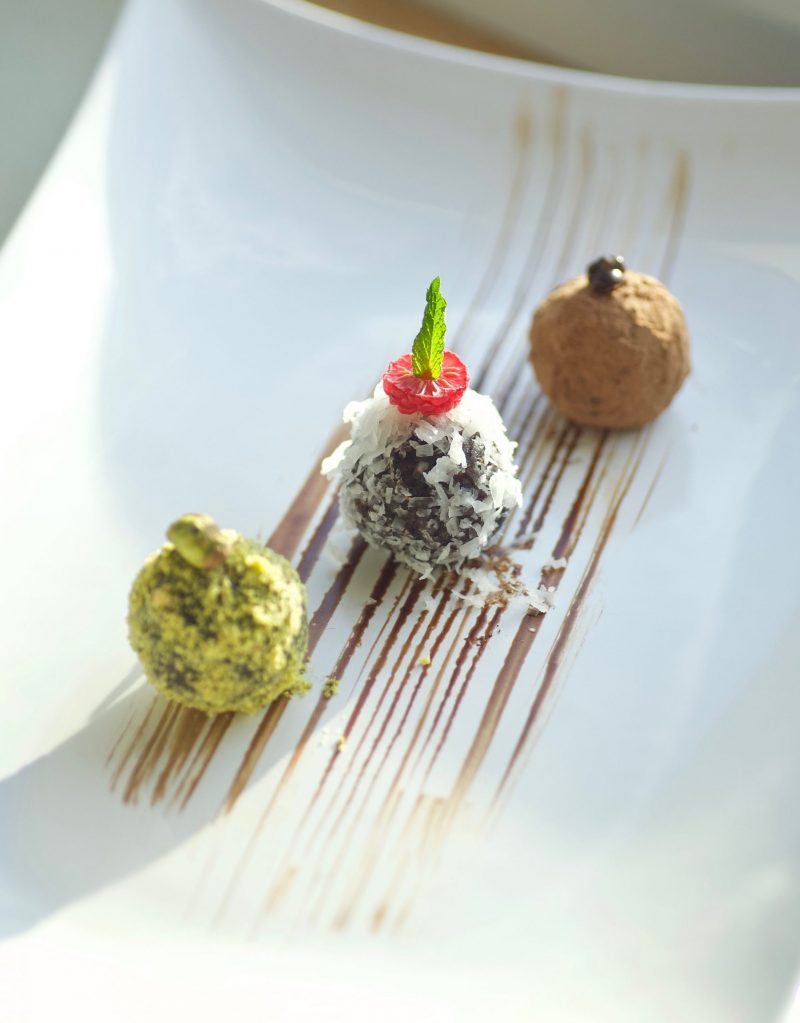 Submitted by Elizabeth Lee
About the cook:
Chef Elizabeth Lee, professionally trained in the wine region of Kelowna, British Columbia, Canada at the University of the Okanagan. My trade and love of the ocean took me to the yachting industry where I am currently a professional yacht chef.
About the dish:
This vegan truffle is a healthy alternative to the decadent chocolate truffle. The recipe can be modified and used as a torte, cake, entremet base, or shaped into a bar for a healthy snack; the possibilities are endless. Note: the healthy dried fruit base can be prepared in advance and frozen for up to 3-4 months.
National Origin:
Canadian
Serves:
6
Estimated Time:
Over 2 Hours
Ingredients:
¼ cup Marcona almonds
¾ cup dates
¾ cup dried figs
½ cup prunes
¼ cup + 1 tablespoon Dutch cocoa powder
Ground pistachio nuts
Dutch cocoa powder for dusting, 2nd amount
Shredded coconut
Preparation:
In a food processor, pulse the almonds until they resemble coarse sand, making sure they are not ground to a fine paste. Remove from the food processer and reserve in a bowl.
Add the dates, figs and prunes to the food processor; pulse until combined and no large chunks remain.
Add the cocoa powder and reserved ground almonds to the dried fruit mixture and process until combined and soft dough forms. Place mixture in a bowl and chill in the refrigerator for 2 hours. This will allow the mixture to cool and firm, making it easier to roll the truffles.
Using an ice cream scoop or large spoon, scoop out 18 uniform portions of the mixture and roll into perfect round balls. Transfer balls to a silpat* or parchment lined baking tray and reserve in the refrigerator for service.
Just before service, place the pistachios, cocoa and coconut in three separate bowls. Roll 6 of the truffles in the ground pistachio, 6 in the cocoa, and 6 in the coconut, garnish and serve.