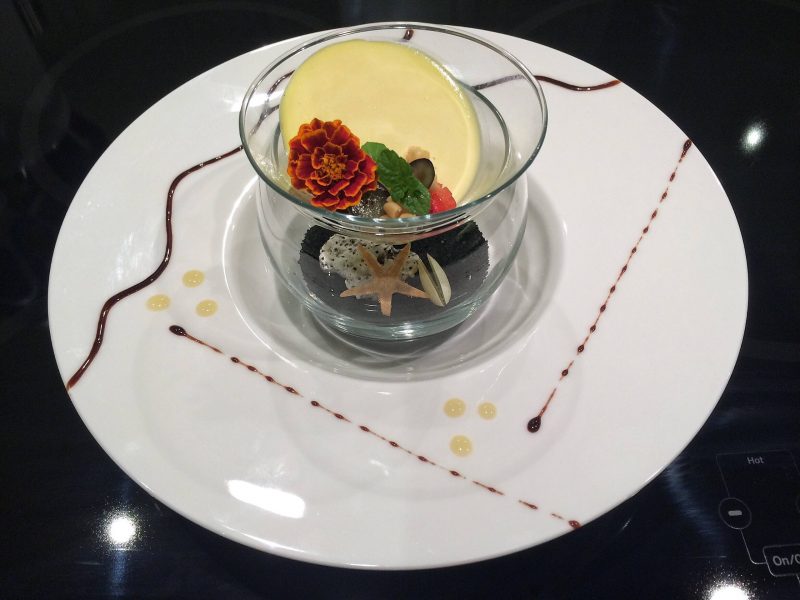 Submitted by ELizabeth Lee
About the cook:
Chef Elizabeth Lee, I was culinary trained in the wine region of Kelowna, British Columbia, Canada at the University of the Okanagan. My love for the culinary art and the ocean drew me to the Yachting industry where I am currently a professional yacht Chef.
About the dish:
This dairy free version of the Panna Cotta is a nice vegan alternative. The panna cottas can be prepared up to 2 days in advance and will need 8 to 12 hours to fully set.
National Origin:
Italian
Serves:
8
Estimated Time:
Over 2 Hours
Ingredients:
1 13.5 oz. can coconut cream or milk (preferably cream)
1¼ teaspoons granulated gelatin
1/3 cup maple syrup or agave nectar
8 mint leaves
8 edible flowers
1 tablespoon chopped toasted pine nuts
16 large blueberries, sliced in half
4 strawberries cut in ¼-inch dice
Preparation:
Add coconut cream or milk to a small heavy bottomed saucepan; sprinkle gelatin over the cream, whisk, and reserve on the counter for 5 minutes to allow the gelatin to bloom. When the gelatin has bloomed, heat the saucepan over low heat and whisk gently to dissolve the gelatin. Be careful not to allow the liquid to simmer or boil. When gelatin has completely dissolved, remove saucepan from heat and stir in the maple syrup or agave nectar.
Divide the cream evenly between 8 individual serving dishes. (To create a nice visual effect, I like to offset the panna cotta in their serving dishes, setting the dishes on an angle in an egg carton or muffin tin and using paper towel or aluminum foil to stabilize the bases.) Refrigerate serving dishes for at least 8 hours or until completely set.
Rinse the mint leaves and edible flowers; pat dry and reserve. Prepare remaining ingredients for garnish.
Remove the serving dishes from the refrigerator and garnish each with chopped pine nuts, fruit, mint and edible flowers.