Hawaiian Chicken Minion Pineapple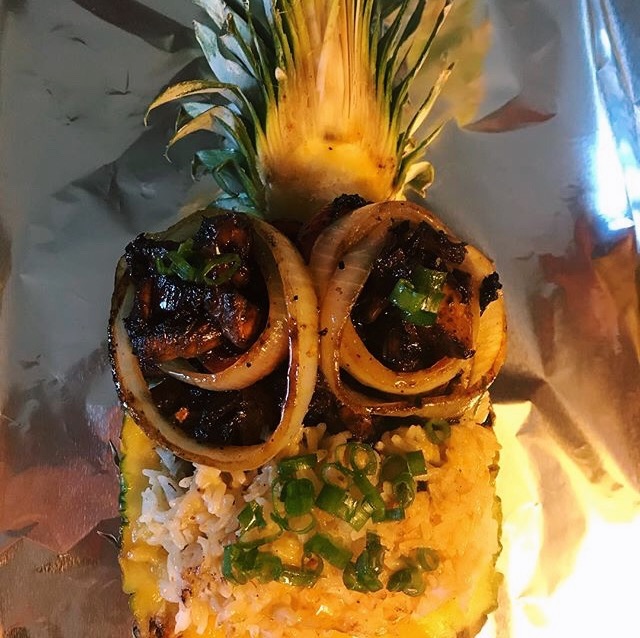 Submitted by Nuc'Shukur Rose
About the cook:
I go by NooktheCook. In love with cooking and putting on a show!
About the dish:
This pineapple boat is inspired by the minion's characters.
National Origin:
Hawaii
Serves:
4
Estimated Time:
Over 2 Hours
Ingredients:
2 Pineapples ( save the juice from pineapple)
2 Cups of Rice
2 lbs of chicken
1/4 cup of olive oil
Marinade for Chicken:
1 cup Soy Sauce
Pineapple Juice 1/2 cup
1/4 cup of water
1/2 Cup of Brown Sugar
1 Teaspoon Black Pepper
1 Tablespoon Salt
2 Teaspoon Garlic Puree
3/4 Onion Puree
Garnish:
1/2 cup of chives (garnish)
1 Onion (Onion rings for eyes of minion)
Preparation:
1. First, you need to extract juice from the pineapples for the marinade. So we need to cut them in half and carve out a rectangle shape. This is where we will be placing rice and chicken.
2. Next, start the rice cooker with 2 cups of rice to 3 1/2 cups of water and assemble the marinade along with the 2lbs of chicken ( Let it marinate from 2 hours – 24 hours. The chicken can be grilled outside or cooked inside, usually taking 45 minutes to an hour until the internal temperature of the chicken is 165 Degrees Fahrenheit
3. Finally, Chop chicken and serve with a bed of hot rice and layers of sauteed onions rings and place them on the upper part of the pineapple see photo for placement/presentation.
4. Lastly, place chives near the mouth and drizzle some of the leftover juice from the chicken over the entire pineapple boat for the cherry on the top finish.
And there you have it a creation that will for sure make anyone say wow!