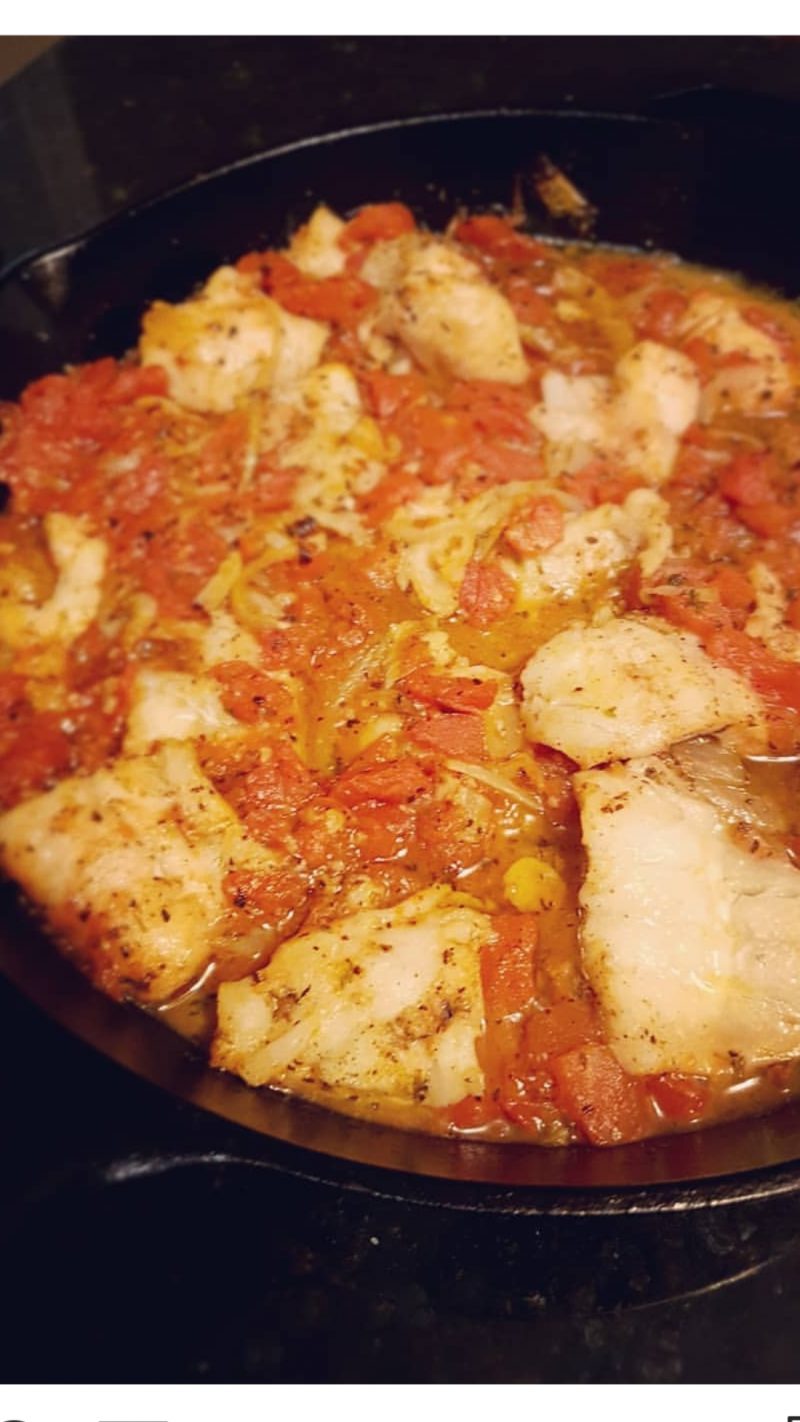 Submitted by Caroline Miller
About the cook:
I am a wife and mom of 2 girls. Professionally, I am a Registered Nurse and in my dreams I am an Executive Chef!
About the dish:
This is an easy and healthy dinner that I enjoy cooking when I don't want to clean up a big mess after!
National Origin:
Italian
Serves:
2
Estimated Time:
Under 30 Minutes
Ingredients:
1 onion, diced
2 garlic cloves, finely diced
1/4 cup EVOO
1 tbsp each of dry basil, oregano and parsley
1 can of diced tomatoes (no salt added if available)
Salt and Pepper
2-3 fillets of Halibut, cut into approx 2 inch length chunks
Preparation:
1. Set oven to Broil
2. Add EVOO, onion, garlic, basil, oregano and parsley to a Large Cast Iron Pan and stir together.
3. Once oven is at temperature, put Cast Iron Pan in the Oven for 1-2mins until oil is sizzling but ensure seasoning does not burn.
4. Remove Pan, stir seasoning and place back in oven for 1 more minute.
5. Remove pan and immediately add in can of diced tomatoes (please keep canning liquid with tomatoes!) and stir into seasoning mixture.
6. Put back in oven for 4-5mins and watch to ensure it doesn't burn.
7. While it is in the oven cut your Halibut into approx 2 inch chunks and add salt and pepper to fillets.
8. Once the Tomato sauce has a rolling bubble, remove pan and add in fish. Make sure to press the fish into the liquid a little bit but not completely covered.
9. Place pan back in oven (still on broil) for approx 5-8 mins depending on thickness of fish.
10. Remove pan once fish has been just cooked and remains juicy and flaky.
11. This can be eaten on its own or over a bed of rice.
I hope you enjoy!