Gluten-Free Mushroom Hand Pies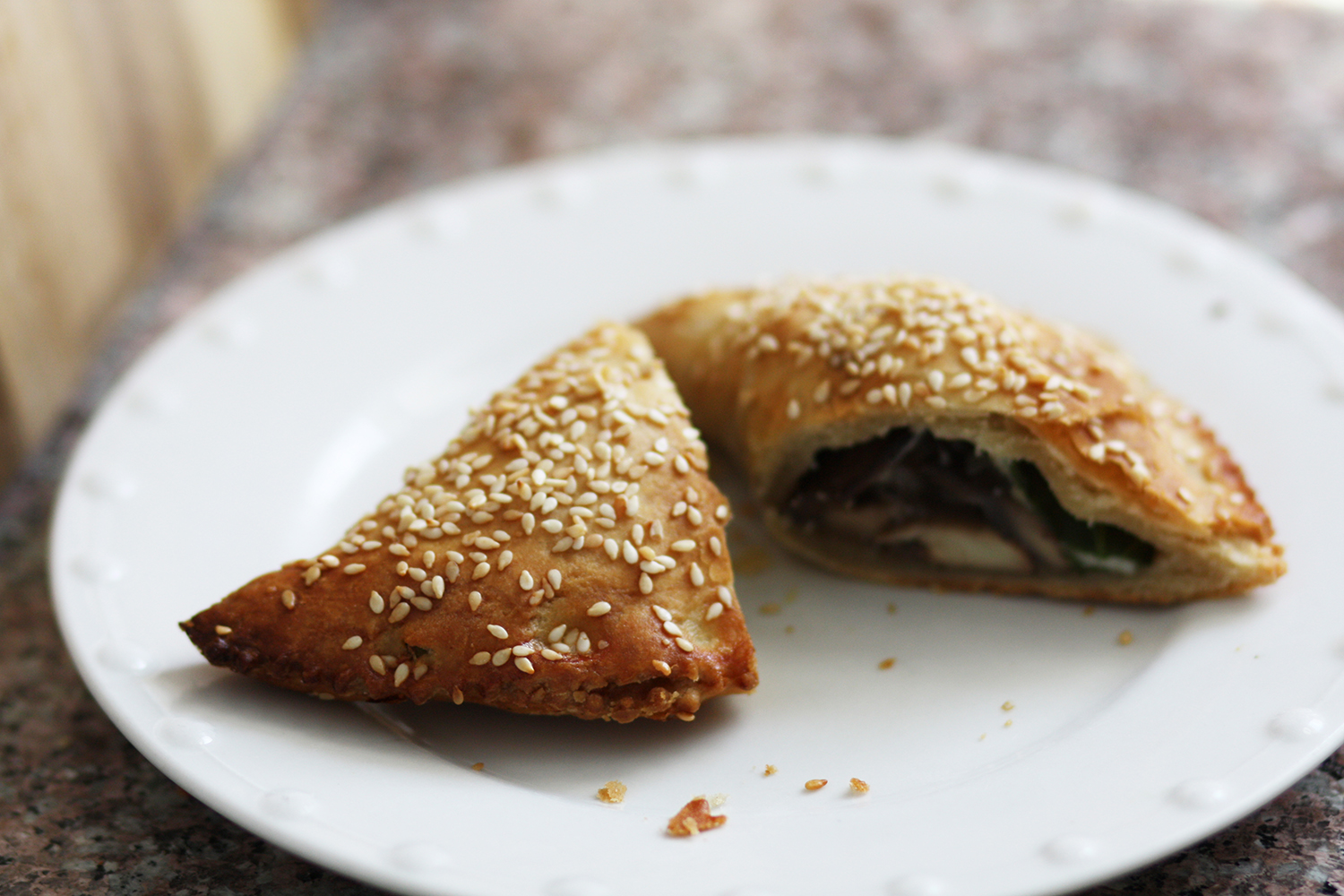 Submitted by Sara Kabatsky
About the cook:
​I grew up on the west coast of the US, among a family of wonderful cooks, including my mom, who was truly inspiring with her holiday baking marathons and regular family dinners. She sparked my interest in the kitchen.​​ I moved to New York City where I dabbled in many different industries, but one thing was always certain: that I always loved cooking, baking and entertaining. This skill has gradually become more refined and adventurous and has now been projected into Gluten-Free Made Easy. ​ In 2015, I was diagnosed with Celiac Disease, which changed everything I knew about cooking and baking. It was quite devastating in the beginning, but after a lot of experimentation and motivation from my husband and family members, I have gone on to win awards for my gluten-free recipes, and I know more good things are on the way! I do think that being gluten-free has fostered a more potent awareness of health in my family.​
About the dish:
I had two gluten-free pie crusts left over. I wanted to try something savory this time around - plus It's always good to have something ready to eat with teenagers in the house. These beautiful little pies are not only gluten-free and delicious, the freeze very well and they can be reheated in a pinch. This recipe makes 6 hand pies.
National Origin:
American
Serves:
6
Estimated Time:
30 to 60 Minutes
Ingredients:
2 gluten-free pie crusts (see ingredients below)
2 packages of baby portobello mushrooms, sliced
2 tablespoons olive oil
1 teaspoon dried oregano
1/2 teaspoon dried sage
1/2 teaspoon pepper
Pinch of thyme
Salt to taste
1 cup fresh spinach
1 cup grated mozzarella
1 egg white for brushing
sesame seeds for garnish
Pie Crust Recipe
2 cups sorghum flour
1 cup brown rice flour
1 cup tapioca starch
2 teaspoons xanthan gum
1 Tablespoon sugar
2 teaspoons salt
1-3/4 cup cold, unsalted butter
1 egg, beaten
1/2 cup cold water
1 Tablespoon apple cider vinegar
1 egg white
1 Tablespoon water
Preparation:
For the Pie Crust:
In a large bowl, combine flours, tapioca starch, xanthan gum, sugar and salt. Cut in the butter using a pastry cutter until it is well blended and resembles course sand.
Whisk together the water, egg and vinegar and add to the flour mixture, mixing first with a fork, and then with your hands until the dough comes together into a ball.
Divide into four equal portions, cover and refrigerate for at least an hour. If you decide to halve this recipe, you can freeze two of the portions for later use.
On a floured surface (I use brown rice flour), roll out the portions of dough for that they fit one inch over the pie plate. Neat trick: If you have trouble lifting the dough, roll it up on the rolling pin and place on the pie plate: Gently tap down the crust into the pie plates. Add the filling and if the recipe calls for a top crust, add the second crust.
Cut the excess using kitchen shears to within 1 inch of the edge. Fold the bottom crust edge over the top and pinch together the edges. Brush with egg white/water and sprinkle generously with sugar (omit sugar if it is a savory pie). Poke some holes in the top using a fork. Cover the edges in foil to prevent burning and bake according to recipe directions.
Heat the oil in a large saute pan and saute the mushrooms, oregano, sage, pepper, thyme and salt. Saute until the mushroom juices start to appear.
Preheat oven to 400F. Line a cookie sheet with parchment paper.
Roll out the pie crusts until they are about 1/8″ thick. Cut into 6″ circles (I use a plate as a guide) Move circles to a parchment- lined baking sheet.
Place about 1/4 cup of mushroom mixture to each circle, top with 5-6 spinach leaves, sprinkle with cheese, fold and seal.
Whisk together the egg white and water. Brush over the tops of tops of the pies and sprinkle with sesame seeds.
Bake for 15-17 minutes at 400F.
Cool for about 5 minutes before serving with a salad or soup.