Fennel Stuffed Whole Black Sea Bass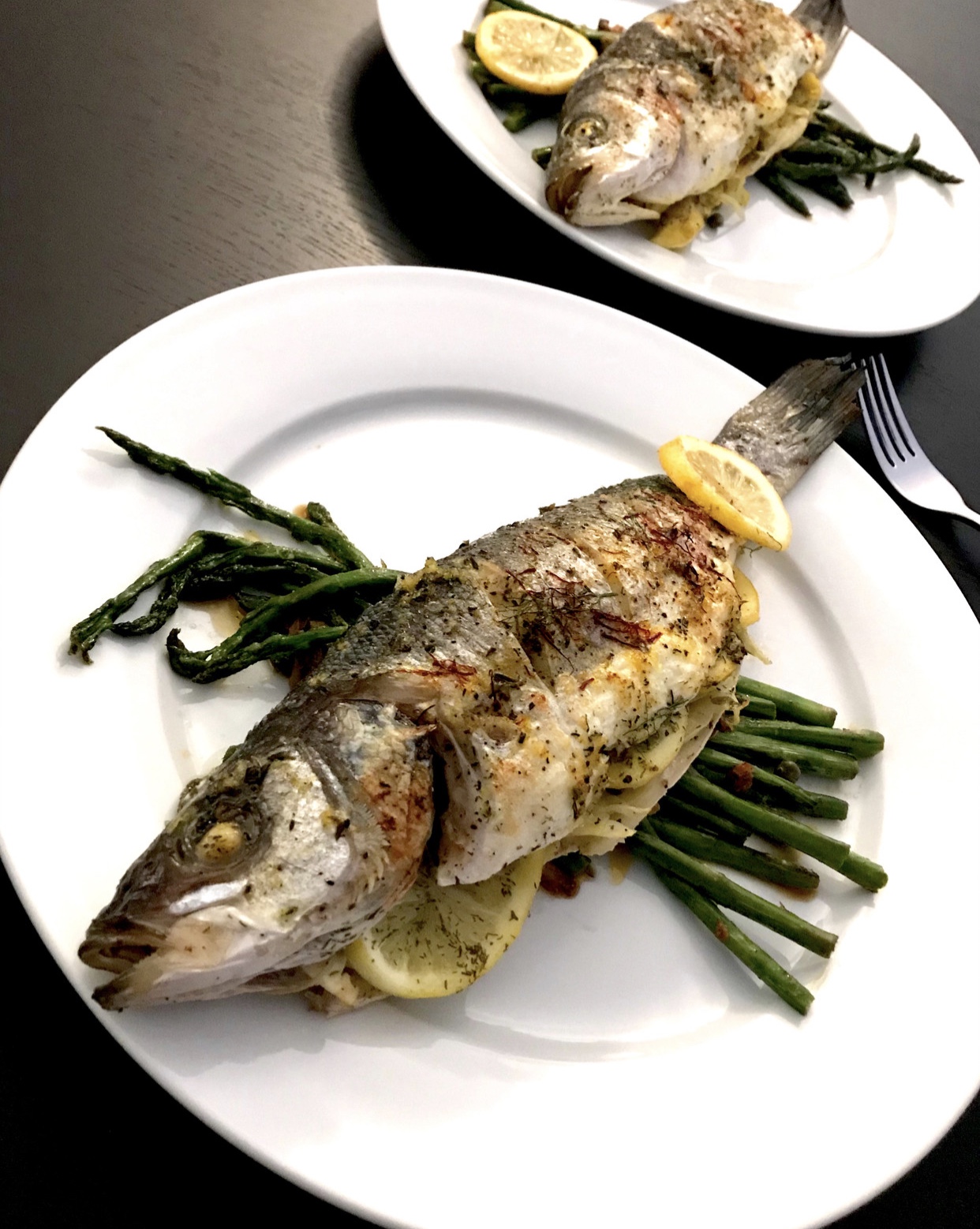 Submitted by Wiley Graham
About the cook:
Truly, I never thought of becoming a "culinary center of influence" but the more I struggled in life, the more I drew to the kitchen. When life gives me lemons, I skip the lemonade and think limoncello. Seriously, when life challenges me, I find motivation in my culinary creativity. My background is in law and finance but I want to shift my focus to what makes me happy...the kitchen.
About the dish:
Crispy whole sea bass with asparagus a fresh combination that's light and filling.
National Origin:
Italian (Positano)
Serves:
2
Estimated Time:
1 to 2 Hours
Ingredients:
2 - whole black bass, gutted and scaled
1 bunch fresh dill
A few punches of fresh saffron
2 - heads of fennel, thinly sliced, fronds reserved
1/2 cup capers
4 - cloves of garlic chopped
2 lemons, thinly sliced
1/2 cup extra-virgin olive oil
Kosher salt and lemon/black pepper
8 tablespoons (1 stick) unsalted butter
Preparation:
Score the skin of the fish, season the fish inside and out with sea salt and black pepper. Then, carefully layer on the fennel, lemon slices, capers, dill, and butter inside the cavity of the fish. Prepare the butter by first softening it down, then adding garlic and saffron to it. Reshape the butter in wax paper then placed it in the freezer so that it could get firm again. Next, I cut slices of the saffron-butter and placed it into the fish with the remaining ingredients. Carefully, close the top side of the fish. Writing about this makes me want to make this meal again!
After the assembly is complete, add more dill and saffron to the top of fish, then some olive oil to make sure the fish stays moist while it cooks in the oven. Some people enclose the fish in foil completely, but I left the foil slightly opened so that the top could get a little crispy at the end (turn on the broiler, but be careful not to overcook the fish, 15-20 minuets should do). I decided to serve this over asparagus, which I brushed with olive oil and added to oven for final 5 minutes of cooking.