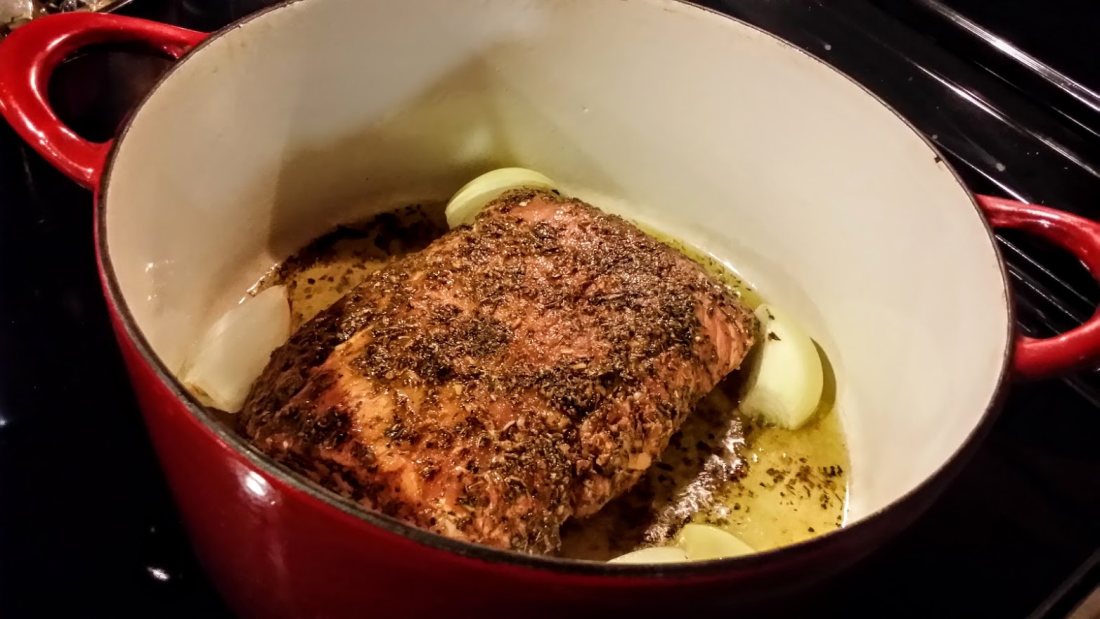 Submitted by Dianne Finser
About the cook:
I love to keep things simple in the kitchen.
About the dish:
Perfect for dinner parties where you want a lot of food in a little time. It looks beautiful on a cutting board or platter, and is so much easier than loin recipes that make you fuss with stuffing or low temperatures to get this same moist result.
National Origin:
American
Serves:
6
Estimated Time:
30 to 60 Minutes
Ingredients:
3 to 4 pound pork loin
1 medium onion, quartered
1 tablespoon fennel
2 tablespoons dried basil
3 tablespoons dried thyme
1 tablespoon dried oregano
1 tablespoon ground cumin
1 tablespoon salt
2 tablespoons black pepper
Olive oil
Preparation:
I go light on salt, so you may want to increase that, but otherwise this should yield something with just enough flavor in a thin layer on the outside to make taste buds dance while still letting the delicate flavor of the loin itself through.
Rub the loin liberally with olive oil. Combine all the rub ingredients and pat them evenly over the whole loin.
In a deep pan or Dutch oven, something with high sides to prevent splatter and to keep heat flowing around the sides of the loin, sweat the quartered onions on medium heat. When the oil is clearly hot enough to provide a sizzle and the onion has started to soften, put the loin in the pan presentation side down. You should have a sizzle but no smoke. Leave it alone until the sides appear to be cooked about 1/3 of the way up and the presentation side is nicely browned, generally about 15 to 20 minutes. Turn the loin over and continue cooking until the sides have just finished getting color all the way through.
If you're using a Dutch oven or cast iron that will retain heat well, turn the burner off. If you're using stainless or something else that might cool more quickly, reduce the heat to low. Come back and check the internal temperature at the center of the loin every 5 minutes or so. When the internal temperature reaches 140, you can pull the loin and let it rest on a platter before carving.
Because the meat will be slowly increasing in temperature after cutting the heat so the temperature is more evenly distributed from outside to inside, 140 is as high as you need to go to ensure you get to 145 during 5 minutes of resting and cooling.