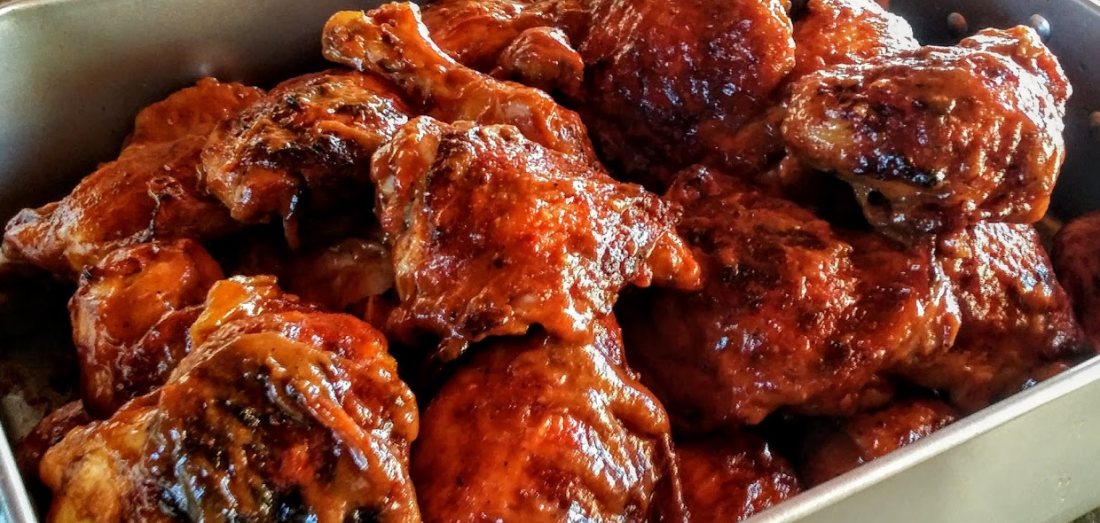 Submitted by Mike Dentry
About the cook:
I don't consider myself a cook, but I do like to put out a good simple meal for family and friends. I shy away from store bought because if I'm going to cook I want to give them something unique and that's my own.
About the dish:
Hate it too sweet? Me too.
National Origin:
American
Serves:
4
Estimated Time:
Under 30 Minutes
Ingredients:
2 cups ketchup
1/2 cup Dijon mustard
1/4 cup sour cream
2 cloves crushed garlic
2 tablespoons crushed red pepper
1 tablespoon ground black pepper
1 tablespoon ground cumin
2 teaspoons ground ginger
2 tablespoons dried thyme
1 tablespoon dried oregano
Preparation:
Anybody can grill a chicken, so I'll skip that step. The sauce is what makes it and of course you can use it on lots of other things too. My problem with BBQ sauce is that I like heat. I get that it needs to be balanced to be good BBQ, but store brands go way too far on sweet as the only way to do that. Most of the homemade recipes also rely on sugar or molasses on top of ketchup that's already loaded with corn syrup.
I experimented with using tomato paste and a little vinegar as the base instead of ketchup with good results, but I found cutting the ketchup gives similar enough results to not make starting from scratch worth it for most people. You get the easy version. Use the ketchup. This recipe gives a nice color and a grounded flavor that leaves you not missing all that extra sugar.
Whisk everything together and let it sit in the fridge for a few hours. The heat from cooking is what will mostly bring out the heat from the pepper, but letting it sit does even it out some. I've tried substituting ground pepper like cayenne so sitting isn't necessary, but the result seems too upfront. Using the crushed gives you a shot at hot spots in your bites and other flavors coming through more in other bites, so to me that's worth the time to let it sit for a just a little evenness and still keep that effect.
This is enough sauce for one whole quartered chicken, or four breasts, or eight thighs and drumsticks. Toss the chicken in half the sauce before grilling (or baking) and use the other half to baste 10 or 15 minutes before it's done cooking. That's it!