Bloody Mary Mozzarella Biscuits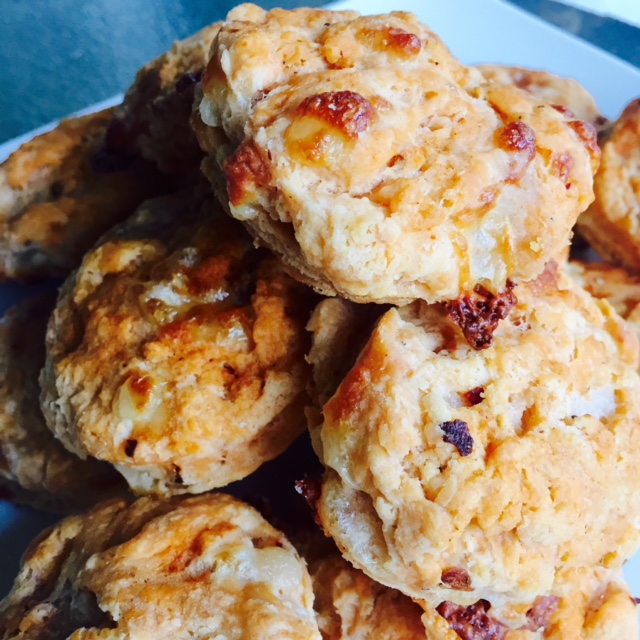 Submitted by Carrie Hirsch
About the cook:
From corn bread to paratha, from pita to baguette, Carrie Hirsch loves all breads and is proud to admit it. She is a firm believer of 'everything in moderation'. Carrie advises, "If you always want to bond with your children, teach them how to cook and worry about the clean-up later. If you're not up to cooking, marry a chef!" She published a cookbook with her son, George, "The College Man's Cookbook".
About the dish:
I love Bloody Marys but I also love to cook with Bloody Mary mix because it is packed with flavor and spices which gets the palate's attention! My biscuits are delicious served with salted butter and even fruit preserves!
National Origin:
Italian
Serves:
8
Estimated Time:
30 to 60 Minutes
Ingredients:
1/3 cup whole milk
2 tablespoons lemon juice
2 cups all-purpose flour
4 teaspoons baking soda
1 tablespoon granulated sugar
1 teaspoon coarse salt
3/4 teaspoon crushed red pepper flakes
1/2 teaspoon black pepper
1/4 teaspoon cream of tartar
7 tablespoons cold butter, cut into ¼" pieces + 3 tablespoons, melted, for brushing
1/2 cup deli sliced mozzarella cheese (about 3 slices), chopped onto ½"pieces.
1/2 cup Bloody Mary mix
Preparation:
Preheat oven to 400°. Combine milk and lemon juice in a small bowl. Combine flour, baking soda, sugar, salt, red pepper flakes, black pepper and cream of tartar in a large bowl. Stir in butter pieces until well coated. Stir in mozzarella cheese. Stir in Bloody Mary mix. Flour a cutting board (and your hands) and gently knead into a dough. It will be on the dry side. Flatten out dough using your hands or a rolling pin, until ¾" thick. Cut out rounds using a 2″ biscuit cutter. Press together remaining pieces, reform dough and cut out additional biscuits. Arrange on a non-stick cookie sheet. Brush top of biscuits with melted butter. Bake for 13-15 minutes or until light golden brown in color.