White Miso Butter Glazed Salmon and shrimp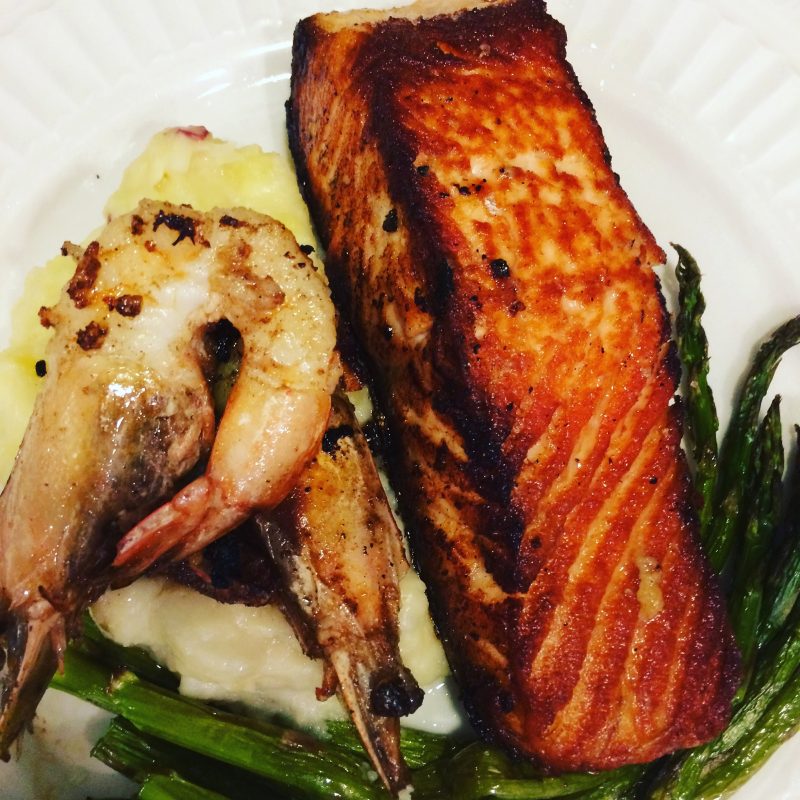 Submitted by Su Gamer
About the cook:
I came from S. Korea in 1973 when I was 8 years old and that is when I began cooking. I love to experiment with unfamiliar and challenging ingredients. I began exploring other cuisines when I moved to New York City where I worked in Advertising after graduating from Parson's school of Design. At the moment my job is Homemaker Extraordinaire in suburban, CT where my job is to provide my family with healthy exciting meals for my family.
About the dish:
This dish is Japanese inspired fusion dish which uses white miso which I buy at the Asian grocery. I make this often because its very quick to make and very easy clean-up for those days when my schedule is hectic. I serve it with roasted asparagus (roasted same time as the salmon) and either mashed potatoes or rice. The salmon come out moist and flavorful with an unexpected umami flavor. The entire meal take less than 30 minutes to prepare and it is delicious and very healthy .
National Origin:
Japanese-USA fusion
Serves:
4
Estimated Time:
Under 30 Minutes
Ingredients:
4 4oz fillet of skinless salmon with skin, 8 large shrimp, 4 tlb of soften butter, 2 tlb white miso, salt, black pepper(optional).
Preparation:
Heat oven to 400 degrees. Pat dry the salmon. Mix the soften butter and miso till it becomes a paste. Lightly sprinkle salt on both sides of the salmon then slather on the miso/butter paste on all sides of the salmon and shrimp. Place the salmon and shrimp on a cookie pan lined with non-stick Aluminum foil. Grind a little black pepper on top (if using). Place pan in oven 8-10 minutes. I also serve it with a wedge of lemon. In my opinion adding the shrimp make it a lovely seafood feast for a special occasion.