Chicken & Mozzarella Panini w/Tomato Wine Jam & Pistachio Pesto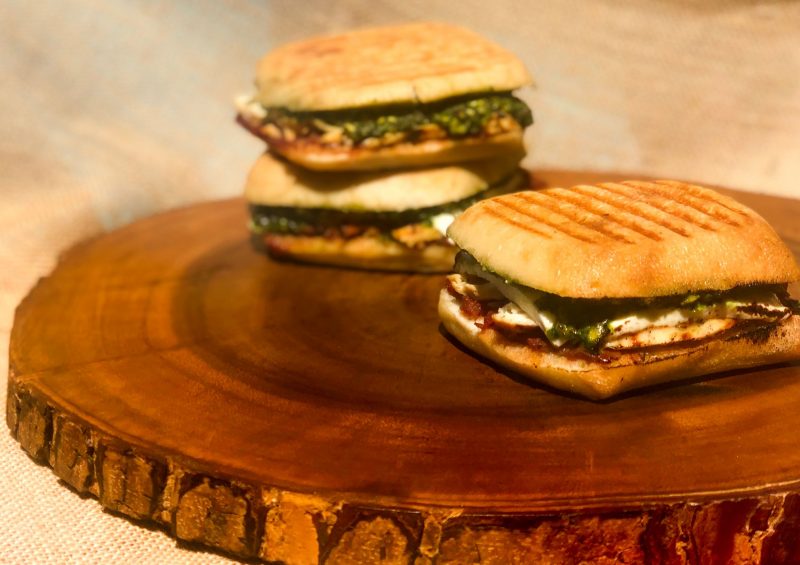 Submitted by Lynn Hooker
About the cook:
I am a home cook who enjoys creating new recipes and competing in cooking competitions and food sport. I also started a blog "The Culinary Grapevine" to share my experiences and knowledge with others! I tied for first place in a local Top Home Chef competition and have competed in The World Food Championships twice. I love a good competition and enjoy sharing my recipes and food with others.
About the dish:
This recipe takes sandwich to the next level. Simple grilled chicken is elevated with the addition of the big bold flavors of the pesto and the tomato jam. This would be a great sandwich to serve for an afternoon party or picnic.
National Origin:
American
Serves:
4
Estimated Time:
1 to 2 Hours
Ingredients:
1 ½ lb skinless chicken breast
1/2 cup of your favorite Italian Dressing
2 tbsp Olive Oil, divided
2 medium Shallots, diced
1 can tomatoes, well drained
1 tsp agave
1 tbsp balsamic vinegar
¼ cup red wine
Salt & Pepper
1/3 cup shelled Pistachios
¼ cup grated Parmesan cheese
2 large garlic cloves
2 cups fresh basil
¼ cup olive oil
2 tbsp unsalted butter, melted
4 Ciabatta rolls
1/2 lb Fresh Mozzarella sliced thin
Preparation:
Place the Italian dressing and 1 tbsp olive oil in a large freezer bag and add chicken. Marinate for at least 1 hour.
In a medium sauce pan, add 1 tbsp olive oil and heat to medium high. Add the shallots, reduce to medium and cook until they are soft and translucent. About 10 minutes. Add salt and pepper. Add the diced tomatoes, agave, balsamic, and red wine. Bring to a boil. Reduce to medium/medium low and cook until the tomato mixture is condensed and thick. Salt & pepper to taste. This will take about an hour.
In a food processor, add the pistachios, grated parmesan, garlic cloves, fresh basil and olive oil. Pulse until well combined. Salt & pepper to taste.
Heat a grill to medium high heat. Add the chicken. Cook 7 minutes each side until juices run clear. Let rest for about 5 minutes and then slice the chicken.
Brush the melted butter on the bottom and top of the bread. Spread tomato jam onto the bottom of the buns. Top with the chicken and fresh mozzarella. Spread the inside of the top bun with the pesto and place on top of the chicken and fresh mozzarella. Heat sandwich on a panini press until you have nice grill marks. Serve and enjoy!