Vegan Serbian Cheese Burek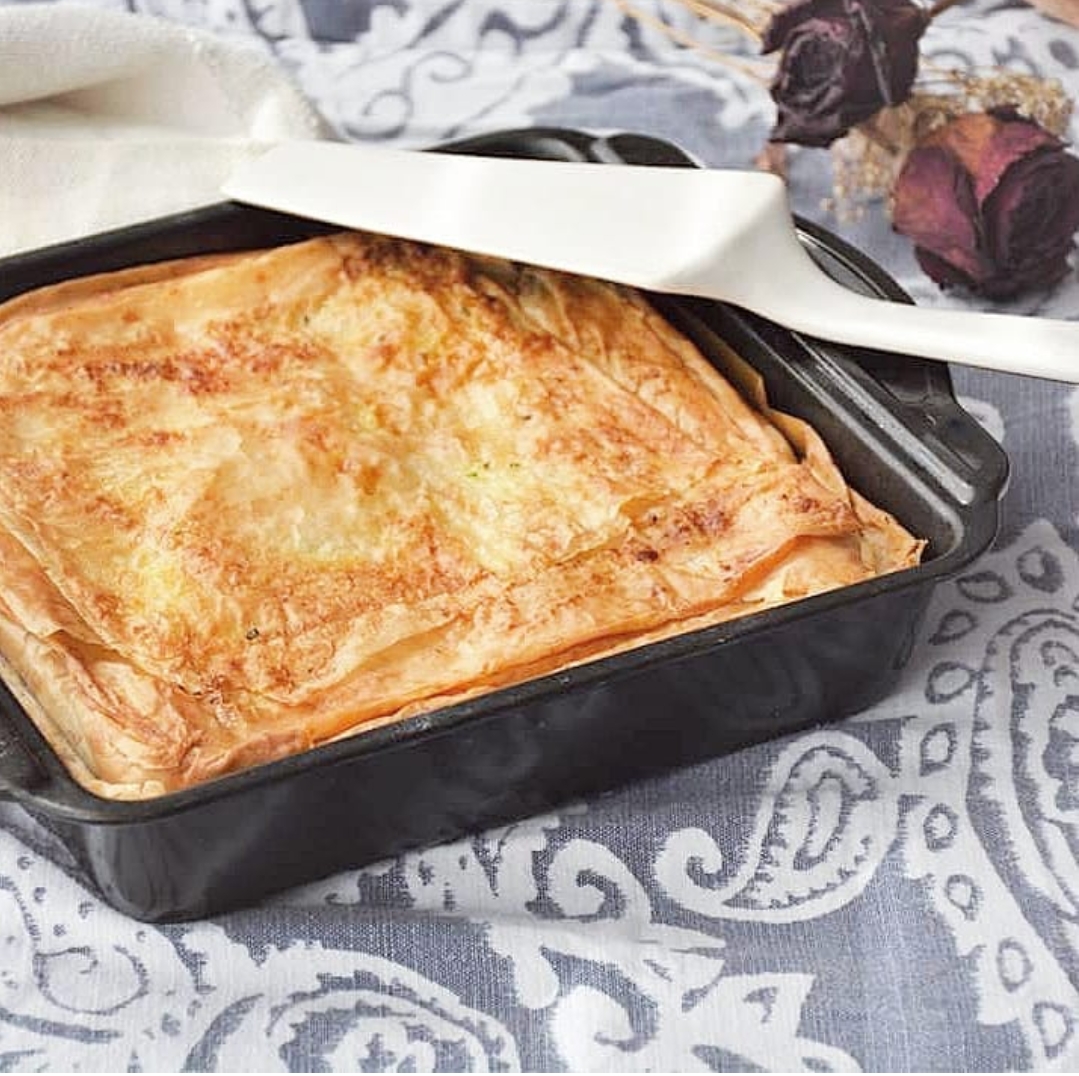 Submitted by Elise Chami
About the cook:
Hi my name is Elise, I am a mom of two wonderful little picky food critics aged 2 and 4. Did I mention we eat primarily plant based. Feeding kids is a daily challenge. hope you enjoy this recipe as much as my kids do.
About the dish:
This is a vegan twist on a Serbian dish using a simple and easy to make tofu ricotta, that is pleasingly placed between flakey pieces of filo pastry.
National Origin:
Serbian
Serves:
8
Estimated Time:
1 to 2 Hours
Ingredients:
vegan ricotta:
Ingredients:
1 pack extra firm tofu
1 teaspoon light miso paste
1/4 cup nutritional yeast
1 tablespoon Italian herbs (I used dried but fresh is best)
juice of 2 lemons
1/2 teaspoon salt
2 tablespoons olive oil
2 tablespoons of sauerkraut water (water also works)
vegan ricotta
1 package of filo pastry
1/2 cup vegan margarine melted
2 medium potatoes peaked and sliced very thin
2 teaspoons chicken'less dry soup mix
salt and pepper to taste
Preparation:
Thaw your filo pastry as per package instructions.
make your ricotta -Directions: Blend all ingredients listed for vegan ricotta until very smooth!
next start by melting vegan margarine add the chickenless dry soup mix and stir to combine.
Preheat oven to 350 degrees
Before you start layering brush a little bit of the margarine mix onto the bottom and sides of your baking dish (9×9size). next you will unroll the filo and place one sheet on the bottom of your baking dish (it's ok if it hangs off you can cut it or fold it into the next layer.) Brush a little bit of margarine on top of the filo. Add another sheet of filo, brush with margarine. repeat filo margarine, filo margarine until you have 4 layers on the bottom.
Add half your thinly sliced potatoes (trying not to overlap.) Season with salt and pepper as desired. Add filo pastry, brush with margarine, repeat filo margarine to have 2 layers.
Add ricotta and spread evenly across filo.
Add another filo sheet then margarine, again filo then margarine for 2 more layers.
Add remaining potatoes, salt pepper if you like. Then finish with filo margarine layers. About 6 times or until no space or filo runs out.
Bake at 350 degrees covered for 20 minutes uncovered 20 minutes.
Your Burek should be ready when filo is nice and golden brown.
Enjoy!