Turkey and Veggie Lasagna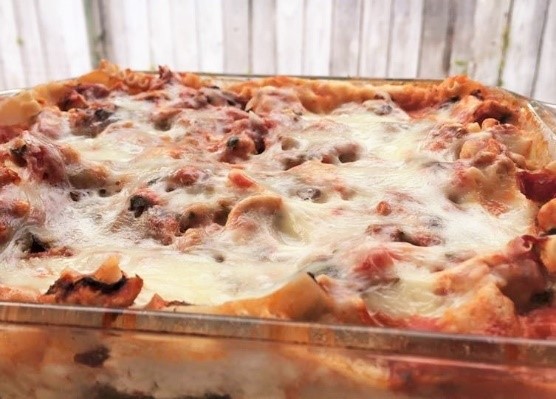 Submitted by Jeanne Larson
About the cook:
I am a wife, mom and recipe creator who has a passion for healthy living. I am also a part-time middle school teacher who teaches a Farm to Table cooking class, Health and PE teacher. My side business is called Endurance Fit For Life, where I post daily healthy recipes, simple healthy food ideas, hiking trails, and family-friendly adventures. My goal is to get the word out to people that healthy eating does not have to be difficult. I aim to simplify healthy cooking in the kitchen for everyone!
About the dish:
One of our family's favorite meal! This dinner is not only healthy and nutritious, but also packed with flavor! A win-win for the cooker in the kitchen with this recipe!
National Origin:
Italian
Serves:
4
Estimated Time:
1 to 2 Hours
Ingredients:
Ingredients:
1 tray of organic ground lean turkey
1 package of brown rice no boil lasagna noodles (you can find these at Sprout or other local health food stores like Mother's or Whole Foods) - Regular lasagna noodles would work great too.
3 small zucchini
1 (28oz) can of organic tomato sauce
1 1/2 cups organic low fat cottage cheese
3/4 cup mozzarella cheese
1/4 cup Parmesan cheese
2 tsp oregano
1 tsp basil
3/4 tsp garlic salt
1 Tbs olive oil for cooking
Serving Suggestion: Add a handful of spinach to ground meat.
Preparation:
Directions:
Preheat oven to 350 degrees. Set your 8×8 glass Pyrex aside.
First, hand shred zucchini using a grater.
In a skillet, drizzle 1 Tbs of olive oil, then add ground turkey. Cook for a few minutes, then add shredded zucchini, tomato sauce, and seasoning to the pan. Cook for another 4-6 minutes until meat is cooked through and sauce is bubbly. Keep stirring meat mixture. At the last minute, turn heat off and stir in spinach until it is wilted.
In a small bowl, mix cottage cheese and parmesan cheese together.
In your 8×8 Pyrex casserole dish, put a couple Tbs of tomato sauce in the bottom. Then, lay your no boil lasagna noodles in the Pyrex. Next, put a thick layer of meat/veggie mixture over the noodles. Then, layer the cottage cheese/parmesan mixture over top of the meat (reserve about 1/4 of cottage cheese/parmesan mixture for top layer). Next, put another layer of noodles, meat mixture, then the rest of cottage cheese, followed by 1/2 cup of mozzarella cheese. It will be filled to the brim. If you have left over meat sauce mixture, you can always save it for a lunch the next day.
Tent foil over lasagna, leaving a little room for the cheese. If desired, put a piece of tin foil on the bottom of oven to catch drips. (Mine did not bubble over)
Bake at 350 for one hour, or until bubbly on the edges and cheese is melted on top. Take off foil and cook for 5 more minutes to tan cheese on top.
Let lasagna sit for 5-10 minutes prior to serving, or the lasagna will fall apart when cutting.