Sweet and Spicy Salut Burger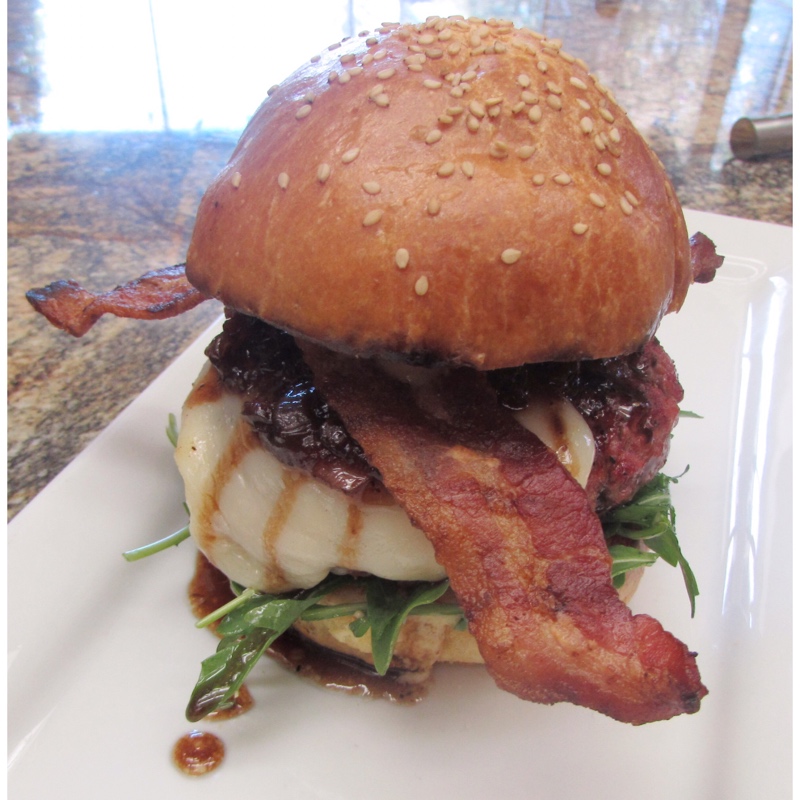 Submitted by Ramon Douglas
About the cook:
My name is Ramon Douglas. I am a California native and I wasn't always thinking about going to culinary school until one day a friend of mine mentioned that I should go and the rest is almost history. Since I graduated in 2012, I've worked at quite a few different places and now I am teaching culinary classes at a local high school.
About the dish:
A delicious combination of sweet, salty and heat all packed in between 2 buns.
National Origin:
American
Serves:
6
Estimated Time:
30 to 60 Minutes
Ingredients:
1/3 pound burger with brown sugar balsamic onions, bacon habanero aioli, bacon, arugula and port salut cheese on a brioche bun
Brown Sugar and Balsamic Caramelized Onions:
1 tablespoons of olive oil
1 tablespoon bacon fat
1 teaspoon of butter
4 sliced red onions
2 cups of balsamic vinegar
1 cup of brown sugar
1 tablespoons of salt
2 teaspoons of pepper
Bacon Habanero Aioli:
1 cup of homemade or store bought mayonnaise
1 tablespoon of lemon juice
1/3 cup of chopped bacon crisps
1 Chard Habanero pepper (paste or minced)
1 Teaspoon of salt
1 Tablespoon sugar
Burger Patties:
1 pound of lean ground chuck 80/20
1 Pound of ground chuck 70/30
2 chard habanero peppers minced
1 teaspoon of salt
1 teaspoon of pepper
15 strips of thick cut bacon
1 pound of port salut cheese
1 small package of Arugula
3 tablespoons of olive oil
1 teaspoon of salt
6 brioche buns
1/4 of a stick of melted butter
Preparation:
Heat up your propane grill or your charcoal grill
Spray grill with non-stick spray and cook bacon till nice and crisp
Place all 3 habanero peppers on the open flame until the peppers are nice and chard, remove from heat. Start mincing 2 of the 3 peppers. Add the ground beef to a bowl, along with the minced habanero peppers. Add salt and pepper. Mix together with hands, just enough to incorporate all the ingredients. Do not over mix! Scoop out 1/2 pound portions and mold into burger shapes, place them on a sheet tray, cover and place in refrigerator until you are ready to put them on the grill. Wash your hands afterwards!
Heat up a sauté pan on high heat and cook bacon till crisp. I same pan add the butter, olive oil. Add onions, and a tablespoon of salt and the pepper. Sauté until onions are translucent. Reduce the heat to medium and add vinegar and cook until vinegar is reduced by half. Add brown sugar, and take off heat to cool mixture down.
Make sure grill is still hot, take burger out of refrigerator and sprinkle them with salt and pepper to taste. Spray grill with non-stick spray and lay the burgers on the grill. Cook for about 4-5 mins then flip. Once flipped add 2 pieces of bacon and the port salut cheese. Cook for another 3 mins and remove from heat. Let burgers rest
Butter the brioche buns and place on grill until nice and browned
Toss arugula in bowl with olive oil and salt
To construct the burger: spread the aioli on both pieces of bread. Grab some arugula and place on bottom half of the bun, place a burger patty on top of the arugula, add some of the brown sugar and balsamic onions on top of the cheese and top off with the top bun.