Sugared Cruffins with Berry Medley Quick Jam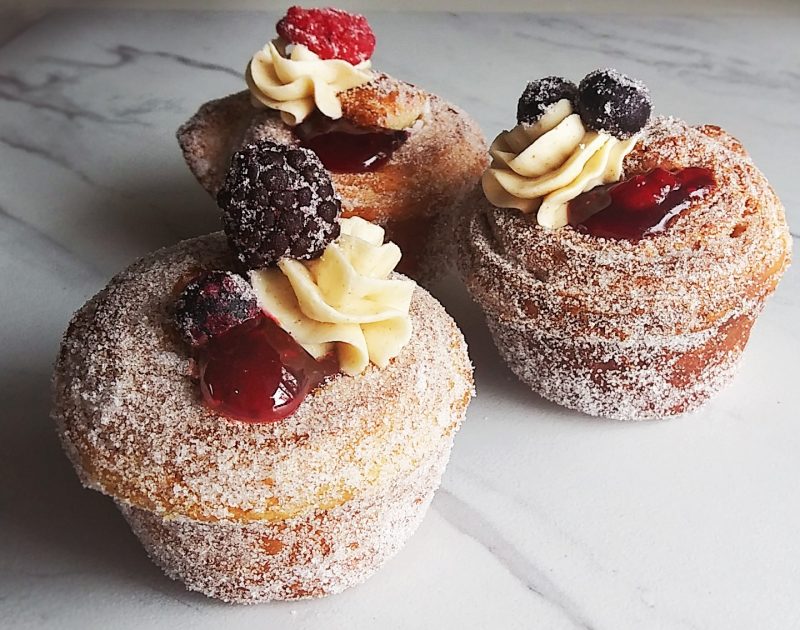 Submitted by Nuraniza Salazar
About the cook:
Hi! My name is Anise Salazar and I am a thirty year old homecook, mother of three and a proud wife. Cooking and baking has always been my passion and it is also a way for me to fire up my drive to learn something completely new or revised classic and vintage recipes. Retro recipes are my absolute favorite because they can be a little quirky, and discovering substitutes to make it doable today is super fun and exciting.
About the dish:
These cruffins are incredibly delectable with their crunchy, crispy exterior resulting from their flaky outer layers yet soft and buttery on the inside. These cruffins can be eaten anytime of the day and are a definite crowd favorite.
National Origin:
French
Serves:
16
Estimated Time:
Over 2 Hours
Ingredients:
Ingredients for the Beurrage:
275g of salted European butter
Ingredients for the dough:
1 packet (20g) of fast rising yeast
260g of lukewarm water
500g of all purpose flour
60 g of white granulated sugar
10g of salt
2 egg yolks
75g (5 tablespoon) of butter, soften
Ingredients for the Quick-jam:
2 cups of frozen Berry Medley mix
1 cup of white granulated sugar
1.5 teaspoon of citric acid
3 tablespoon of tapioca starch/flour
3 tablespoon of water
Cupcake pan preparation:
1 cupcake or popover pan
1 tablespoon of soften butter
1/3 cup of white granulated sugar
1/2 teaspoon of cinnamon powder* optional
Brown Butter buttercream:
5 tablespoon of salted butter, browned and chilled
3/4 cup of confectionery sugar
1 teaspoon of pure vanilla extract
1 tablespoon of milk
Preparation:
For the Beurrage:
Lay your first sheet of wax paper on the counter. Using a knife, cut the butter per tablespoon. You should have ended up with 20 squares total. Arrange your cubes of butter into a 5 by 4 rectangle. Then lay your second sheet of wax paper over the butter and wrap the sides neatly like a parcel.
Using a rolling pin, apply an adequate amount of pressure on top, to squish and shape your butter into a block. Be careful not to apply too much pressure or the butter might burst out of the paper wrapping. I shaped my block into an 8 by 7 rectangle. If you feel like you might have accidentally wrapped it too tight, just turn the block over and loosen the paper a little.
Once completed, place your beurrage or butter slab into your refrigerator to cool down and stiffen up a little.
For the Jam:
In a medium sauce pot, combined your berries and sugar together, Set your stove to warm/low and let it macerate and heat up slowly. After 10 minutes, you will see that your berries has juiced up significantly. Increase the heat to medium and let it cook till it bubbles. Once bubbling, add in your citric acid and stir.
Spoon 3 tablespoon of water into your tapioca starch and dissolves it to form a slurry. Pour your slurry into the bubbling berries and stir evenly. Cook for 5 -10 minutes until it thickens and no longer cloudy.
It is ready when it has a jammy consistency, translucent and have a beautiful gloss. Pour your jam into a heatproof bowl, cover with saran wrap and let it cool down completely in the fridge for an hour.
For the main dough:
In a small bowl, mixed your yeast and lukewarm water. Set aside to froth.
Then in a large mixing bowl, combined the rest of your ingredients together. Then add in your frothed yeast water.
If you are using a stand mixer, knead your dough for 15 minutes until smooth and silky.
If you decide to knead it by hand (as how i had shown here), you will be kneading it for at least 15 minutes. The dough will be shaggy at first and then transition to something very sticky. DO NOT add flour. Continue to knead it a little more until it forms a rough looking ball. Once formed into a silky smooth ball, place the dough in a clean UNgreased bowl and cover with a saran wrap to prevent it from drying out. Place it in the fridge for 20-30 minutes to relax the gluten.
Dough Lamination:
First, pull out your beurrage and let it thaw out of your fridge for a few minutes until it is pliable. You know your butter is ready when it is able to bend like playdough.
Remove your dough out of the refrigerator. After your dough has relaxed and cooled, place your dough on a floured counter top. Roll out your dough into a rectangle big enough to wrap itself around your beurrage.
Seal and pinch the edges of your dough like an enclosed parcel. Ensure that it is sealed tight or the butter might squeezed out when rolled.
After pinching the open ends, sprinkle just a little flour over the top of you dough to prevent any sticking.
Using a rolling pin (or a wine bottle that will also do), apply some pressure and press your dough to gently and evenly distribute the butter before rolling. That way you don't risk breaking the butter by applying too much force all too sudden.
Occasionally lift the bottom of your dough to ensure nothing is sticking to your counter top. Dust a little flour under if you need it.
Then begin folding your dough in a letter style. Lift 1/3 of the right end of the dough and fold it into the center. Then lift the left side and fold over.
Then wrap it up with saran wrap and freeze your dough for 20 minutes.
Repeat this step three times. You must achieve a total of three folds.
(Prepare your cupcake pans)
Grease your pan with butter, just the caverns only, sides and bottom. Then mix your sugar and cinnamon in a small bowl. Place about 1 tablespoon of cinnamon sugar and agitate the pan so the sides are coated with sugar.
Cutting and Rolling:
Ensure to thaw out your dough before rolling as per usual. Then begin to roll out your dough into a 60cm by 29cm rectangle. Using a rotary cutter and ruler, neatly trim the edges of your rectangle. You can discard or save the trimmings later as a snack. If you lack counter space, you can divide the dough in half and leave the other half to rest in the fridge, covered with saran.
Working with the first half of the dough, Divide your dough into individual rectangles measuring about 7 inches by 3 inches. This will yield 8 cruffins more or less.
Then within each individual rectangle, mark 1 inch of the right side.
Using a rotary cutter, cut along the 1 inch markings. You will yield 8 trapezoids.
Begin by tucking the wide end of the dough into itself firmly, but not too tight that you risk damaging the layers.
Then carefully and firmly roll as you go, making sure the base is constantly flat.
Then place your individual rolls into each cavern of your cupcake or popover pan. Ensure that the ends are tuck to the side of the pan so it doesn't unravel itself during baking. Alternatively, you can tuck the ends at the base of the cruffin but it will make your cruffin lopsided after baking. I personally prefer a flat base.
Continue with the rest of your cruffins. Once completed, cover with a saran wrap and let it proof in a cool room for 2.5-3 hours in a cool, draft-free room.
Bake:
Preheat your oven to 400 degrees Fahrenheit.
Bake your cruffins at 400'F for 25 minutes until dark golden brown.
While baking, prep your sugar coating. Pour about 1 cup of white granulated sugar into a bowl. Add cinnamon if you desire.
After baking, remove your cruffins out of the oven. Immediately coat them in your sugar before it cools. It will not stick when it is cold. Place them on a wire rack to cool down.
Now because the cruffins are tender while hot, you can cool them upside down, so it will not damage it's shape. Once cooled and slightly harden, it will be able to stand on its own.
If you wished to piped filling:
For this you will need some piping tools and kits. If you don't have any, you could use a ziplock bag as a substitute.
Begin my using a butter knife to poke and pry a small opening at the top of your cruffin. Then gradually dig the hole deeper so more filling can be piped inside. Be careful not to handle your cruffins too roughly, as they are extremely flaky and tender, you don't want to ruin them. Piped your fillings as much as possible, and finish off with a dallop of frosting and other decorations. i placed some sugared frozen fruits on top.
For the brown butter buttercream:
In a small pan, place your butter and heat the stove at medium setting. Cook your butter at medium heat until it bubbles. Continue to stir the butter until it reaches a light amber color and smell nutty. Remove from heat and let it cool in the freezer until it stiffens back to its solid form.
Place your browned butter, confectionery sugar, vanilla and milk in a mixing bowl and whipped it till it reaches a buttercream consistency. Placed in a piping bag and piped a dallop at the top of each cruffin.
And you're done!