Street Style Club Sandwich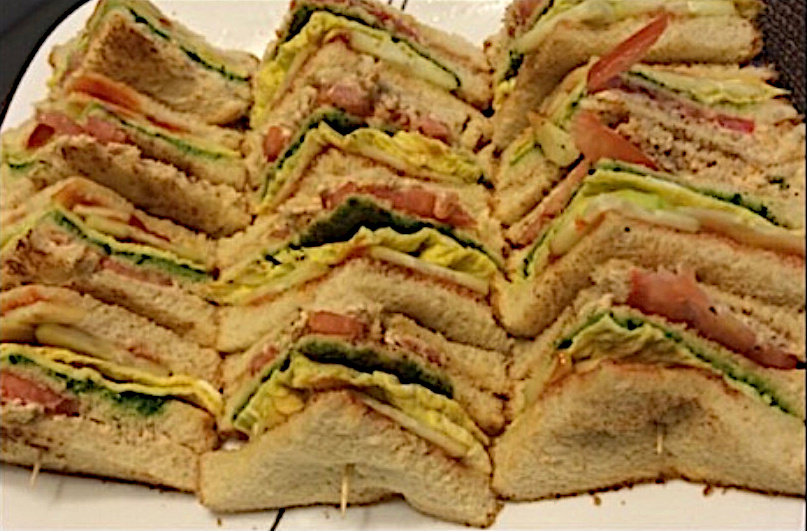 Submitted by Fatima Maniya
About the cook:
My name is Fatima Maniya Soorty, I am 33 years old from Chicago, il. I was born and raised in Pakistan and moved to the states as a teenager and have been here since. I have been married 10 years to my wonderful husband and together we have 3 beautiful girls. I am a passionate home cook, hairstylist by trade and a stay at home mom. Because I am a stay at home mom I am blessed to be able to work on my interests at my own pace and time. My cooking reflects a fusion between Pakistani and American Culture and Cusine.
About the dish:
Club sandwiches are common in many regions but all are made with their own flare and touches. This recipe of club sandwich is how they are served on the street carts in Pakistan. Growing up I have fond memories of stopping at one of these stalls while going shopping or just hanging with friends.
National Origin:
Pakistani
Serves:
4
Estimated Time:
30 to 60 Minutes
Ingredients:
Ingredients:
1 lbs Boneless Chicken Breast
¼ Tsp crushed red pepper
¼ Tsp black pepper
Salt to taste
1 Tbs soy sauce
2 Tbs oil
Water as required
1/4 cup Mayo
¼ cup ketchup
½ cup green chutney (recipe follows)
1 medium cucumber sliced thin
2 medium tomatoes sliced thin
3 medium eggs scrambled
1 loaf of white sandwich bread
Oil spray
Green Chutney
Ingredients:
1 bunch cilantro
1 small clove of garlic
Handful of mint
1 small thai peppers
1/2 tsp of sugar
1 tbs lemon juice
1/2 tsp of roasted ground cumin, coriander
Water as required
Salt to taste
Preparation:
Directions for Club sandwiches:
In a sauce pan heat the oil, sauté chicken breast for a few minutes, add the soy sauce, salt, pepper, and crushed red pepper. Now add 1/4 cup of water to the pan, cover the sauce pan and let the chicken cook until tender and water dries in the pan. Turn off the heat.
Once the chicken is cool, shred it and mix it with mayo. Adjust seasonings if needed.
Scramble the eggs, add salt and pepper. Heat oil in a frying pan, add a little scrambled egg at a time and make thin crepe like layer. Remove from heat and cool.
Trim the edges of the bread, spray the slices of bread with oil, and toast them on a pan on each side until brown.
Now assemble the sandwiches, each sandwich consists of 3 pieces of bread. Spread the chicken mixture on the first slice; layer it with thin slices of cucumber and tomatoes. Next spread the ketchup on another slice and place it on top of the veggies, now place the egg on the slice, and close the sandwich by spreading the green chutney on the last slice.
You can cut the sandwich in halves or quarters, whatever you prefer.
Best served at room temperature.
Enjoy!!
Directions for the Green Chutney:
Blend all the ingredients in a blender with 1/4 cup water. Add more if needed to make it in a spreadable consistency. Adjust the seasonings if necessary.