Beet, Arugula, and Goat Cheese Flatbread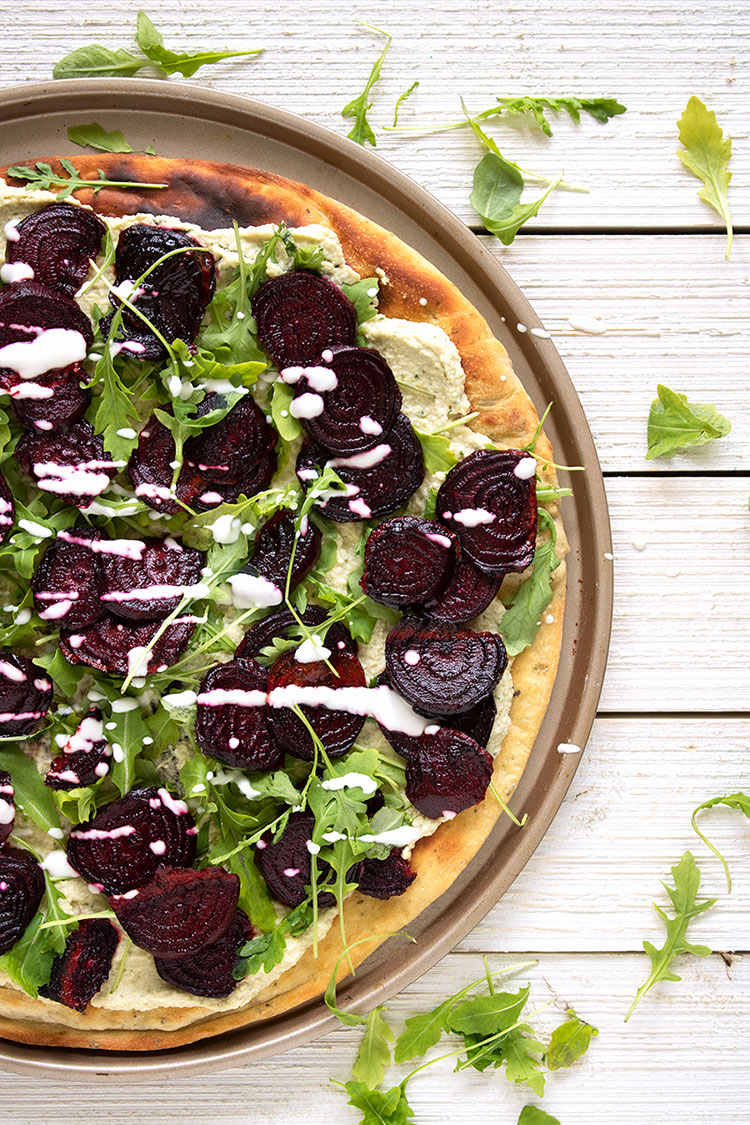 Submitted by Theresa Garcia Schultz
About the cook:
I make quick and easy meals and desserts. Bonus most are healthy. 🙂 Because nobody's perfect. Here you will find simple recipes that show the beauty of food. Food photographer and stylist, recipe development.
About the dish:
A delicious flatbread piled with hummus, beets, arugula, and a healthy drizzle of honey goat cheese.
National Origin:
American
Serves:
4
Estimated Time:
30 to 60 Minutes
Ingredients:
1 pound beets peeled and sliced thin
olive oil for beets
salt and pepper
1 (16-ounce) ready to bake pizza dough ( I used Trader Joe's garlic and herb version)
olive oil for the dough
1 heaping cup hummus flavor of your choice
2-3 cups arugula
3-4 tablespoons goat cheese at room temperature
1-2 tablespoons honey
Preparation:
Preheat oven to 400 degrees. Mix sliced beets in a bowl with a little olive to coat. Place beets on a tray lined with parchment paper. Sprinkle with salt and pepper. Bake 20-25 minutes. When removing beets turn oven down to 350 degrees Fahrenheit. Wait about 5 minutes.
Meanwhile, roll out dough and place on pizza pan. Bake in the oven for 10 minutes. Remove from oven and brush on olive oil. Put the dough back in the oven and back an additional 10 minutes.
Remove from oven and let cool 10-15 minutes.
Slather hummus evenly over flatbread. Place beets on top and add arugula.
Heat goat cheese in microwave for 30 seconds or until slightly melted. Stir in honey and drizzle on top of beets and arugula. Slice and serve at room temperature.