Spicy Italian Meatball Sandwich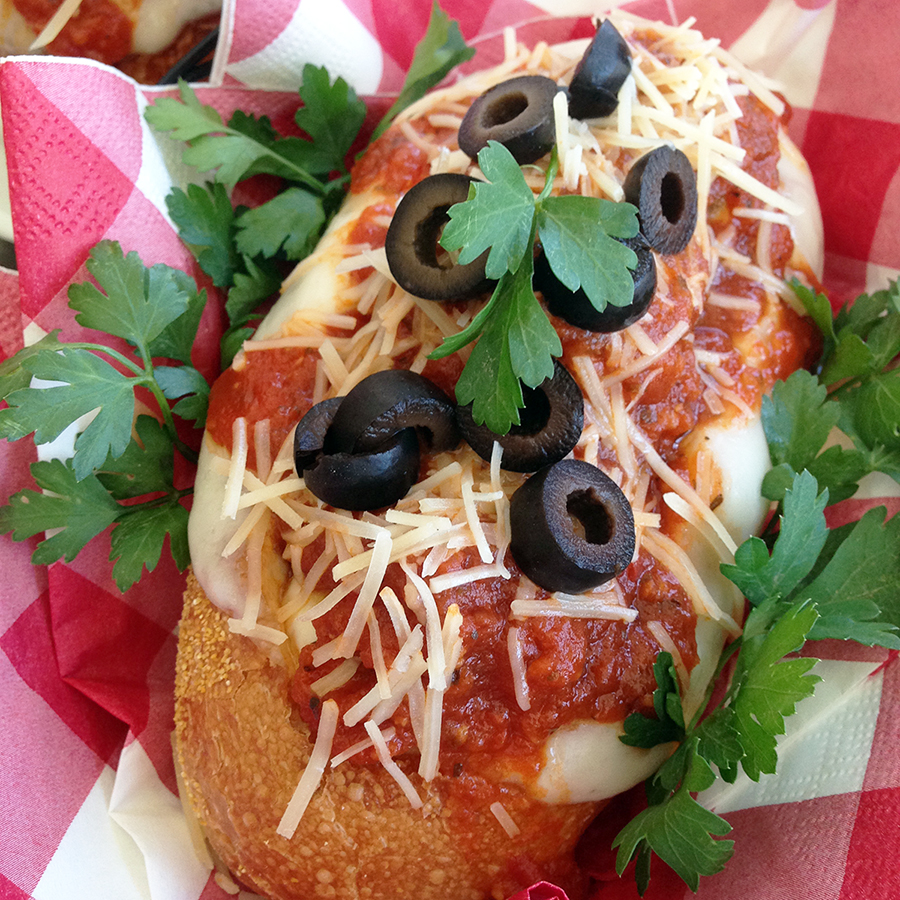 Submitted by Chelsea Madren
About the cook:
Chelsea Madren, also known as the OC Food Diva, is a food & travel writer. She has 11 years of culinary experience from front to back of the house along with menu development and restaurant design. She is also an official KCBS (Kansas City Barbeque Society) Certified BBQ Judge and an E.A.T. Certified Judge for the World Food Championships. You may have seen her on episodes of Cooking Channel's Eat St. and became champion of Johnsonville's The Sausage Dome. At the 2017 World Food Championships, she came in 5th place in the World Recipe Championship.
About the dish:
With fall and winter coming, a hot sandwich is in order. Spicy Italian Meatball Sandwich will fire up your taste buds with the spicy kick from the spicy Italian sausage and meaty ground chicken with gooey cheese inside and around it. Hot marinara sauce keeps everything warm and hot as it is nestled inside a fresh French baguette.
National Origin:
Italian
Serves:
8
Estimated Time:
30 to 60 Minutes
Ingredients:
Meatballs:
1 package Johnsonville Spicy Italian Sausage (in casing or ground)
1 lb Springer Mountain Farms Boneless Skinless Chicken Thighs, ground
1 cup Bisquick
2 eggs, whisked
2 tsp Don Enrique Ajo Granulado (granulated garlic)
3 string cheese sticks, cut into 24 segments (8 segments per stick)
Sauce:
2 - 18 oz jars marinara sauce
3 tsp Melissa's Minced Garlic
1 roma tomato
½ medium onion
Sandwich:
8 French rolls (sandwich size) or 24 French dinner rolls
2 – 8 oz packages sliced provolone cheese, cut each slice into quarters for sliders or cut each slice in half for sandwiches
4 oz can sliced black olives
Shredded parmesan
Parsley leaves
Preparation:
1. Preheat oven to 400°F. Line baking sheets with foil.
2. Rough chop up roma tomato and onion. Combine in blender with minced garlic and puree until smooth. Place in sauce pan and cook on medium high until bubbling.
3. Add marinara sauce and lower to simmer to keep warm until ready to serve.
4. If using sausage in casing, remove casing and put sausage into a large bowl.
5. Combine sausage, chicken, Bisquick, eggs, granulated garlic.
6. Using a 1-inch scoop (around 2 tablespoons), scoop sausage mixture into your hand. Make a divot with your spoon or scoop. Place a segment of string cheese into the center and fold the sausage mixture around the cheese. Roll into ball making sure there are no cracks where the cheese can leak out.
7. Place the meatballs in individual, miniature muffin tin cups. Bake for 20 minutes or until golden and cooked through.
8. Place meatballs in sauce until ready to serve.
9. Turn oven to broil.
10. If using sandwich-size French rolls, cut a pocket on top. Remove cut-out bread (save for croutons or bread crumbs for a later date).
11. Place cut provolone cheese slices on inner sides for presentation sandwich or dinner rolls – 4 half slices for sandwich or 3 quarter slices for dinner roll.
12. Place cut rolls with cheese in oven until cheese is melted, 2 minutes.
13. Ladle some sauce on top of cheese inside bread.
14. Place meatballs on top of sauce.
15. Spoon sauce over meatballs
16. Top with shredded parmesan, parsley, and olives.